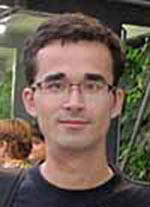 The case of Omid Kokabee
was among those discussed
at a recent meeting in
Barcelona on scientists in
prison.
BARCELONA, Spain -- The plight of scientists denied academic research freedom through imprisonment or other constraints must be kept front-of-mind by the international scientific community, said speakers at meeting in Barcelona earlier this month. Themed "Knowledge in jail: Why are there hundreds of scientists in the prisons of the world?", the discussion on 8 July was organized by the Science and Technology section of the Ateneu Barcelonès.The case of Omid Kokabee, a student member of SPIE, the international society for optics and photonics, was a special focus, having become somewhat symbolic of similarly imprisoned researchers and scientists.
Kokabee is serving a 10-year sentence in Evin Prison in Tehran. A PhD student at the University of Texas (UT), Austin, Kokabee graduated from Sharif University of Technology in Tehran and earned a master's degree in photonics at the Universitat Politècnica de Catalunya before winning a scholarship to UT. He was arrested in February 2011 at the Tehran airport after a visit to his family, and charged with communicating with a hostile government and receiving illegal earnings.
Kokabee has consistently denied the charges. He was tried collectively in a courtroom with 10-15 others, according to a report published in Nature in May 2012. In a public letter published from prison, Kokabee said his imprisonment is the result of "refusing to cooperate with military projects," Nature reported last April.
The case has been the subject of two letters to Iran's rulers urging reconsideration signed by multiple optics and photonics societies and international organizations as well as support from international groups such as Amnesty International. These efforts uphold the right to pursue research that aligns with one's ethics, and contend that Kokabee's trial and conviction violated international standards for justice.
One of three speakers the Barcelona event, María Calvo of the Universidad Complutense de Madrid, Past President of the International Commission for Optics and a Fellow of SPIE, noted that such cases "must not disappear from our minds." Their importance is not only for the scientific community, but for all citizens, she said.
"Not all scientists are free to choose the path they want to follow in their research," said Eugene Chudnovsky of the City University of New York, a co-chair of the Committee of Concerned Scientists. He noted that in addition to those imprisoned, many have been forced to work on particular research to avoid being jailed for not cooperating with their governments. He cited his personal experience with the KGB in the Soviet Union as well as other cases.
SPIE Past President María Yzuel of the Universitat Autònoma de Barcelona decried situations wherein scientists and researchers are controlled in their academic years, recalling memories of colleagues who were monitored or controlled by the Franco government.
She said that constraints on individual scientists raise anxiety and suppress motivation on the part of others, and concurred with Calvo about the need for continued visibility of cases such as Kokabee's.
Yzuel noted that SPIE has extended Kokabee's student membership without charge as a show of its ongoing support, and is among societies helping a UT colleague provide him with research papers so that he can continue his work. She related reports from UT colleagues who recalled Kokabee's enthusiasm for his project to commercialize a new type of optical switch, and his excitement about the opportunities for further research.
SPIE is the international society for optics and photonics, a not-for-profit organization founded in 1955 to advance light-based technologies. The Society serves more than 235,000 constituents from approximately 155 countries, offering conferences, continuing education, books, journals, and a digital library in support of interdisciplinary information exchange, professional networking, and patent precedent. SPIE provided over $3.2 million in support of education and outreach programs in 2012.
###
Media contact:
Amy Nelson
Public Relations Manager, SPIE
+1 360 685 5478
amy@spie.org
@SPIEtweets