Optics community reconnects at SPIE Optics + Photonics in San Diego
The first major in-person optics event since early 2020 offered multiple networking opportunities, a lively exhibit floor, and more than 2,100 technical presentations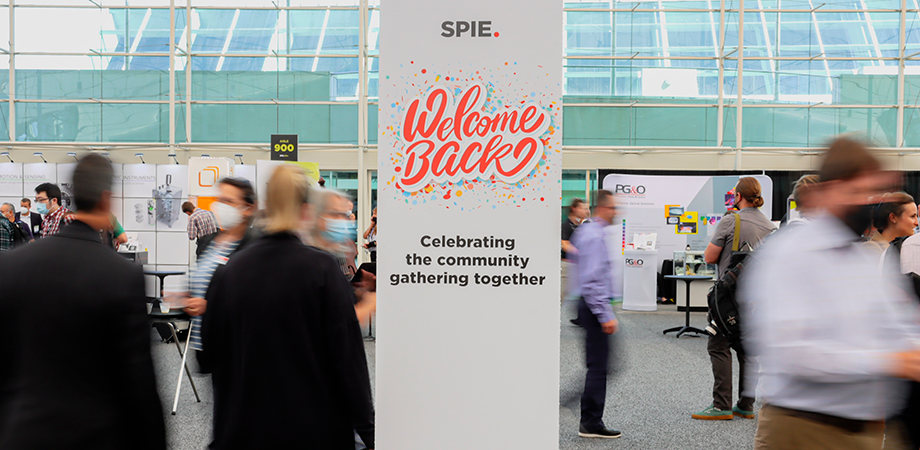 During the first week of August, SPIE, the international society for optics and photonics, welcomed optical researchers, engineers, exhibitors, students, and industry leaders to an energetic conference, which, for most, was the first in-person conference they'd attended in nearly 18 months. While presenters and attendees were also able to participate virtually, there was genuine excitement at the opportunity to connect and re-connect face-to-face in San Diego.
Following CDC, California, and San Diego guidance that Optics + Photonics could be safely held, SPIE sprang into action. Following a long foray into solely online events, SPIE successfully hosted over 1,300 attendees and 100-plus exhibitors at our first in-person conference since March 2020, with an additional 1,400 in attendance virtually. While adapting to changing conditions did lead to some last-minute changes in mask-wearing recommendations and requirements, it was great to see many in our community back together, discussing research, networking, and engaging with exhibitors.
With more than 2,100 in-person and remote presentations throughout the conference, plenary highlights included Paul Hertz, director of Astrophysics in the Science Mission Directorate at NASA on the organization's missions' roadmap and plans to create an inclusive and diverse astrophysics community; Jet Propulsion Laboratory's Shouleh Nikzad — recipient of the 2021 SPIE Aden and Marjorie Meinel Technology Achievement Award — on the rich spectral range of diagnostics that can offer information about planetary science and astrophysics; chemist, optical engineer, and nano engineer Teri Odom of Northwestern University on nanoscale optics; and Ge Wang, director of the Biomedical Imaging Center at the Rensselaer Polytechnic Institute, on the synergy between x-ray imaging and deep learning.
Shouleh Nikzad during the Sunday evening plenary program.
The week featured multiple social and networking events, including the annual SPIE Awards banquet, which was held outdoors for the first time to accommodate health and safety guidelines and recommendations. New social events included the first-ever First-Timers reception for attendees new to SPIE Optics + Photonics, and the inaugural Black in Photonics meetup, as well as a trivia night; an LGBTQ+ Social; an equity, diversity, and inclusion keynote by Spelman College's Tamara Pearson; and music-infused Happy Hours on the exhibit floor.
During the week, the Society also announced its election results, with University of Arizona's Jennifer Kehlet Barton elected into the SPIE presidential chain: in 2024, Barton will serve as SPIE President. And at the Sunday evening plenary session, Professor Renu Tripathi of Delaware State University was recognized as the first recipient of the $100,000 IBM-SPIE HBCU Faculty Accelerator Award, a five-year program that supports research and education in quantum optics and historically Black colleges and universities.
In addition, four days of panel discussions on emerging applications in artificial intelligence (AI) led to lively interactions between panelists and attendees on hot topics such as using AI as a diagnostic tool in neuroscience, ethical principles of using AI, and opportunities in AI investigations for young researchers. A conference dedicated to the numerous scientific, philanthropic, and industrial contributions of James Wyant was full of personal anecdotes about his impact on colleagues' and students' lives as well as on the optics community overall.
The symposium-wide welcome reception at 2021's SPIE Optics + Photonics.
Throughout the week, we heard repeatedly from authors, attendees, and exhibitors that they were ecstatic to be back in a convention center, seeing each other in person.
"It's about dedicated time," said Michigan Technological University Professor Jeremy Bos. "Attending conferences virtually competes with all of my other work and home responsibilities, but when I am here in San Diego, I am able to focus my energy and time on attending talks, visiting exhibitors, and exchanging ideas with colleagues old and new. It's been a fantastic week."
Nowhere was the excitement of re-connecting more apparent than on the exhibit floor, where more than 100 exhibitors were celebrating their first in-person show since SPIE Photonics West in early 2020.
"SPIE Optics + Photonics has been a welcome reunion for the optics community," said Laura Roberts, regional sales manager for SCHOTT North America. "We've had steady traffic, and a lot of good discussions have happened. Everybody seems ready to get back to work. Of course, we have to gauge how things change, but Schott is preparing to exhibit at Photonics West. We are very excited to get back to in-person shows and face-to-face meetings with customers, re-forming those connections that we have with our customers and with our colleagues and the industry network in general."
"The conference this year has been really great — we applaud SPIE for putting together such a great show considering the circumstances," said OptoSigma's Business Development Manager Cindy Gong-Harris. "We're excited to show our new technologies and showcase our standard products as well as our custom products, and we're very happy to be here and see people in person so thank you very much for putting on such a great show. We have been waiting for in-person meetings for a long time; it's been a year and a half since Photonics West, which is the last show that we exhibited at, and we're extremely excited to participate and be here with everybody."
"We're super happy to be back," said PI USA Regional Sales Manager Jeff Gabriel. "It's always nice to be able to see people's faces, and we've had a lot of people coming in to talk to us. It's just so much better than email conversations. We're always at Photonics West, so we're looking forward to that as well. Optics + Photonics is proving to be a great starting point for a return to in person meetings."
"The exhibit's been going great," added Cory Boone, lead technical marketing engineer at Edmund Optics. "And it's just so exciting being back for something in person. The people we are talking to tend to be a little bit more qualified than your typical trade-show lead, so people who are here really want to be here and it's just been great showing off some of our newer products, new technologies, and acquisitions that we've made for new laser-optics manufacturing. We're very excited for future shows, including Photonics West. This has been a great way to kick off in-person shows in the States again."
As the exhibit closed on Thursday, the exhibitors led a round of applause for what could only be called a successful return to in-person events.
"In spite of the changing circumstances, we experienced higher than anticipated in-person and remote attendance," noted SPIE CEO Kent Rochford. "More than 2,700 people registered for Optics + Photonics, and we really appreciate all those who came, visited the exhibitors, and participated in the technical program. Ultimately, the community supported the event, and they were happy to be back and networking with each other. For us, that constitutes a terrific success."
Enjoy this article?
Get similar news in your inbox
Recent News