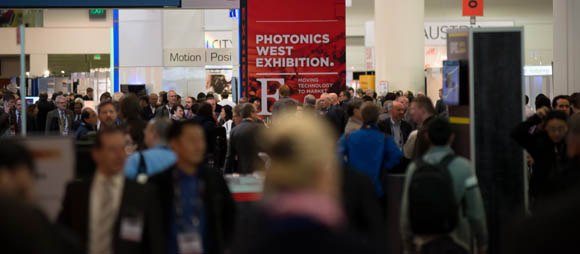 Product launches are among the many reasons that SPIE Photonics West is viewed
as the kick-off event of the industry's year;
above, the opening of the three-day Photonics West Exhibition in 2015.
BELLINGHAM, Washington, USA, and CARDIFF, UK -- Highlights at SPIE Photonics West 2016, the largest gathering of laser and optoelectronics professionals, will include an enhanced concentration in neuroscience and a comprehensive look at the European R&D project to radically advance laser materials processing capabilities.
Viewed throughout the photonics industry as the event that sets the stage for rest the year, Photonics West will run 13-18 February in the Moscone Center in San Francisco, California. Sponsor is SPIE, the international society for optics and photonics.
With more than 4,800 technical presentations, two world-class exhibitions, and industry and networking events scheduled across all six days, Photonics West annually draws a total registered attendance of more than 20,000 laser, photonics, and biomedical optics professionals from around the world.
A wide-ranging course program will provide opportunity to learn new skills and technologies, and the SPIE Job Fair will include recruiters from approximately three dozen employers seeking candidates for positions such as optical engineer and software developer.
The three-day Photonics West Exhibition with more than 1,250 companies is, as one 2015 participant noted, the place to find "everyone in the industry you would want to see." Technologies shown include lasers, cameras, infrared sources, imaging systems, fiber optics, and virtually every type of lens and optical component. Market-share leaders and startups with disruptive new technologies are represented, and companies from several international regions organize pavilions to showcase their areas' optics and photonics products.
The two-day BiOS Expo on the opening weekend features technologies and applications for imaging, diagnostics and therapeutics, along with biosensors and other biomedical devices, components, instrumentation, and systems.
Technical conferences are organized into three broad areas, Biomedical Optics (BiOS), Lasers (LASE), and Optoelectronics (OPTO).
Cross-disciplinary virtual symposia drawing from all three areas are organized into Translational Research, Green Photonics, and 3D Printing programs.
A new addition to the LASE program is a conference on Real-time Measurements, Rogue Events, and Emerging Applications.
The dedicated session on the recently completed ISLA Project, an EU-funded initiative to push forward the boundaries of current laser material processing technology, is part of the conference on Components and Packaging for Laser Systems. Session chairs are Alexei Glebov of OptiGrate Corp. and Bruce Napier of Vivid Components Ltd.
Plenary speakers for the laser conferences are:
Philip Russell, Max-Planck Institute for the Science of Light and University of Erlangen-Nuremberg, on photonic crystal fibers
Satoshi Kawata, Osaka University and RIKEN, on optical 3D nanofabrication
Scott Keeney, nLight Corp., on high-power semiconductor lasers.
Topical areas in OPTO are Optoelectronic Materials and Devices, Photonic Integration, Nanotechnologies, MOEMS-MEMS in Photonics, Semiconductor Lasers and LEDS, Displays and Holography, and Optical Communications Devices and Systems.
OPTO plenary speakers are:
Xiang Zhang, University of California, Berkeley, on parity-time symmetry photonics
Robert Boyd, University of Ottawa and University of Rochester, on quantum nonlinear optics
Michael Liehr, AIM Photonics and SUNY Polytechnic Institute, on merging photonics with nanoelectronics.
In BiOS, three conferences on neuroscience have been combined in a program track on Neurophotonics, Neurosurgery, and Optogenetics, chaired by Rafael Yuste of Columbia University. Yuste serves on the advisory board for the Paul Allen Brain Institute.
New BiOS conferences are on Biophysics, Biology, and Biophotonics: the Crossroads; and High-Speed Biomedical Imaging and Spectroscopy: Toward Big Data Instrumentation and Management.
Speakers in the perennially popular BiOS Hot Topics session, chaired by Sergio Fantini of Tufts University, will be:
2016 Britton Chance Biomedical Optics Award winner David Boas, Massachusetts General Hospital and Harvard University, on neurophotonics
Melissa Skala, Vanderbilt University, on imaging cellular heterogeneity in cancer
Aaron Aguirre, Massachusetts General Hospital and Harvard University, on new microscopy techniques for cellular imaging of the beating heart
David Sampson, University of Western Australia, on deep penetration with needles and alternate contrast with micro-elastography
Paul Beard, University College London, on photoacoustic imaging
Jennifer Hunter, University of Rochester, on adaptive optics for biomedical applications
Eric Potma, University of California, Irvine, on stimulated nonlinear optical microscopy
Heather Franklin, Blaze BioScience, Inc., on targeted fluorescence image-guided surgery.
The Nano/Biophotonics plenary speaker will be Halina Rubinsztein-Dunlop, University of Queensland, on applications of optical tweezers.
Industry visionaries and trend-setters will be honored at the Prism Awards for Photonics Innovation gala banquet, and aspiring entrepreneurs will vie for cash prizes in the SPIE Startup Challenge.
Registration and other information is on the event website: www.spie.org/PW.
SPIE is the international society for optics and photonics, an educational not-for-profit organization founded in 1955 to advance light-based science and technology. The Society serves nearly 264,000 constituents from approximately 166 countries, offering conferences and their published proceedings, continuing education, books, journals, and the SPIE Digital Library in support of interdisciplinary information exchange, professional networking, and patent precedent. SPIE provided more than $4 million in support of education and outreach programs in 2014. SPIE is a Founding Partner of the International Year of Light and Light-based Technologies and a Founding Sponsor of the U.S. National Photonics Initiative. www.spie.org
---
Contact:
Amy Nelson
Public Relations Manager
amy@spie.org
+1 360 685 5478
@SPIEtweets
---
All photos © SPIE, the international society for optics and photonics, except where noted.
---