Data communications for Industry 4.0 and beyond
Founded in January 2020 by Intel, NTT, and SONY, the IOWN GF was visualized and established as a global collaborative standards body seeking to align with United Nations' sustainability goals. Its mission is clear: to define the parameters of an all-photonics network of technologies that uses silicon photonics, edge computing, dynamic computing scaling, and wireless distributed computing in a new type of networked infrastructure
01 January 2021
By Susan Petrie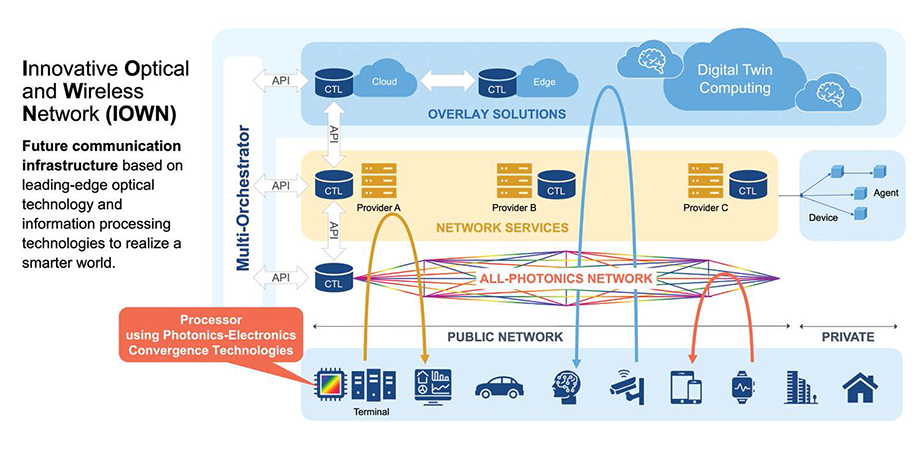 Shouts and murmurs about the 4th Industrial Revolution (4IR) have been increasing in number and volume since the similarly titled 2016 Davos summit, "Mastering the Fourth Industrial Revolution." For the unfamiliar, 4IR-according to Klaus Schwab, founder of the World Economic Forum-will lead to a fusion of physical, digital, and our biological selves.
Founded on a philosophical belief that the problems we face today are too big for any one country, government, or business to resolve, 4IR, or Industry 4.0, will—in theory—be smart, global, collaborative, inclusive, ambient, and actively seek ways to incentivize sustainability over consumption. It proposes, for example, that leadership collaborates on challenges such as CO2 reduction, biodiversity, and plastics management, and work to resolve them with smarter technologies.
In a 2019 talk in Chicago, Schwab made a salient point: governments are often too distracted by crisis management to properly understand and direct the full force of the accelerating digital transformation. Therefore, corporations, medical organizations, manufacturing industries, agriculture, private businesses, and others have moved ahead with innovations that are smart, networked, and that increasingly utilize artificial intelligence. Japan has gone one step further and announced its plan to realize "Society 5.0," which blends Internet of Things (IoT) into the fabric of daily human life.
Data is the lifeblood of smart environments. Therefore, there is a common and pressing need for communications infrastructures that can process the unprecedented amount of data that will be generated. These infrastructures must be ultra-reliable, affordable, fast, and clean. This is where a new global collaborative, the Innovative Optical and Wireless Network Global Forum (IOWN GF), offers a value proposition.
---

Advanced and emerging economies alike stand to gain if they can leverage new technologies to optimize processes and production, reduce transaction costs, and upgrade their supply chains. But progress will be hampered if they cannot overcome structural issues related to the generation, storage, processing, and transfer of data.
-World Economic Forum

---
A Global Data Communications Collaborative Begins
Founded in January 2020 by Intel, NTT, and SONY, the IOWN GF was visualized and established as a global collaborative standards body seeking to align with United Nations' sustainability goals. Its mission is clear: to define the parameters of an all-photonics network of technologies that uses silicon photonics, edge computing, dynamic computing scaling, and wireless distributed computing in a new type of networked infrastructure.
The organization began with a conversation between NTT Holdings CEO Jun Sawada and key leaders of Sony and Intel, around their interest in leveraging cutting-edge technologies in photonics and wireless. According to Katsuhiko Kawazoe, president and chairperson of the IOWN GF, their objective was "to look at ways in which the three companies could collaborate and harness the creativity inherent in the industry and develop next-generation communication and computing technologies, solutions, and IT infrastructure."
The companies agreed that a substantial industry investment would be necessary to improve access, connectivity, latency, service provisioning, point-to-point heterogenous computing, and power efficiency. These discussions seeded the formation of the organization.
Power Consumption 4.0
Because smart environments are data-centric environments, they must support the gathering, sending, receiving, and analysis of data. Increased power consumption, which is a natural result of the hardware and processing required for IoT/AI, represents a significant challenge.
Imagine, for example, the hardware needed for a smart factory or city: hundreds of cameras will continuously capture images and send them to central servers and AI systems for analysis. It is estimated that capturing, transferring, and analyzing data from a camera requires about 10 to 15 W, equal to the power required by a traditional light bulb. Just as traditional power-hungry light bulbs are being replaced by efficient LEDs, surveillance cameras must realize similar efficiencies to be viable.
As defined by IOWN GF, its goals for an ultra-efficient infrastructure include using 1/100th the power to achieve 125 times the data transmission capabilities in 1/200th of the current latency achievable today.
Beyond Human Cognition
Increasing power efficiency by orders of magnitude is just one challenge to solve; another is designing sensors "beyond humans." Today's digital technologies are optimized for human cognitive systems: video motion is optimized for human viewing at 30 frames per second (fps); sensors are designed to respond to human motions and sounds; cars are designed around human skills and response times.
But as AI capabilities and photonic technologies advance, key performance requirements of next-gen networking will not be constrained by the limits of human cognition-particularly audio-visual perception and response time—and it will move beyond them.
Machine sensing and control in factory processes will require visual recognition at 120 fps. Autonomous vehicle response times will be <10 milliseconds, much faster than a human's, which is about 0.1 second. Image sensors will detect wavelengths beyond visible light.
Additionally, next-gen technologies will enable vast amounts of environmental data to be collected. Advanced sensors and feedback devices will be touchpoints with the real world, and the information retrieved from them will be analyzed via distributed computing networks and used to forecast possible futures. Using feedback from future prediction, it is theoretically possible to improve outcomes. For example, action plans on wildlife, land, and water resources can be altered based on feedback from estimated futures. Digital twins will simulate multiple options before one is chosen.
Next Steps
In the near future, the IOWN GF will study use cases such as smart finance, mobility, cities, and entertainment. It will also be devising architectures, protocols, and interfaces based on optical and wireless networking, distributed computing, photonics, and optoelectronics.
At its first all-member meeting in September, IOWN GF announced membership had tripled since January, now up to 30 international companies. The roster includes, among others, Ciena, Fujitsu, Red Hat, Microsoft, Deloitte, and Toyota.
Susan Petrie is a science writer with an MFA in poetry from Bennington College.
Enjoy this article?
Get similar news in your inbox
Recent News