---
The laser changed all our lives in the first 50 years following the first successful demonstration of the technology. SPIE pays tribute to the many scientistists and engineers who have made it happen.
---
Laser museum: a special display collected for the 50th anniversary
View a virtual museum of more than 100 vintage lasers in a traveling display organized by SPIE and shown at major laser conferences during the anniversary year.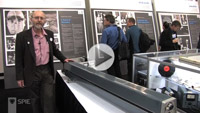 Take an online video tour with laser expert and author Jeff Hecht of the display at SPIE Photonics West.
See the virtual collection:
---
Optical Engineering special sections: the latest advances and an historical celebration
The laser's profound influence on every aspect of modern life and the many varieties of the technology are celebrated in a special section in the September 2010 issue of the SPIE flagship journal, Optical Engineering, commemorating the 50th anniversary of the laser. Section editors are Gregory Quarles and Yehoshua Kalisky.
The accelerated pace of development of quantum cascade laser (QCL) technology and its many applications -- such as detecting explosive chemicals on clothing, monitoring greenhouse gases and measuring blood sugar levels via breath analysis -- are featured in a special section published in the November 2010 issue of the journal.
U.S. Naval Research Laboratory scientists Jerry Meyer and Igor Vurgaftman edited the special section on Quantum and Interband Cascade Lasers. An invited review paper from Federico Capasso, professor and senior research fellow at Harvard University and leader of the group who first demonstrated QCL technology 16 years ago at Bell Labs, is featured among the section's 26 papers detailing new advances in the field.
---
Lasers in medicine
The January 2011 issue of SPIE Professional features a comprehensive overview of "Lasers in Medicine."
Just a year after the laser was invented, Leon Goldman became the first researcher to use a laser to treat a human skin disease. His research also led to the application of the ruby laser in retinal surgery in the mid 1960s and to discoveries such as lasers being able to simultaneously cut skin and seal blood vessels to restrict bleeding.
In SPIE Professional, Rox Anderson (Wellman Center for Photomedicine at Harvard Univ.), Abraham Katzir (Tel Aviv Univ.), Leon Esterowitz (National Science Foundation), and James Fujimoto (Massachusetts Institute of Technology) describe the latest applications in dermatology, ophthalmology, surgery, urology, oncology, and other specialities.
---
Open-access articles and features
---



Luminaries past and present
View a photo tribute to some of the laser pioneers and luminaries who have been involved in the invention and advancement of laser technology. (Space limitations do not allow inclusion of more than an arbitrary selection.)
The Advancing the Laser photo tribute was shown at 50 events in 15 countries during the anniversary year, and translated into 5 languages.
---

In their own words:
Video interviews with laser luminaries
Nearly 50 video interviews with laser pioneers and luminaries are presented in the SPIE Advancing the Laser Video Series.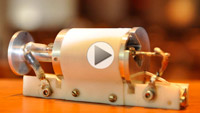 ---
SPIE: Founding Partner and Sponsor of LaserFest
Through community-based events and programs, LaserFest helped to showcase the prominence of the laser in today's world.
SPIE joined other LaserFest Founding Partners in funding grants for laser outreach in schools and communities, providing a wide variety of opportunities for students, policy makers, and other non-scientists to learn more about laser technology.
---