SQUARE Brussels Meeting Centre
14-17 April 2014
SPIE Photonics Europe, the premier European optics and photonics R&D conference, brings together multiple disciplines, technologies, and perspectives from across Europe and around the world.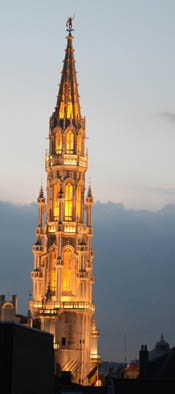 More than 1,200 technical presentations, on topics such as:
Micro/nano technologies
Organic photonics
Biophotonics
Highly integrated and functional photonic components
Advances in laser and amplifier technologies
Photonics in industrial applications
Quantum optics
Metamaterials
Laser sources and applications
Neurophotonics -- NEW session topic
John Dudley, Université de Franche-Comté: International Year of Light 2015
Wolfgang Boch, European Commission Photonics Unit: Horizon 2020 and the Photonics Public-Private Partnership
Raymond Beausoleil, Hewlett-Packard Labs: integrated photonics
Brian Wilson, University of Toronto: nanoparticle-enabled endoscopy
John Sipe, University of Toronto: quantum nonlinear optics
Frank Koppens, ICFO-Institute of Photonic Sciences: graphene quantum nano-optoelectronics
Marc Sciamanna, Supélec, OPOTEL and LMOPS: laser diode dynamics
Michal Lipson, Cornell University: silicon photonics
Photonics Innovation Village, showcasing 13 competing technology transfer projects judged by representatives of the European Commission Photonics Unit, SPIE, Photonics21, Vrije Universiteit Brussel, a bank or venture capital company, and a large European photonics company.
Industry Perspectives Programme: executive briefings on markets and business opportunities for photonics technology and applications
"Finding Partners for Horizon 2020" workshop
SCHOTT Workshop, on properties of optical glass and special optical materials
Photonics4Life "Interdisciplinary Workshop of Biophotonics"
FP7-STREP-Smartfiber Workshop, on fibre Bragg grating sensors and interrogators
"Getting Hired in 2014 and Beyond" workshop
Two-day exhibition (15-16 April) with approximately 70 photonics applications developers and suppliers
General chairs: Francis Berghmans, Vrije Universiteit Brussel; Ronan Burgess, European Commission Joint Research Centre; Jürgen Popp, Institute of Photonic Technology Jena; Peter Hartmann, SCHOTT
Honorary Chair: Hugo Thienpoint, Vrije Universiteit Brussel
---
Press registration
Conference registration fees may be waived for members of the working press who wish to attend to cover an SPIE event. See the Press Coverage of Events page for rules of registration.
Join the conversation on Twitter via #PhotonicsEurope!
---