1-6 February 2014
Moscone Center, San Francisco, California, USA
SPIE Photonics West, the world's largest international event encompassing industrial and medical applications of optics, lasers, and photonics, will feature more than 4,600 technical papers and two exhibitions.
Over 20,000 attendees are expected to convene in technical sessions, industry panels, two exhibitions, and other events covering advances in medical therapeutics and diagnostics, semiconductor, gas, fiber, and diode lasers, micro/nanofabrication, MEMs, optoelectronic materials and devices, displays, communications, and related topics.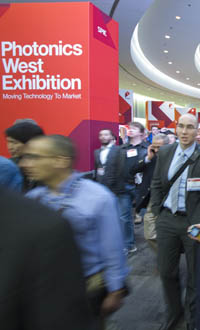 ---
Press registration
Conference registration fees may be waived for members of the working press who wish to attend to cover an SPIE event. See the Press Coverage of Events page for rules of registration.
---
Plenary sessions, technical program, and more information:
BiOS
LASE
MOEMS/MEMS
OPTO
Green Photonics
Lists of exhibiting companies and layout of the exhibition halls, product announcements, and product demonstration schedule:
BiOS Expo
1-2 February
~235 exhibiting companies
Photonics West Exhibition
5-7 February
1,234+ exhibiting companies

View the SPIE Photonics West recommended papers! (PDF)
---