BELLINGHAM, Washington, USA -A wave table to illustrate principles of light, research into improved light coupling, and outstanding academic performance garnered honors and recognition for students at the recent SPIE Optics + Photonics symposium in San Diego.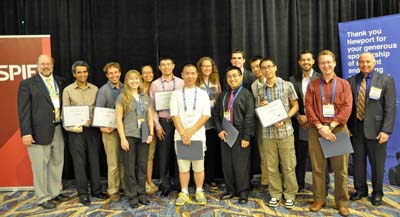 Thirteen students were recognized as the latest winners of Newport Research Excellence Travel Awards. The program provides financial support for university students to attend the two largest SPIE meetings to present their research. In 2013, Newport granted $15,000 to 29 students.
SPIE scholarship recipients were acknowledged, including the winners of the Optical Design and Engineering Scholarship and the Michael Kidger Memorial Scholarship in Optical Design:.
Dmitry Reshidko, winner of the 2013 Optical Design and Engineering Scholarship, recently completed his first PhD year at the College of Optical Sciences, University of Arizona (UA/OSC), where he researches innovative optical design, fabrication, and testing of state-of-the art optical systems. "I am thrilled to be part of SPIE as a Student Member and wish to express my gratitude to SPIE for assistance, inspiration and support of optics and photonics students all over the world," said Reshidko.
The 2013 Michael Kidger Memorial Scholarship in Optical Design was awarded to Tamer Elzahary, a third-year PhD student at UA/COS. His dissertation is reformulating the classical Abbe's sine condition in a general form that enables description of linear field dependent aberrations of generally axis non-symmetric optical systems.
In 2013 SPIE awarded $351,000 in scholarships to 139 outstanding individuals, based on their potential for long-range contribution to optics and photonics, or a related discipline.
Conference chair Zakya Kafafi, National Science Foundation, presented the Organic Photonics + Electronics Best Student Paper Award Winner certificate to Tobia Schwab, for his paper titled, "Improved light outcoupling and mode analysis of top-emitting OLEDs on periodically corrugated substrates."
Seventeen student groups showcased top optics and photonics demonstrations from student chapters worldwide at the popular Optics Outreach Games. The judge's choice -- also selected for the People's Choice Award, was "Waves, Waves Everywhere," Univ. Autónoma de Nuevo León, using a wave table to illustrate principles of light . See a brief video (5:39) of the winning entry.
Three new SPIE Student Chapters were approved by the SPIE Board of Directors at Optics + Photonics, bringing the total number to 232 Student Chapters, comprised of more than 6,400 members, at colleges, universities, and research centers in 47 countries throughout the world. The newest SPIE Student Chapters are:
· Johns Hopkins University , USA
· University of California, Irvine, USA
· Universidad EAFIT, Columbia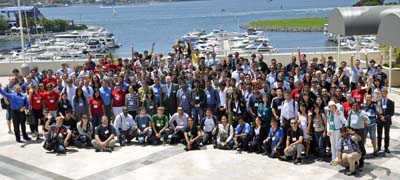 SPIE has added 38 chapters so far in 2013, at schools such as Columbia University, University of Porto, Imperial College London, Princeton University, University of Fukui and Tel Aviv University.
The 12th annual Student Chapter Leadership Workshop preceding the conference week provided professional development, networking and mentoring for 196 student chapter members led by 24 early -career professionals and workshop alumni facilitators. Participants represented 37 countries.
The Student Chapter program encourages students of optics and photonics to create and engage in a diverse array of career development opportunities with funding for officer travel to SPIE meetings, student leadership workshops, a Visiting Lecturer Program, and activities that promote participation in the optics and photonics community. Learn more at the Student Members page.

View SPIE Optics + Photonics event news and event photo gallery.
SPIE is the international society for optics and photonics, a not-for-profit organization founded in 1955 to advance light-based technologies. The Society serves more than 235,000 constituents from approximately 155 countries, offering conferences, continuing education, books, journals, and a digital library in support of interdisciplinary information exchange, professional networking, and patent precedent. SPIE provided over $3.2 million in support of education and outreach programs in 2012.

###

Media contact:
Stacey Crockett
Media Relations Coordinator, SPIE
+1 360 685 5458
staceyc@spie.org
@SPIEevents