A vertical-external-cavity surface-emitting laser (VECSEL) is similar to a VCSEL, but the laser resonator is completed with an external mirror and may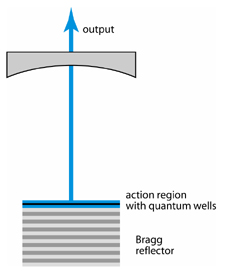 contain additional optical elements. The external resonator allows for single transverse mode operation with larger active areas. With electrical pumping, ≈1 W of output power is possible in a diffraction-limited beam, with tens of watts possible from optical pumping, where it is easier to homogeneously pump a large region. In any case, highpower operation requires additional features for efficient cooling (not shown in the figure), such as a heat sink soldered to the back side of the thinned gain chip or a transparent heat sink bonded to the top surface.
The external resonator may contain additional optical elements, such as an optical filter for wavelength tuning or a saturable absorber for passive mode locking, which generates picosecond or femtosecond pulses, typically with multigigahertz repetition rates. Alternatively, a nonlinear crystal inside the resonator allows for efficient frequency doubling, leading to devices with red, green, or blue output, for example.
The most powerful VECSELs are based on InGaAs quantum wells operating between 950 nm and 1050 nm, but longer wavelengths are also possible (e.g., around 1.3 µm with GaInNAs or 1.5 µm with InP).
Excerpt from
Member:
$35.70
Non-Member:
$42.00