The 1976 CIELUV color space is one attempt at providing a perceptually uniform color space. In this color space, the distance between two points approximately tells how different the colors are in luminance, chroma, and hue. The CIELUV coordinates (L*,u*,v*) can be calculated from the tristimulus values XYZ or the chromaticity coordinates (x,y) with the following formulas. The subscript n denotes the values for the white point.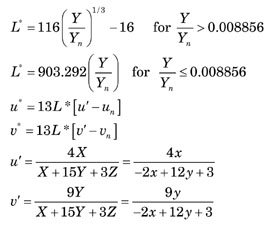 The color difference ΔE between two colors in the CIELUV space is

A value of ΔE of unity represents a just noticeable difference (JND). These coordinates can also be expressed in cylindrical coordinates with chroma being defined as

and hue being defined as

Citation:
J. Schwiegerling, Field Guide to Visual and Ophthalmic Optics, SPIE Press, Bellingham, WA (2004).
View SPIE terms of use.
Excerpt from
Member:
$35.70
Non-Member:
$42.00