In Memoriam: William H. Arnold
SPIE Fellow and retired ASML Chief Scientist William H. Arnold, 66, passed away 27 December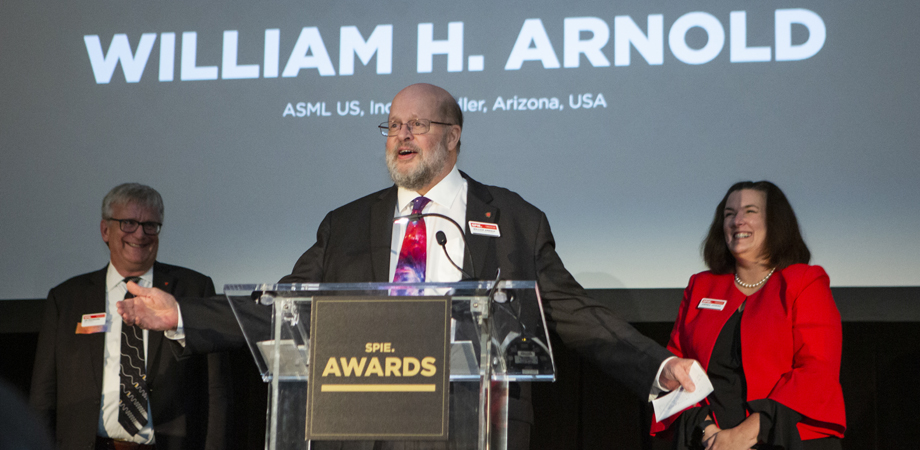 William H. Arnold receiving the 2019 SPIE President's Award at SPIE Optics + Photonics, where he read a limerick dedicated to SPIE as part of his acceptance speech. Then-SPIE President Jim Oschmann, left, and SPIE Operations Manager Andrea Jacques were on hand to present Arnold with his award.
William H. "Bill" Arnold, a lifelong lithography expert and an integral part of the SPIE community, passed away on 27 December. In 2019, Arnold retired from a 21-year-long career at ASML where he had served as both chief scientist and vice president of ASML's Technology Development Center (TDC). Before joining ASML, Arnold worked for 18 years at Advanced Micro Devices (AMD) where, as a Senior Fellow, he blended theoretical understanding of imaging with the practicalities of manufacturing for industry.
Donis Flagello, president, CEO, and COO of Nikon Research Corporation of America worked with Arnold when he led the TDC at ASML. "He was soft-spoken but very deliberate and thoughtful," says Flagello. "He was extremely well read, especially in the latest technological discoveries. He listened a lot and always gave us encouragement in our pursuits. His leadership style greatly contributed to the success of the TDC."
Flagello first met Arnold about 30 years ago when they were both presenting at SPIE Advanced Lithography. "Since that time I have known Bill as a customer, colleague, boss, mentor, and friend," says Flagello. "He was a man of immense integrity, ethics, and professionalism. Bill was always very active in SPIE and he inspired me and others to also become more involved. He loved the interaction with other scientists and engineers from diverse industries and universities. Bill will be truly missed by the entire lithography community and everyone who knew him."
l
Bill Arnold, along with Judy Fennelly (left) and Keith Lewis (center) play 'Jeopardy!' at SPIE Headquarters during a visit from the SPIE Board of directors in 2014.
Arnold, who received his BA in physics from Hampshire College and an MS in physics from the University of Chicago, joined SPIE in 1983. In 2004, he became an SPIE Fellow in recognition of his work in optical lithography that supported semiconductor production. In 2013, Arnold served as SPIE President, a role he relished and utilized for optimum outreach. Across the lithography and SPIE communities, Arnold was known and very much appreciated for his friendly, personable, smart, and down-to-earth approach.
"I started as a chipmaker in Silicon Valley," wrote Arnold in his presidential statement to SPIE nearly a decade ago. "I moved to Europe to make lithography tools, the wafer scanners which print silicon integrated circuits, and now work as a researcher and director of an international group looking to the future of electronic devices and the ways to make them ever smaller, faster, and more capable. Along the way with SPIE, I have been an author, journal editor, conference and symposium chair, organizer of new meetings, served on the Board of Directors, and met a lot of great people who work in optics and related fields. Drawing on these experiences, I have strong interest in helping to build the future of the Society through personal contribution." And make his mark he did, as these tributes, professional and personal, attest.
Bill Arnold and his wife Jane relax at the SPIE Photonics West Member Reception in 2014. Credit: Stacey Crockett
"I met Bill in 1986, when he was already an important figure in the field of lithography," wrote Fractilia's Chris Mack in his personal blog. "But his many technical achievements, numerous and significant though they were, pale in comparison to the humanity and generosity that defined Bill's personal impact throughout his career. He was wicked smart, clear and insightful, and always willing to discuss or explain a subtle point. He was honest and straightforward, someone you could trust to be forthright even when business was on the line or competitors were in the room. He cared deeply about his work, and the lithography community he spent so many years working within. He was greatly respected as a technologist, manager, colleague, and friend. In short, he was the kind of person I admired and strived to be like. I will miss him."
"Bill Arnold introduced a number of important concepts that today lithographers consider common knowledge," says Harry Levinson, Principal Lithographer at HJL Lithography and editor-in-chief of SPIE's Journal of Micro/Nanolithography, MEMS, and MOEMS. "He enjoyed exchanging ideas, which underlay his involvement with SPIE. Bill Arnold was a good colleague and friend of many people in the lithography and SPIE communities, and he will be missed."
"Bill certainly had a significant impact on SPIE and the lithography community," notes 2020 SPIE President John Greivenkamp, echoing Mack's sentiments. "But what I will always remember about Bill is that he was simply one of the nicest people I have ever met."
To Bill's right is his sister, Frances Arnold, and to his left is Donna Strickland. The occasion for the fancy attire? They are at the 2018 Nobel Prize Award Ceremony, where Frances Arnold received the Nobel Prize in Chemistry and Strickland received the Nobel in Physics. Photo courtesy of Chris Mack.

"Bill Arnold was a polymath who made major contributions to lithography," says Eugene Arthurs, SPIE CEO from 1999 to 2018. "Invention and execution in lithography have been key to advances in computing, and Bill helped bring about the progress that underpins the revolution in computer-based instrumentation that continues to change our world. He guided SPIE's long involvement with the remarkably creative community of lithographers. Early in my own career I learned not to think anything was impossible for this group, not even Abbe's law. Bill was very influential with the Society, as chair of the Publications Committee, and eventually as SPIE President. After his term as president, he continued on the Financial Advisory Committee. I was bemused by such an outstanding scientist and technocrat taking detailed notes at every SPIE governance meeting he attended. He was a man of great warmth, a calm demeanor in all circumstances, and outstanding judgement. This is a great loss. My sympathies to his constant muse, Jane, to his sister and Nobel Laureate Frances Arnold, and to those in the SPIE lithography community who have lost a true giant."
The family wishes memorial contributions be made to Doctors without Borders as an expression of sympathy.
Recent News