The 2021 SPIE Women in Optics Planner
The 2021 SPIE Women in Optics Planner is now available to order and to download for free.
16 November 2020
by Daneet Steffens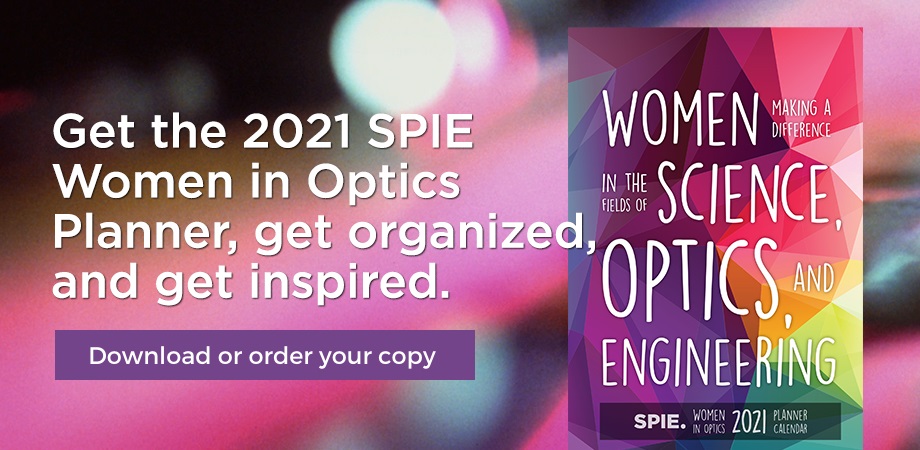 An annual offering from SPIE since 2005 – and a well-respected linchpin of the organization's Women in Optics program – the SPIE Women in Optics planner was created to inspire and educate young girls and women, inviting them to consider careers in optics, photonics, and other STEM areas. Showcasing a vibrant cohort of women scientists, engineers, researchers, and industry leaders, the engaging and informative SPIE Women in Optics planner is available at no cost to science teachers, educators, career counselors, community clubs, students, and the general public.
Sign in to download the complete 2021 Women in Optics planner in either our 8.5"x11" format or A4 format, designed to be printed on your home printer. Or place your order for your free physical copy here.
Help us find the next cohort of women to be in our 2022 planner. Nominations are due 1 March 2021 – or nominate yourself! Use the nomination form here.
---
---
Each profile includes insight into the professionals' career trajectories, their challenges and successes. Every person included in the SPIE planner offers a dynamic role model for other women and girls interested in STEM fields; together they serve as exciting examples of the myriad opportunities available in science and science-related professions.
"I have always had a curiosity about the world around me, such as rainbows, or oil patterns on the road," notes Fatima Gunning, a senior staff researcher and head of graduate studies and co-founder of the Photonics Systems Group at University College Cork's Tyndall National Institute. "I always wished to become an engineer," says Amna Riaz, an engineering science PhD student at the University of Oxford. "I heard a lot about how interesting engineering life was and how engineering skills could transform you into an independent risk-taker."
Whether they've been inspired into their varied careers by the inner workings of mechanical household devices, a picture of the first person in space, science-fiction writer Arthur C. Clarke, or simply by a "curiosity to know the unknown," these women are among 24 scientists, industry CEOs, product and sales engineers, research scientists, and technologists whose work and words are featured in Women Making A Difference in the Fields of Science, Optics, and Engineering, the 2021 Women in Optics calendar from SPIE.
Together they represent a rich range of global organizations and institutions, from the Institute of Applied Sciences and Intelligent Systems at Italy's National Research Council, NASA, and the California Institute of Technology, to businesses such as Mentor Graphics and Energetiq Technology, and an extensive spectrum of international universities. The women's profiles cover aspects of their innovative work as well as a plethora of professional interests which include facilitating the interface of academics and industry, a focus on science communications, and an emphasis on the support of peers, colleagues and mentees.
Or, as Jess Wade, research fellow at Imperial College London and advocate extraordinaire says in her introduction, "This planner highlights some of the women who are making the world a better place. Women who are at the forefront of their disciplines, women who are making extraordinary discoveries, women who are using their platforms to elevate others."
Meet the participants
Enjoy this article?
Get similar news in your inbox
Recent News