Wearables Move Beyond the Consumer…and Into the Clinic?
Consumer-grade wearables begin to merge with professional medical equipment.
01 January 2019
Stephen G. Anderson, SPIE Director of Industry Development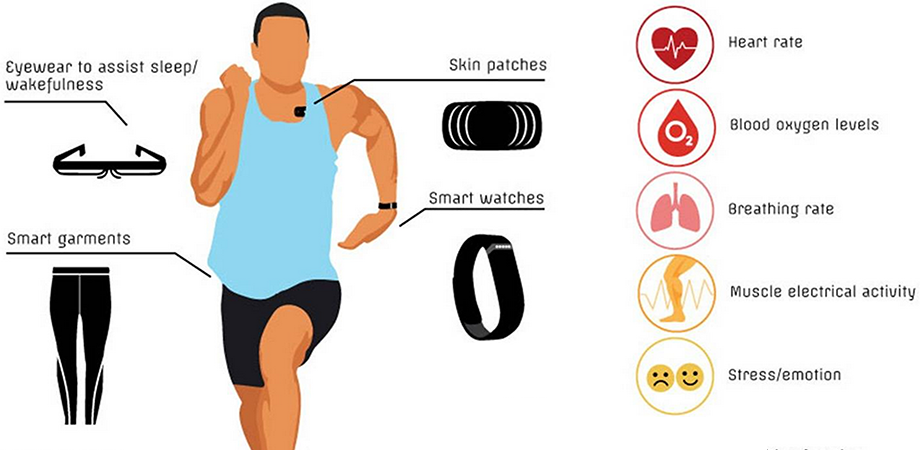 Despite skepticism when it was launched in 2015, the Apple Watch quickly became a best-selling wearable device, and today is a poster child for consumer wearables. Since then, combined sales of all smartwatches have grown into a ~$13 billion market segment that represents more than 40% of the worldwide wearable device business for 2018. The smartwatch segment alone is projected to increase another 32% to almost $18 billion by 2021, according to market research portal Statista.
The term wearables encompasses not just smartwatches, but a host of other electronic devices that can be worn on, or in close proximity to, the human body. Other device examples include smartglasses, contact lenses, fabrics, headbands and hats, jewelry such as rings or bracelets, and hearing aid-like devices (hearables). Not all of these devices use optical-sensing technology, but many do, and incorporate lasers or LEDs with detectors.
While the markets for wearables include gaming and entertainment, health and fitness applications-like activity trackers and smartwatches-currently dominate. These applications will account for more than half of all wearable devices sold in 2019, according to industry analyst firm CCS Insight, with significant continuing growth.
Wearable devices require high levels of engineering innovation to make them convenient, fashionable, and price competitive. Together with a growing list of capabilities, including monitoring heart rate, glucose levels, sleep quality, and so forth, these attributes are driving the current popularity of wearables among consumers, which is a key factor behind the projected market growth.
The fact that many wearables also embody optical technologies means many potential opportunities for optical researchers and components suppliers as the market grows. Many wristbands and watches use optical sensing, but more sophisticated wearables are also benefiting from photonics. Companies at the forefront of health wearables include startup Profusa, which is pioneering tissue-integrated biosensors scanned by an optical reader to monitor body chemistry; Artinis, which provides a portable cerebral oxygenation monitoring system based on fNIRS; and CareWear-2nd Place winner of the Photonics West 2018 Startup Challenge-which offers an FDA-approved wearable therapeutic light patch. And on the research front, some recent developments will be presented at SPIE Photonics West/BIOS 2019 in San Francisco, California.
An artifact of this drive for ongoing capability and performance improvement at the consumer level is technological convergence of consumer-grade wearables with professional medical equipment. While there is real technical overlap between wearables designed for healthcare professionals and the consumer devices that may appear to perform a similar role, some medical professionals are highly skeptical of the unregulated devices, suggesting they may confuse patients, impede care, and waste physicians' time. This raises the question, when is a wearable a regulated medical device?
In an effort to address this ambiguity, the United States Federal Food and Drug Administration (FDA), which regulates equipment designed for healthcare professionals and oversees the sale of medical devices, issued a guidance document dealing with this topic in 2016. Entitled "General Wellness: Policy for Low Risk Devices," the FDA document defines general wellness products as products that: (1) are intended for only general wellness use, as defined in the document, and (2) present a low risk to the safety of users and other persons.
Generally speaking, as long as wellness products do not make claims about disease prevention, treatment, mitigation, or cure, but instead claim only to sustain or offer general improvement to conditions and functions associated with a general state of health, the FDA will not enforce compliance with medical device regulations. These distinctions are not always straightforward however, and a detailed assessment of a device and its marketing claims may be needed to determine if it is in fact subject to regulation or not.
Into the clinic
The technical distinction between wellness products and medical devices seems likely to become even more blurred as advances in sensors and processors drive performance gains in both arenas. Such gains are an essential facet of addressing the healthcare needs of the world's aging population with the increasing prevalence of chronic diseases such as obesity, diabetes, and cardiac disorders-all of which require some form of continuous monitoring.
At the World Economic Forum in Davos, Switzerland, earlier this year, Rajeev Suri, CEO of Nokia, discussed wearable devices that will do more than existing fitness trackers by clinically monitoring heart rate, blood pressure, and other vitals. "We believe in a world where you can move from reactive care to continuous monitoring and really move to preventive care," Suri said. "At Nokia, we are trying to work on noninvasive wearable sensory devices so you can continually monitor the human body."
Continuous monitoring of vital signs raises a key point in the fight to win acceptance of wearables by medical professionals: medical wearables companies will need to do more than reliably collect data. They will also need to develop the capabilities to make sense of it all.
Meanwhile the latest incarnation of the Apple Watch highlights the potential evolution of wearables from consumer-level fitness trackers to certified health-monitoring devices: the new watch includes an electrical heart sensor that will eventually work with an app to provide an electrocardiogram, used to diagnose heart problems. The app has been approved by the FDA.
Enjoy this article?
Get similar news in your inbox
Recent News