Bridging the Valley of Death in Biotech
Stephen Boppart wins the 2019 SPIE Biophotonics Technology Innovator Award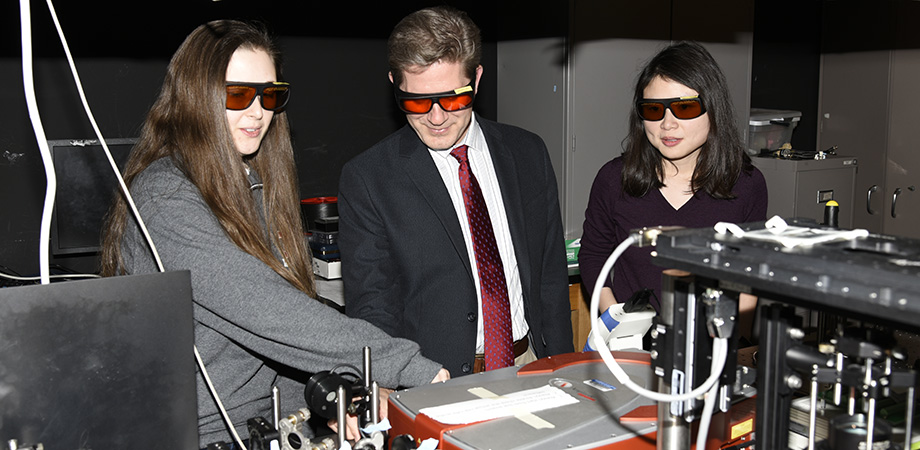 Stephen Boppart, director of the Center for Optical Molecular Imaging and head of the Biophotonics Imaging Laboratory at University of Illinois at Urbana-Champaign (UIUC), is fully committed to moving biophotonics technology from the bench to the bedside, and beyond. He encourages research faculty to drive the translation of their work into the commercial sphere—something he knows a lot about, having founded four biophotonic startup companies.
In 1998, while he was a grad student at MIT, Boppart was part of a team that co-founded LightLab Imaging, which pioneered commercialization of optical coherence tomography (OCT) for catheter-based medical imaging applications. His next company, Diagnostic Photonics, uses OCT during breast cancer surgery to assess tumor margins in real time. The third company, PhotoniCare, winner of the 2018 SPIE Startup Challenge, uses OCT to detect ear infections in children by providing real-time visualization of the middle ear. LiveBx, Boppart's fourth and latest startup, stands for "living biopsy," and focuses on nonlinear label-free imaging technology for tissue samples that are kept alive for a few hours after biopsy.
While Boppart was pursuing his PhD in medical and electrical engineering at MIT, he strongly felt that he needed to understand the tissue, disease, and patient that he was imaging, so he completed an MD in medicine as well. This dual-degree training has uniquely enabled him to both understand health problems and innovate on technical solutions. It makes sense, then, that Boppart's Biophotonics Imaging Laboratory at UIUC focuses on technologies that will have significant impact on health and society, because Boppart believes it's not enough to just move an idea from the lab to clinical trial. He says, "We need to be thinking how we can really change the world."
This track record for developing medical technology that truly impacts public health has earned Boppart the 2019 Biophotonics Technology Innovator Award from SPIE. The award is presented for extraordinary achievements in biophotonics technology development that show strong promise or potential impact in biology, medicine, and biomedical optics. On 2 February, he will accept the award at BIOS Hot Topics and he will also present three invited papers at Photonics West.
Boppart learned a few things along the way about commercializing biophotonics technology. He points out the importance of bridging the "valley of death" that most companies succumb to. One way is by developing systems friendly to the clinical environment, such as designing a clinical-looking prototype from the beginning, and having clinical data the company can run with.
At the same time, devices need to be simple. He says, "Engineers love complexity, so we tend to build these complex systems that are ultimately not practical in clinical settings. We've learned to keep things as simple as possible."
For anyone who may be taking notes, his third nugget of wisdom is to get to revenue fast. Because medical devices often have lengthy approval processes, he advises first marketing the technology to research or biotech labs while pursuing the medical device technologies in parallel. "You can get revenue quickly from the research market while waiting for the clinical market to develop," he says.
Boppart's contributions to the field of biophotonics are not limited to his successful startup companies. His lab has developed new applications for nonlinear imaging and OCT, including vibrational imaging and elastography; they have contributed to imaging of neural morphology, gastrointestinal malignancies, embryonic morphology, and engineered tissues. His team developed interferometric synthetic aperture microscopy (ISAM) and computational adaptive optics (CAO), which use computational methods to improve the resolution and quality of OCT images. This contribution has been singled out by Boppart's colleagues as an impressive technical feat that will impact biomedical applications in the future.
Adam Wax, professor and director of graduate studies in the Department of Biomedical Engineering at Duke University, has known Boppart for nearly twenty years. He notes that although Boppart's research metrics are impressive, "his experience in translational research, from developing new techniques, to seeing their clinical applications, to their commercialization, has truly set him apart as an innovator."
Anyone who has been through this process of innovation and technology transfer knows it takes many minds coming together to bring a new idea or piece of technology to fruition. Boppart emphasizes the impressive work coming out of his lab is an interdisciplinary collaboration across all career stages. He says, "One person, even an undergraduate, may say something that triggers a thought that we didn't have. Sometimes these undergrad students don't realize they play an important role, but they do. Everyone can make a contribution."
Enjoy this article?
Get similar news in your inbox
Recent News