Two Decades of Good Will
Rick Trebino wins the 2019 SPIE Maria J. Yzuel Educator Award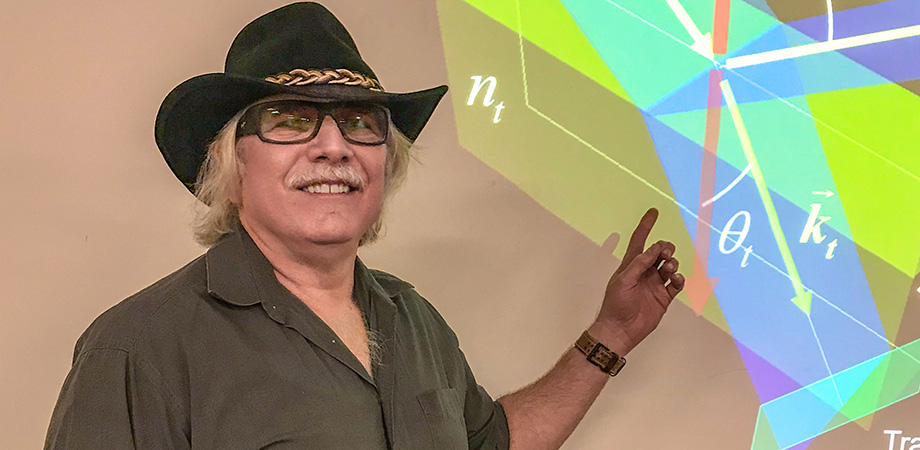 What do FROGs, BOAs, TADPOLEs, STRIPED FISH, and GRENOUILLE have in common? Answer: They're all found in the swamp. More specifically, they're all acronyms for ultrashort-pulse measurement techniques developed and coined by SPIE Fellow Rick Trebino, a physicist at Georgia Tech and owner of Swamp (simply wonderful apparatus for measuring pulses) Optics.
Although the witty acronyms are memorable, Trebino is most well-known for the devices they represent. His career has been devoted to developing devices to measure ultrashort pulses, and he's widely respected as an expert on the topic; in fact, he wrote the book on it (Frequency Resolved Optical
Gating: The Measurement of Ultrashort Laser Pulses, Springer).
Trebino has also made tremendous contributions to undergraduate and graduate education in both optics and physics in the form of freely available slides and lectures on these topics. In recognition of the significance of his contribution, he has been awarded the 2019 SPIE Maria J. Yzuel Educator Award, which is presented in recognition of outstanding contributions to optics education by an SPIE instructor or an educator in the field.
Trebino's unique sense of humor and clear communication style carry through to his teaching materials, which are colorful, self-contained, filled with detailed illustrations and animations, and include elegant and intuitive mathematical derivations.
"Rick must have invested thousands of hours in the honing of this teaching material over the years, and to give this away as he does for the benefit of the entire optics community is simply remarkable," says Federico Capasso, SPIE Fellow and Robert L. Wallace Professor of Applied Physics at Harvard University.
All of his teaching material is placed on his website (frog.gatech.edu/talks.html), where he gives it away to anyone who needs it. Professors from all over the world have shared stories about contacting Trebino for permission to use his slides in their courses, and students have reported that Trebino's lectures are so useful that they often ignore their textbooks altogether. His lectures have been translated into Spanish, French, Chinese, Portuguese, and partially into Arabic.
SPIE Member Mikhail Kats, assistant professor of electrical and computer engineering at University of Wisconsin-Madison, benefitted from Trebino's open-source teaching materials during his first hectic semester when he was setting up his lab and starting his research program. He found that Trebino's free material was much better than any other teaching materials he could find. "Rick's notes are possibly the best free resource for optics education at the undergraduate and early graduate level," says Kats.
Trebino continues to develop teaching innovations and is currently working on a "next-generation textbook" that will consist of open source and free lectures and slides for use on a tablet or mobile platform.
"The Maria J. Yzuel Educator Award rewards two decades of good will and altruistic contributions to the international optics community by Rick Trebino that have had tremendously positive effects for educators and students alike," says Anderson Gomes, Universidade Federal of Pernambuco, Brazil. "It is also a springboard for his next project to make next-generation educational material freely available to students worldwide, particularly in the world's poorer areas, where it is most needed."
Enjoy this article?
Get similar news in your inbox
Recent News