The days of the Xenon lamp are numbered
A new generation of light sources for cinema comes of age.
25 June 2018
William Burgess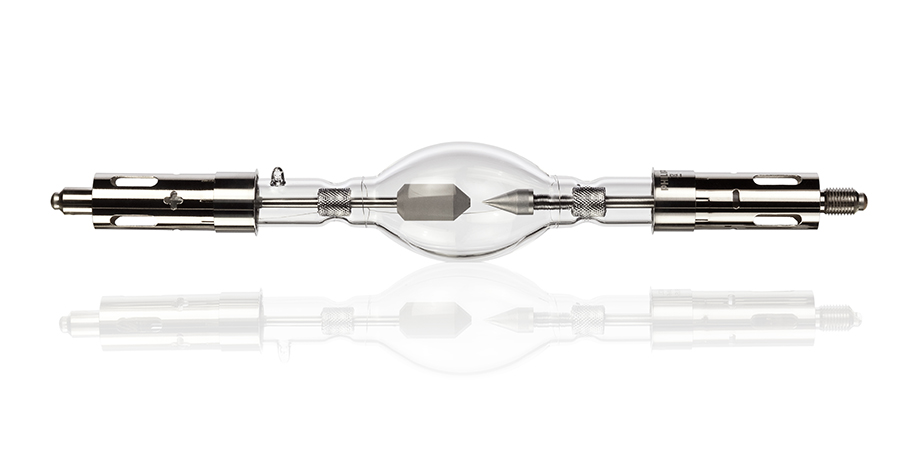 Today's cinema owners are faced with a large number of technological choices when it comes to light sources for their cinema projectors. New and innovative light sources are revolutionizing cinema projectors and display technologies.

Projectors for the motion picture industry must meet demanding quality requirements set by movie studios. At the same time, they must meet the cost effectiveness and reliability requirements of the cinema owners.

Movie goers expect bright pictures and a consistent viewing experience each time they visit a theater. At the core of all these requirements is the projector's light source (see table below).

Credit: Power Technology, Inc.

Since the conversion from film to digital projectors, the standard light source choices for cinema have been high-pressure mercury (HPM) and xenon lamps. HPM lamps are cheap, but typically deficient in the red part of the spectrum leading to lower image quality than xenon lamps. HPM lamps are also limited to outputs of 100s of watts and are used in multiples of two for added reliability. Xenon lamps for cinema were first introduced by Osram in 1951 and have become highly reliable, allowing the use of one lamp per projector. The lifetime of larger lamps can range from 800 to 1200 hours. Rightly so, lamp manufacturers are quite nervous about the newer technology options discussed in this article, as they virtually eliminate the need for lamps and the need to frequently replace lamps.

Several new laser projection technologies have been commercialized during the past few years, but not all new technologies are created equal. Some are ideal for premium, large-screen applications with high-performance 3D, while others offer lower performance for smaller 2D screens. Let's take a closer look at each these technology choices.
A XDC 300CL 3KW Xenon lamp for cinema use.

Blue pumped phosphor and laser phosphor
The lowest performing of the new laser technologies is called blue pumped phosphor (BPP) or laser phosphor (LaPh). With this technology, blue laser diodes are used to "pump" a phosphor wheel. This converts the blue laser light to yellow light containing the additional red and green components. All of the coherence of the blue laser light is lost at this point. The yellow light is mixed with a little more blue light from the pump laser to create the white light near the D63 or D65 white point (6300-6500K) that is a useful projection light source. Most BPP projectors are used on small and medium screens due to the technology limits of 20,000-30,000 lumens, and provide decent image quality with good lifetime. This technology is advancing quickly and brighter sources are starting to appear.
NEC Display Solutions, LTD (Japan) and other information technology companies have developed a technology similar to BPP called RB Laser. NEC uses laser diodes to generate red and blue light. The green component of the white light is created by a phosphor wheel pumped by blue lasers. This avoids the laser speckle problem caused by certain lower cost, green diode pumped solid state (DPSS) laser sources. Recent demonstrations at CinemaCon and CineEurope have yielded high opinions of these products; however, the performance does not reach that of the most advanced laser technology.

RGB lasers
RGB laser sources avoid the use of phosphors to generate white light with a wider color gamut resulting in premium image quality. The wider the color gamut, the more realistic the image. In RGB laser light sources, the components of white light are entirely generated with laser diodes. This method of light generation has allowed most US and European projector manufacturers (and laser light source manufacturers) to perfect "speckle-free" operation up to 60,000 lumens.
RGB sources can be divided into two classes based on their number of primary colors used. While 3P RGB light sources obviously have red, green, and blue primaries, 6P RGB light sources have six primary: R1, R2, G1, G2, B1, and B2. These additional primaries allow for a high-performance 3D experience. Each set of the red, green, and blue primaries are spectrally separated by about 20 nm from their companion primary.
Through the use of specially coated glasses, images contained by R1G1B1 wavelengths can be seen by the left eye and R2G2B2 wavelengths seen by the right. This technique was originally developed in Germany by Infitec GmbH and was licensed by Dolby for use in their "Dolby Vision" premium cinemas. With over 100 deployments, the Dolby Vision experience is considered to have the best 3D image quality in wide distribution.
Laser light sources offer a wider color gamut than Xenon lamps thus produce more realistic images.
Another type of RGB laser is based on fiber laser technology. Currently, fiber-based cinema light sources are single-source, expensive, and suitable for only the largest of screens (i.e. premium large format or PLF). Additionally, the number of deployed systems is very low (i.e. <5). Reliability and performance of such systems is hard to confirm.
Contrary to popular belief, it is not necessary to purchase a new cinema projector to take advantage of the high-performance characteristics of RGB laser light sources. Both 3P and 6P RGB light sources are available as a retrofit upgrade to existing projectors. Both Series 1 and Series 2 projectors from Barco, Christie, NEC, and Sony are routinely upgraded with laser light sources manufactured by companies like Power Technology, Inc. in Little Rock, AR. Upgrading a projector allows cinema owners to leverage their existing investment in projectors while taking advantage of better picture quality. RGB upgrade solutions consume only half the energy of lamp-based projectors, while providing one of the greatest benefits of laser illuminated projection, the elimination of lamps (or frequent lamp changes).
The upgrade process varies from projector to projector, but can typically be accomplished in a single night with no interruption of the daily exhibition schedule. Minimal changes are made to the projector and the projection booth. In most cases, the existing electrical service, ventilation, and HVAC service can be used.
Following the upgrade, patrons receive consistent brightness from week-to-week avoiding the dim showings caused by lamps nearing the end of their life. Lamps at the end of their 800-1200 hour lifetime often only emit 50% of their original brightness. By contrast, RGB laser light sources offer consistent brightness and retain 80% of their original brightness at the end of their 30,000 hour lifetime.

LED technology
The newest light source for cinema is called "Direct-View" LED Displays. In LED systems, both the projector and the projection screen are replaced by an LED wall. Both Sony and Samsung demonstrated this technology at CinemaCon in 2017. Samsung had a secretive, off-site demo, viewable by invitation only. According to many who viewed the demo, the brightness exceeded the DCI standard of 14ft-L by a factor of 10. To avoid washed out images, studios would need to "re-grade" their movies specifically for the brightness levels produced by these instillations. CinemaCon attendees also lauded the high dynamic range (HDR) performance of such a system. At the time this article was written, less than 10 of the screens had been installed, starting with a 10-meter installation at the Lotte Cinema World Tower in Seoul, South Korea. In March, Samsung announced the first 3D Cinema LED screen at Arena Cinemas' Sihlcity Theater in Switzerland.
Optical spectrum of next generation light sources. Credit: Power Technology, Inc.
Sony's micro-LED CLEDIS demo at CinemaCon 2017, though only five meters, was also impressive. Sony has not publically announced any direct view installations of it's technology nor has it cleared any of the technical hurdles required by the movie studios to play their content. This "wait and see" approach is likely both deliberate and wise.
For direct-view systems, three main issues have been raised. The first was speaker placement on a solid LED wall. With a solid LED wall, traditional placement of left, right, and center speakers behind the screen would be impossible. The second issue is price. Rumors of a seven-figure price point for the largest Samsung screen may force most exhibitors to invest in alternate technologies. Lastly, the additional brightness comes with a cost. The power consumption of direct-view screens at full brightness far exceeds that of even lamp based projection systems.
Of all the display technologies available to today's cinema owners, RGB laser light sources provide the best combination of price and performance. Regardless of the choice of a new projector or upgrading an existing projector, the audience is the clear winner! These new generation light sources provide a far superior cinema experience compared to antiquated lamp-based technologies.
SPIE Senior Member William Burgess is the co-owner of Power Technology, Inc. He serves on the ANSI Z136.1 Safe Use of Laser committee and is a member of the Laser Illuminated Projection Association's (LIPA) regulatory committee. This article originally appeared in the July 2018 issue of SPIE Professional.



Enjoy this article?
Get similar news in your inbox
Recent News