Enduring Power of Year of Light
IYL celebrations continue into 2016 and beyond.
The International Year of Light and Light-based Technologies (IYL) was a resounding success in 2015 in raising awareness across the planet about the vital role that optics and photonics technologies play in addressing some of the biggest challenges facing the world.
And now it's over.
Well, maybe not.
The official IYL closing ceremonies will be held over three days in Mexico in early February.
The French IYL National Committee decided to extend the IYL celebrations in France through June 2016.
And thousands of actions, some taken even before the UN General Assembly officially approved the global initiative in December 2013, are like seeds that will flower for many years into the future.
The closing ceremonies in Mérida, Mexico, 4-6 February, will continue the celebration of light and its many applications in science and society as well as provide a forum to showcase the success of events that reached millions of people in more than 100 countries last year.
During 2015, 17 countries issued IYL postage stamps, and events ranged from the creation of a global science opera in Norway to seminars on solid-state lighting, holograms, and astronomy, to festivals, school outreach programs, and conferences all over Europe and North America and in Chile, India, Morocco, Ethiopia, Japan, China, New Zealand, Pakistan, Ghana, and elsewhere.
"United by the interdisciplinary theme of light, IYL 2015 has brought together a diverse range of participants with UNESCO," said SPIE member John Dudley, chair of the IYL 2015 Steering Committee. These optical scientists and engineers, astronomers, educators, lighting professionals, and others remain "committed to raising awareness of how light science and technology provide solutions to the many challenges facing the world today," Dudley said.
CLOSING CEREMONIES FOR IYL
Messages from the UN, UNESCO, and IYL leaders will open the closing ceremony, and the program will include keynote lectures, symposia and roundtable discussions on basic science, technology, science policy, development, the history of science, and lighting solutions in society, art, and culture.
Speakers (known at the time this magazine was printed) include Dudley, Joseph Niemela, global coordinator for the secretariat for IYL; Nobel laureates John Mather and Shuji Nakamura; Ana María Cetto, chair of the IYL National Committee in Mexico and a professor at Universidad Nacional Autónoma; Gustavo Avilés, a renowned Mexican architect; Harry Atwater Jr. of the California Institute of Technology (USA); Vanderlei Bagnato, a professor at University of São Paulo (Brazil); Gihan Kamel, infrared beamline scientist at the Synchrotron-light for Experimental Science and Applications in the Middle East (Jordan); Sir Peter Knight of Imperial College London; Noureddine Melikechi of Delaware State University (USA); Susana Marcos from Instituto de Optica (Spain); SPIE member Sir David Payne of University of Southampton (UK); Sir John Pendry of Imperial College London, Lluis Torner of the Institute of Photonic Sciences (Spain); and Ling-An Wu of the Institute of Physics (China).
The official IYL closing celebration will also include a film and video festival, an extensive outreach program open to the public, a cultural program with performances and installations from leading light artists, and an optional excursion to the Mayan archaeological site of Chichen Itza.
IYL committees in many countries and regions around the world have held separate closing ceremonies already for people in their region.
In Spain, for instance, IYL supporters held a closing event in November to celebrate the 300 activities that brought the science of light to the public. At that event, Dudley noted that Spain was one of the first countries to support the IYL initiative. Dudley also gave a talk on 1000 years of optics and 50 years of solitons, while former SPIE President María Josefa Yzuel, president of the Spanish IYL Committee, gave a talk on the role of light technologies in solving global problems in health, energy, sustainable development, and communications.
France will also hold a separate closing ceremony for IYL, 2 February in Paris, but the IYL committee in France had so many requests from organizations wanting to host IYL events that the international year will be extended in France for six more months. By 30 June, France expects to achieve its goal of organizing 1000 IYL events in that country.
SPIE A FOUNDING PARTNER OF IYL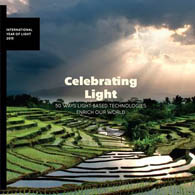 SPIE, as one of 12 founding partners of IYL, sponsored numerous events during the year to promote improved public and political understanding of light-based technologies to educators, scientists, government officials, business executives, and others through conferences, journals, displays, a photo contest, hands-on activities, and other outreach activities.
SPIE has also published two books for IYL. SPIE printed 25,000 copies of the first book, Celebrating Light, 50 Ways Light-based Technologies Enrich Our World, and has distributed them freely at IYL events throughout the year. The volume celebrates 50 applications of light that have made the world a better place.
The second, Inspired by Light: Reflections from the International Year of Light 2015, is a collection of 56 blog posts from industry professionals, students, NGO representatives, a Nobel laureate, and other authors from 24 countries that were published on the light2015blog.org website.
This book, to be published in January 2016 for distribution at the closing ceremony, was produced by SPIE in concert with the European Physical Society and the International Centre for Theoretical Physics to celebrate the achievements of IYL.
Contributions in the book cover, light in culture, education, science, and technology with essays that pay homage to the people throughout history who have advanced light-based technologies, and to the many ways humanity has been influenced and inspired by light.
Two other SPIE publications, the Journal of Biomedical Optics and the Journal of Photonics for Energy, published special sections dedicated to IYL in 2015.
In addition, an SPIE video on IYL, produced in English, French, Spanish, Portuguese, and Mandarin, was shown at numerous IYL events and viewed online more than 30,000 times, and SPIE Professional magazine organized the SPIE International Year of Light Photo Contest.
International judges for the photo contest selected three images depicting light and light-based technologies in daily life for top prizes. A public vote gave the People's Choice Award to Handi Laksono for his photo highlighting difficulties encountered by the world's 1.5 billion people who lack access to electricity.
SPIE SUPPORT OF IYL 2015
SPIE expended some $1.3 million in support of the International Year of Light. In addition to sponsoring and hosting numerous events, SPIE made available to the public:
75,000 IYL lapel pins
25,000 copies of Celebrating Light, 50 Ways Light-based Technologies Enrich Our World
20,000 pairs of diffraction glasses
20,000 bookmarks
6500 posters of optics and photonics luminaries
5000 solar-powered flashlights
80 exhibits with "Light: Beyond the Bulb" panels
26 community outreach grants to SPIE Student Chapters
More information about IYL: spie.org/IYL
---
Recent News