SPIE Luminary Wolfgang Osten
With this series, SPIE celebrates the work of people who have "lit the way" for research in optics and photonics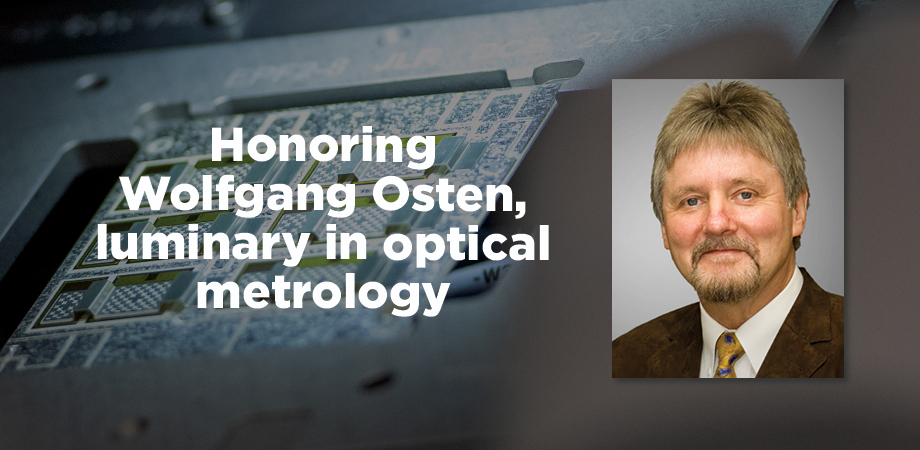 The SPIE Luminary Series
In 2021, SPIE celebrates the work of those who have "lit the way" for research in optics and photonics. Each of these luminaries has made a significant impact on the development of a field that is core to SPIE, including biomedical optics, electronic imaging, optical systems, lens design, neurophotonics, light-based energy research, remote sensing, medical imaging, and nanophotonics. A different luminary will be featured each month.
Many of these luminaries have published with SPIE for decades, while others are newer to our community. To highlight their contributions to the literature, SPIE will make all of their SPIE-published research open access for one month on the SPIE Digital Library, including SPIE Proceedings and journal papers.

May Luminary: Wolfgang Osten
During his more than four-decades-long career, SPIE Fellow Wolfgang Osten, a professor at Universität Stuttgart and retired director of the university's Institute of Technical Optics, has made exceptional contributions to optical metrology. His research focuses on new concepts for industrial inspection and metrology by combining modern principles of optical metrology, sensor technology, and image processing.
Osten and his research team developed the first automated system for the quantitative and qualitative evaluation of interferograms in the '80s, as well as the principle of tilted-wave interferometry for high-precision aspherical and free-form surface measurement. Both techniques have since been commercialized.
In recognition of his significant contributions to the development of wide-scale optical imaging and metrology, which have stimulated new approaches and technologies for the inspection of nano, micro, and macro-objects, Osten received the 2019 SPIE Chandra S. Vikram Award in Optical Metrology. Previously, he was honored with the 2011 SPIE Dennis Gabor Award in Diffractive Optics in recognition of his outstanding contributions to the development of holography-based technologies for measurements on large, micro, and nano-structures. In addition, he and several colleagues — Christof Pruß, Goran Bastian Baer, Johannes Schindler — received the 2017 Rudolf Kingslake Medal, a then-annual recognition of the most noteworthy original paper published in the Society's Optical Engineering journal.
A frequent conference chair and program committee contributor who has been actively involved in the SPIE Optical Metrology Symposium for the past 20 years, Osten has published more than 300 papers and proceedings with SPIE. In 2017, together with Bernard Kress, he founded the new conference series "Digital Optical Technologies" which takes place every two years as part of the Munich LASER World of Photonics Congress.
"Wolfgang Osten has had a profound impact on the field of optical metrology, in particular through his development of techniques for measurement and characterization of micro-optical components and systems," said Journal of Optical Microsystems Editor-in-Chief Hans Zappe. "Osten's novel approaches to metrology, combining holographic and interferometric measurements with image processing, have enabled considerable advances in the characterization of aspherical and free-form optical surfaces. Considering the current surge in the fabrication of freeform optics, it is clear that Osten's contributions to optics and optical measurement will continue to play an important role in our community."
For the month of May, all of Wolfgang Osten's papers in the SPIE Digital Library will be open access to honor his contributions to optical microsystems.
Recent News