SPIE Luminary Shree Nayar
With this series, SPIE celebrates the work of people who have "lit the way" for research in optics and photonics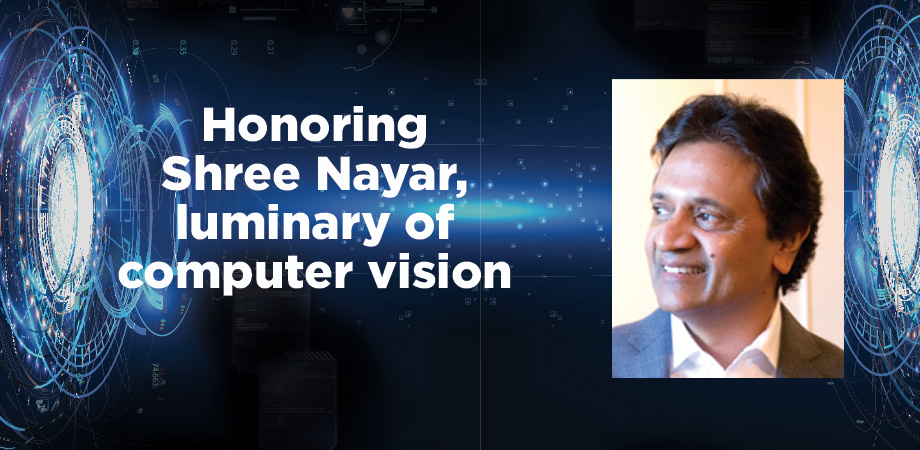 The SPIE Luminary Series
In 2021, SPIE celebrates the work of those who have "lit the way" for research in optics and photonics. Each of these luminaries has made a significant impact on the development of a field that is core to SPIE, including biomedical optics, electronic imaging, optical systems, lens design, neurophotonics, light-based energy research, remote sensing, medical imaging, and nanophotonics. A different luminary will be featured each month.
Many of these luminaries have published with SPIE for decades, while others are newer to our community. To highlight their contributions to the literature, SPIE will make all of their SPIE-published research open access for one month in the SPIE Digital Library, including SPIE Proceedings and journal papers.

November Luminary: Shree Nayar
Shree Nayar is the T.C. Chang Professor of Computer Science at Columbia University and the director of the Columbia Vision Laboratory (CAVE), which develops computational imaging and computer vision systems. He is also the director of Snap's New York City-based Computational Imaging Laboratory. Nayar's particular areas of focus include making cameras that offer new forms of visual information, developing algorithms for improved "reading" of images, and building physics-based models for computer vision and graphics. His work directly impacts, improves, and creates applications across smartphone camera technology, machine vision, robotics, virtual reality, augmented reality, visual communication, computer graphics, videogame technology, and human-computer interfaces, straddling both mainstream and commercial viability.
His many technical achievement and teaching awards include the Columbia Engineering Distinguished Faculty Teaching Award and the IEEE PAMI Distinguished Researcher Award. Nayar is also an elected fellow of the National Academy of Engineering, the American Academy of Arts and Sciences, and the National Academy of Inventors.
"Personally, I was most affected by the work Shree Nayar did on 3D sensing," says Journal of Electronic Imaging's Editor-in-Chief Zeev Zalevsky. "He was the first to offer approaches incorporating optical knowledge with a computer vision algorithm, in, for instance, his work on extracting 3D information from optical defocusing. The Journal of Electronic Imaging aims to collect research on novel methodologies related to imaging performed by various types of electronic devices. This includes novel image-processing tools involving, deep learning, but also combines optical modalities that could assist and enhance the process of imaging. This interface between image processing combined with optical support is exactly where the work of Shree Nayar enters."
For the month of November, all of Shree Nayar's papers in the SPIE Digital Library will be open access to honor his contributions to computer vision.
Recent News