SPIE Luminary: Harrison Barrett
With this series, SPIE celebrates the work of people who have "lit the way" for research in optics and photonics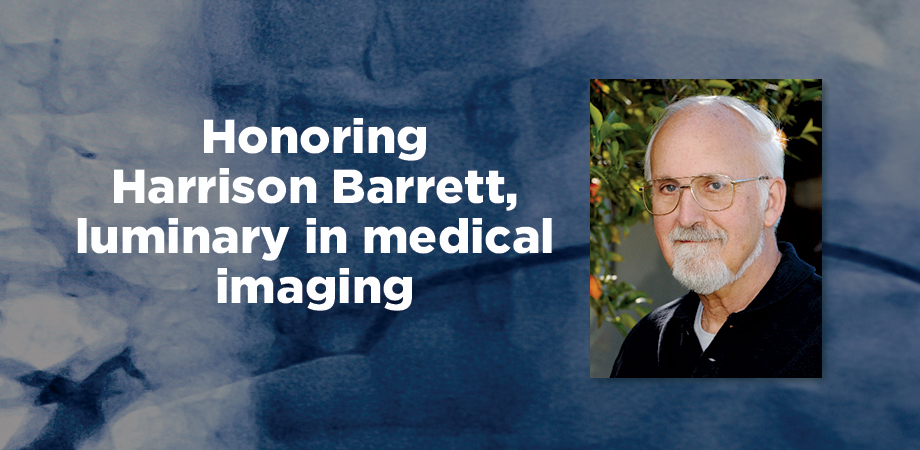 The SPIE Luminary Series
In 2021, SPIE celebrates the work of those who have "lit the way" for research in optics and photonics. Each of these luminaries has made a significant impact on the development of a field that is core to SPIE, including biomedical optics, electronic imaging, optical systems, lens design, neurophotonics, light-based energy research, remote sensing, medical imaging, and nanophotonics. A different luminary will be featured each month.
Many of these luminaries have published with SPIE for decades, while others are newer to our community. To highlight their contributions to the literature, SPIE will make all of their SPIE-published research open access for one month on the SPIE Digital Library, including SPIE Proceedings and journal papers.

March Luminary: Harrison Barrett
Harrison Barrett is a pioneer in medical imaging. While officially retired since 2019, he remains a professor emeritus of medical imaging, optical sciences, biomedical engineering, and mathematics at The University of Arizona's Wyant College of Optical Sciences. His scientific specialty is image science, a field which provides unified theories, design principles, and evaluation methods for all forms of imaging: his group at the College of Optical Sciences has applied the methodologies of image science to astronomy and optical metrology, but his main focus has always been medical imaging, where he's been a longtime leader in developing new methods for the assessment and optimization of image quality.
Barrett received his PhD in applied physics from Harvard in 1969, and, before joining The University of Arizona, worked for the Raytheon Research Division. But he made his first gamma-ray image at the tender age of ten, when his parents bought him a Gilbert Atomic Energy Lab, a high-end science kit.
A founder of SPIE Medical Imaging when it began in 1972, Barrett was awarded the Society's Gold Medal in 2011. Foundations of Image Science, a book he authored with Kyle J. Myers, won the first J. W. Goodman Book Writing Award in 2006, an honor co-sponsored by SPIE and OSA. He was elected to the National Academy of Engineering in 2014; four years later, he became a Fellow of the National Academy of Inventors. That same year, in recognition of Barrett and his seminal work, SPIE established the Society's Harrison H. Barrett Award in Medical Imaging.
"A giant in the medical imaging field, Harry Barrett and his pioneering work have always served as driving source of inspiration for me," said Journal of Medical Imaging Editor-in-Chief Maryellen Giger. "Even today, his work in medical imaging continues to fuel many of the investigations that are featured in the journal, ranging from the mathematics of image acquisition to rigorous evaluation methods across various image interpretation tasks."
For the month of March all of Harrison Barrett's papers in the SPIE Digital Library will be open access to honor his contributions to medical imaging and, ideally, to share them with the next generation of luminaries.
Recent News