SPIE Luminary Halina Rubinsztein-Dunlop
With this series, SPIE celebrates the work of people who have "lit the way" for research in optics and photonics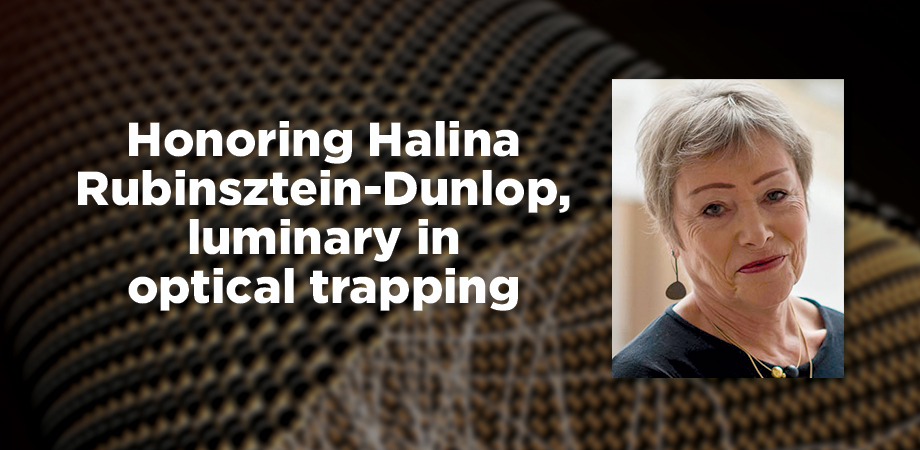 The SPIE Luminary Series
In 2021, SPIE celebrates the work of those who have "lit the way" for research in optics and photonics. Each of these luminaries has made a significant impact on the development of a field that is core to SPIE, including biomedical optics, electronic imaging, optical systems, lens design, neurophotonics, light-based energy research, remote sensing, medical imaging, and nanophotonics. A different luminary will be featured each month.
Many of these luminaries have published with SPIE for decades, while others are newer to our community. To highlight their contributions to the literature, SPIE will make all of their SPIE-published research open access for one month on the SPIE Digital Library, including SPIE Proceedings and journal papers.

June Luminary: Halina Rubinsztein-Dunlop
Physicist Halina Rubinsztein-Dunlop is a University of Queensland professor, affiliate professor at the Australian Institute for Bioengineering and Nanotechnology, and a chief investigator with the Australian Research Council Center of Excellence for Engineered Quantum Systems. She began her career in atomic physics; her current research interests are in biophotonics, quantum science, laser micromanipulation, laser physics, linear and nonlinear high-resolution spectroscopy, and nano-optics.
At the University of Queensland, her team produced one of the first Bose-Einstein condensates, the coldest states of matter in the known universe, in the Southern Hemisphere. Her research team has also designed and built "atomic circuits" using cold atoms. These are the atomic analog of modern electronic devices, important to future quantum machines. Halina's group in laser micromanipulation/optical tweezers was the first to demonstrate the transfer of angular momentum of light to microscopic particles. This work has led to a number of interesting and innovative applications in the area of optically driven microsystems, with further application into biological and biomedical systems.
Over her career, Rubinsztein has seen laser technology shrink from huge machines which "took up half of the room and the majority of the optical table," to the teeny-tiny devices in use today. "[W]hat you can do with them, what you can use them for, is amazing," she told SPIE in 2018. "I do love laser technology and laser applications."
Beyond her lauded research, Rubinsztein-Dunlop is also known for her proactive support of women colleagues, peers, and mentees. In 2018, Rubinsztein-Dunlop was honored as an Officer in the General Division of the Order of Australia for her distinguished service to laser physics and nano-optics as a researcher, mentor, and academic, as well as for the promotion of educational programs and women in science.
Rubinsztein-Dunlop became the first female professor of physics in Australia in 2000. She is a member of the SPIE Board of Directors, chairs the SPIE Equity, Diversity and Inclusion Committee, and was one of 21 scientists, engineers, and academics featured in the 2010 SPIE Women in Optics Planner.
Like Rubinsztein-Dunlop, SPIE has been a nexus of biomedical and nanophotonic research: the Society launched its Journal of Biomedical Optics in 1996, and the Journal of Nanophotonics in 2007.
"I've been inspired by the work of Halina and her group in optical manipulation for several decades," says Kishan Dholakia, SPIE Fellow and Chair of the Conference on Optical Trapping and Optical Micromanipulation. "She has an impressive breadth of activity across optical tweezers, quantum physics, and biophysics, developing a number of key areas. These include dynamical tunnelling in quantum gases; showing rotation in traps by transfer of optical angular momentum, which has been exciting for both biological studies as well as understanding the light-matter interaction in more depth; and her innovative work on tweezing otoliths, little stones in the ears of zebrafish, has helped us understand how such animals balance and perceive gravity. In addition, Halina supports early-career researchers as well as the rest of our science community, working to advance photonics in a variety of ways, from conference participation to hands-on mentorship. What a role model!"
For the month of June, all of Halina Rubinsztein-Dunlop's papers in the SPIE Digital Library will be open access to honor her contributions to nanophotonics.
Recent News