SPIE Luminary: Chris Xu
With this series, SPIE celebrates the work of people who have "lit the way" for research in optics and photonics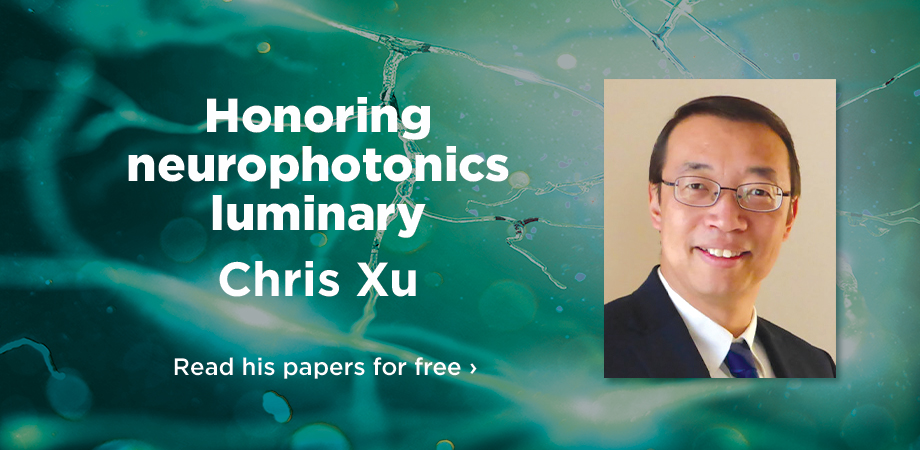 Series introduction
In 2021, SPIE will celebrate the work of specific people who have "lit the way" for research in optics and photonics. Each of these luminaries has made a significant impact on the development of a field that is core to SPIE, including biomedical optics, electronic imaging, optical systems, lens design, neurophotonics, light-based energy research, remote sensing, medical imaging, and nanophotonics. A different luminary will be featured each month of 2021.
Many of these luminaries have published with SPIE for decades, while others are newer to our community. To highlight their contributions to the literature, SPIE will make all of their SPIE-published research open access for one month on the SPIE Digital Library, including SPIE Proceedings and journal papers.

February Luminary: Chris Xu
Chris Xu is known for his contribution to the development and invention of three-photon microscopy, notably in a 2013 Nature Photonics paper. Cornell's Watt Webb and Winfried Denk invented two-photon imaging technology in 1990, which, in combination with genetically expressed fluorescent probes has been enormously influential in neuroscience, opening the door for studies of brain structure and function with cellular and sub-cellular resolution in living animals.
As a graduate student, Xu, working with Webb in Webb's lab, originally demonstrated three-photon fluorescence imaging in 1996, but its full potential wasn't recognized at the time. The main limitation of two-photon technology is depth penetration: the signal-to-background ratio deteriorates with deeper tissue penetration, creating "out-of-focus" fluorescence. Xu's three-photon microscopy overcomes this fundamental limitation by using longer wavelengths and a much steeper drop in the probability to excite fluorescence further from the focal spot, enabling deeper imaging, particularly in cases with dense or multiplexed labeling.
Today, Xu is the IBM Professor of Engineering and director of the School of Applied and Engineering Physics at Cornell University. He also serves as the Mong Family Foundation Director of Cornell Neurotech — Engineering, and the director of Cornell NeuroNex Hub, an NSF funded center for developing neurotechnology. Prior to Cornell, Xu was at Bell Laboratories where his primary focus was on nonlinear imaging of semiconductor devices, fiber optics, and optical communications, including broadband access and ultralong haul transmission. His current research areas are fiber optics and biomedical imaging, with emphasis in multiphoton microscopy for deep-brain imaging, multiphoton microendoscopy for clinical applications, and fiber-based devices and systems for telecommunications and optical imaging. Xu is a fellow of the National Academy of Inventors.
"For those of us who are invested in high-resolution imaging of live, working brains, multiphoton imaging is a tool of supreme importance," says Neurophotonics Editor-in-Chief Anna Devor. "'Seeing is believing,' and the ability to see deeper into the brain directly translates into new biological insights. For example, using three-photon microscopy we can image neuronal activity in a brain region called hippocampus noninvasively, through the overlaying cerebral cortex. Although three-photon microscopy is still mostly limited to specialized optical laboratories, dissemination of this technology to neuroscientists and beyond is on the way, and there are commercial partners stepping in. The mission of Neurophotonics is to facilitate the continuous development, evolution, and broadest possible application of impactful photonics technologies in the neurosciences in particular, but also to biology and medicine in general. We are excited to see these developments, and gearing up to feature original research, protocols, tutorials and webinars focused on this domain."
For the month of February all of Chris Xu's papers in the SPIE Digital Library will be open access to honor his contributions to neuroscience and beyond.
Recent News