SPIE Luminary Ching Tang
With this series, SPIE celebrates the work of people who have "lit the way" for research in optics and photonics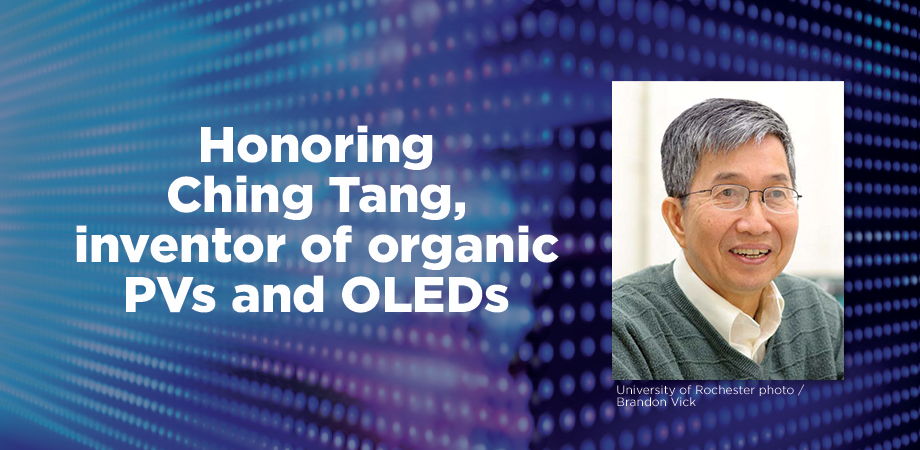 The SPIE Luminary Series
In 2021, SPIE celebrates the work of those who have "lit the way" for research in optics and photonics. Each of these luminaries has made a significant impact on the development of a field that is core to SPIE, including biomedical optics, electronic imaging, optical systems, lens design, neurophotonics, light-based energy research, remote sensing, medical imaging, and nanophotonics. A different luminary will be featured each month.
Many of these luminaries have published with SPIE for decades, while others are newer to our community. To highlight their contributions to the literature, SPIE will make all of their SPIE-published research open access for one month on the SPIE Digital Library, including SPIE Proceedings and journal papers.

July Luminary: Ching Tang
Ching Tang is one of the founders of organic semiconductor device technology. His landmark work while at the Eastman Kodak Company in the 1980s resulted in the invention of multilayer, small-molecule organic photovoltaics (OPVs) and organic light-emitting diodes (OLEDs). Through these breakthroughs, he and his colleagues demonstrated that organic semiconductors could function in ways analogous to inorganic semiconductors in their ability to transport charge and absorb or emit light. They also showed that, with proper selection of materials, the devices demonstrated enough efficiency to warrant deeper exploration, and no fundamental limitations likely existed.
This development was critical to the flat-panel displays found in a range of everyday appliances, from computers and cars to smartphones and televisions, improving a variety of integral elements including power efficiency, battery life, and display quality. "By choosing organic instead of inorganic semiconductors in a novel device resembling a conventional p-n diode," Tang wrote in an article for SPIE in 2001, "we produced intensive electroluminescence while using a low-drive voltage."
Research into OLEDs and PVs is core to SPIE's Journal of Photonics for Energy (JPE), which was launched ten years ago to highlight advances in energy efficiencies via photonics. "Dr. Tang's work was a critical part of the large expansion of research into organic electronic devices that occurred through the 1990s and 2000s and continues to this day," said JPE Editor-in-Chief Sean Shaheen. "OPVs and OLEDs have been featured in the Journal of Photonics for Energy since its inception in 2011, and they continue to be promising areas of photonics relevant to renewable energy generation and energy-efficient lighting."
Tang was elected to the National Academy of Engineering in 2006 and inducted into the National Inventors Hall of fame in 2018. He has been honored with a wealth of awards including the 2011 Wolf Prize for Chemistry, the 2000 Eastman Kodak Innovation Award, the 2001 Carothers Award of the American Chemical Society, and the 2019 Kyoto Prize. In addition to OLEDs, Tang is recognized for inventing the heterojunction organic photovoltaic cell. Currently the IAS Bank of East Asia Professor at Hong Kong University of Science and Technology, his research areas are focused on chemical and condensed matter physics, especially in organic electronics.
For the month of July, all of Ching Tang's papers in the SPIE Digital Library will be open access to honor his contributions to organic PVs and OLEDs.
Recent News