SPIE Luminary Bahram Javidi
With this series, SPIE celebrates the work of people who have "lit the way" for research in optics and photonics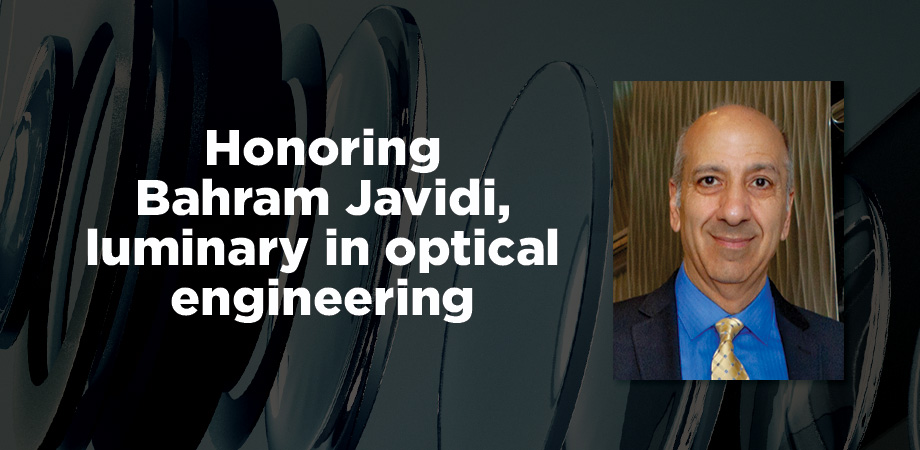 The SPIE Luminary Series
In 2021, SPIE celebrates the work of those who have "lit the way" for research in optics and photonics. Each of these luminaries has made a significant impact on the development of a field that is core to SPIE, including biomedical optics, electronic imaging, optical systems, lens design, neurophotonics, light-based energy research, remote sensing, medical imaging, and nanophotonics. A different luminary will be featured each month.
Many of these luminaries have published with SPIE for decades, while others are newer to our community. To highlight their contributions to the literature, SPIE will make all of their SPIE-published research open access for one month on the SPIE Digital Library, including SPIE Proceedings and journal papers.

August Luminary: Bahram Javidi
Across a singular career, SPIE Fellow Bahram Javidi has contributed pioneering optical systems that solve imaging problems in unique ways. Some of his best-known work is in using optical approaches for encryption. His highly cited 1994 paper in Optical Engineering is based on using holography to encode sensitive information using a phase mask such that intensity-only viewing cannot retrieve it. But his work has extended across a wide range of imaging problems that have impacted many lines of research. This includes applied areas such as 3D imaging, augmented reality displays, and fundamental optical engineering work in digital holography for automated cell analysis and disease identification.
"As a researcher in biomedical optics, I have always been in awe of the range of Professor Javidi's contribution in quantitative phase imaging," says Optical Engineering Editor-in-Chief Adam Wax. "As I advanced my work in imaging cell features with phase imaging, I could count on inevitably finding a paper in the literature where he had trod the same ground."
In recognition of his work, Javidi is the recipient of multiple awards and honors, including the 2005 SPIE Dennis Gabor Award in Diffractive Optics and the 2008 SPIE Aden and Marjorie Meinel Technology Achievement Award. He has been an active conference chair and conference program committee member with SPIE since 1988, most recently involved with the "Three-Dimensional Imaging, Visualization, and Display" conference at SPIE Defense + Commercial Sensing. A consultant to government and industry in the areas of optics, optical systems, image sensors and recognition systems, and 3D optical imaging systems, Javidi is currently Board of Trustees Distinguished Professor at University of Connecticut, the highest rank and honor bestowed by the university on a faculty member based on research, teaching, and service.
"Optical security and digital holography are essential topics in Optical Engineering," notes Wax. "Many of the advances we publish today are based on the foundational work of Professor Javidi."
For the month of August, all of Bahram Javidi's papers in the SPIE Digital Library will be open access to honor his contributions to optical engineering.
Recent News