Photonics21 digs in for next phase of continental R&D
Building on some notable recent success stories, the European photonics platform is anticipating a busy 2019 for innovation.
19 March 2019
Matthew Peach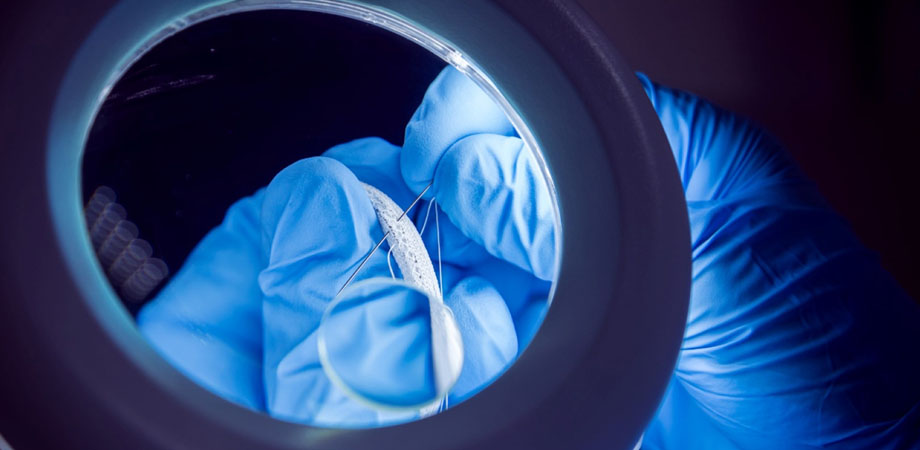 The knitted fabric made by Texinov delivers laser light for photodynamic therapy to every part of a patient's skin requiring treatment. Photo: Texinov Medical Systems.
With more than 2500 members, the Photonics21 "technology platform" represents much of Europe's photonics community, embracing industry and research organizations alike. Working closely with the European Commission (EC), its members develop and implement a common photonics strategy within the framework of a public-private partnership (PPP) supported by Horizon 2020 funding that is intended to use and develop photonics technology to spur innovation, growth and jobs in Europe.
The past year saw a significant change within the organization. Aldo Kamper arrived as Photonics21's new president in January 2017, but around 18 months later the Osram Opto Semiconductors CEO was recruited to head up the German cabling group Leoni, and departed his Photonics21 role.
As a result, the group is currently under the joint care of its two vice presidents, Giorgio Anania and Bernd Schulte. They told Show Daily about their hopes and plans for the organization and the wider industry through the coming year, and highlighted some new initiatives as the Horizon 2020 funding period draws to a close.
"Photonics21 remains in a strong position to foster European innovation and is committed to harnessing the power of light to solve our greatest global challenges," Schulte and Anania stated.
From early 2019 onwards, we can expect to see further announcements of PPP-funded projects, as well as the return of the "#Next_photonics Prototype Your Idea" contest. This is a dedicated innovation challenge to push for more entrepreneurship in photonics, targeting PhD or Masters students, as well as creators with an idea for a photonics-based product that can transform into a real business. The competition, said to have proved very popular in 2018, offers a cash prize of €5000 and the opportunity to team up with the Brussels-based innovation incubator ACTPHAST EU.

Another important diary date coming up fast is Photonics21's annual meeting, taking place in Brussels at the end of March. This year's host keynote speaker will be Carl Buhr, deputy head of cabinet within the "Digital Economy and Society" commission led by Mariya Gabriel. During the associated workgroup sessions, priority topics for the first photonics-related calls under the forthcoming "Horizon Europe" research and innovation program - the follow-up to Horizon 2020 - will be officially launched.

"Photonics technologies have now become a part of everyday life, revolutionizing society with so many different new and innovative applications far beyond obvious lighting products," commented Anania and Schulte. "In the past few years alone, [photonics has] created exciting, game-changing products in terms of diagnostic tools for our health practitioners, improving our environment, and become a keystone component of Industry 4.0."
Looking to the future innovation program, they have some lofty aspirations. "If we can maintain a strong funding commitment, and strengthen the photonics PPP in Horizon Europe, then the instant diagnosis of major diseases, the eradication of all road accidents, and the creation of at least one million new jobs are some of the benefits that we expect will be generated by the photonics sector by 2030."

Microscope tackles sepsis
One primary example of that ongoing innovation is a proprietary interferometric, lens-free microscope that is said to provide the fastest ever detection of sepsis. A life-threatening condition, sepsis is an inflammatory immune response to infections caused by bacteria including E. coli and Staphylococcus, which can lead to conditions such as meningitis. On the rise with the emergence of antibiotic-resistant pathogens, sepsis now kills over 20,000 people every day worldwide - more than prostate cancer, breast cancer, and HIV/AIDS combined.



Under a photonics PPP project, the RAIS development team at ICFO has led development of a microscope offering a much faster way to diagnose sepsis. Photo: ICFO.
Approximately the size of a small book, the new microscope developed under the Photonics21 project entitled "Scalable point-of-care and label free microarray platform for rapid detection of sepsis," or RAIS for short, has the potential to simultaneously detect more than one million biomarkers - the tell-tale signs of sepsis and many other diseases. Whereas current techniques can take as long as one day to perform a similar test, the new method combines photonics, microfluidics, and molecular biology techniques to produce a result in just 30 minutes.
Coordinated by ICFO, the Institute of Photonic Sciences in Barcelona, Spain, RAIS is seen as a major success story for the photonics PPP. Josselin Pello, a senior researcher on the project at ICFO, explains: "Doctors need a quick, reliable way of detecting sepsis, and the stage it has reached. Current methods are too slow. They can only look at a couple of parameters at a time, and they will not tell the physician what type of bacteria is present that is causing sepsis. A doctor may not therefore prescribe the correct treatment in time."
Pello points out that the RAIS microscope can simultaneously detect many biomarkers, including micro-ribonucleic acids and interleukins. "[It] will let you know the bacteria source much earlier, allowing you to choose the correct treatment sooner," he says. The RAIS project received a grant of €3 million via the photonics PPP under the Horizon 2020 program, with the team estimating that a commercial device based on its beta prototype could potentially provide results at a cost as low as €50 per patient.
Laser pen for 'while you wait' cancer test
The Photonics21 team says that another successful PPP-related development has been delivered by the Automatic Detection of VAscular Networks for Cancer Evaluation (ADVANCE) project team. They have produced a portable laser scanner that can diagnose a malignant melanoma in less than one minute, promising to become what its developers describe as "the world's first while-you-wait test for skin cancer."
The imaging system, intended to eliminate discomfort and uncertainty for patients, is able to fit every stage of disease identification within the short time of a single doctor's appointment. Using a handheld scanner, they can peer beneath a patient's skin to examine the microscopic landscape of a suspect lesion, in a process that takes just 20 seconds.
Based on optical coherence tomography (OCT), a technique more commonly used in retinal screening, the scanner creates a 3D color image of microstructures and blood vessels under the skin - providing a diagnosis without the need for any invasive procedures.
Project leader Jon Holmes, from the UK company Michelson Diagnostics, explains: "Every melanoma above a certain thickness could have spread to other parts of the body. At present, all patients with such melanomas have to wait for a biopsy performed in a hospital under general anesthesia to discover if it is spreading. This can take weeks to perform, is very expensive and can be debilitating for a patient.
"About 80% of the time, the biopsy produces a negative result, with no sign of the cancer spreading. There has to be a better way: our scanner may radically improve the abilities of dermatologists to decide on the nature of a melanoma, [although] further clinical trials will be needed to conclusively prove the technology."
The ADVANCE project received a grant of €2.3 million under the Horizon 2020 funding period, and featured partners from Germany, Denmark, Italy, and Serbia.
Fabric treats skin diseases
Other, less dangerous but debilitating skin conditions such as actinic keratosis (scaly spots on sun-damaged skin, often pre-cancerous), psoriasis (autoimmune disease causing abnormal skin) and acne can now be treated in a single 150 minute session, thanks to a new wearable photonics technology. Under another Photonics21 project, scientists at Texinov Medical Textiles, based in La Tour du Pin, France, led the development of "Fluxmedicare" - a knitted fabric that helps treat inflamed skin or lesions with photodynamic therapy (PDT).
Described by some users as a "miracle cure" in clinical trials, the pain-free approach is touted as offering the fastest way to eradicate the identified skin conditions, with no side effects. The knitted fabric acts like a waveguide to deliver therapeutic laser light to the entire region of skin requiring treatment.

Nadege Boucard, general manager of research and development at Texinov, said: "Fluxmedicare is unprecedented in the field of treating skin conditions. Since the lighting textile wraps around the contours of a patient, the light emitted by our device is the same level at every part of the body under treatment, meaning the beams are homogeneous."
Photonics21 said of the project: "This development is yet another success for photonics technology. It has now been successfully tested in clinical trials and is ready to go, meaning more sufferers of such skin conditions will find new hope, quicker, easier, and in a painless appointment."

Fluxmedicare was developed under the "PHOS-ISTOS" consortium, which secured EC grant support of €2.4 million. The team comprised participants from across Europe, including the diode laser manufacturer and SPIE Photonics West exhibitor Modulight.

-Matthew Peach is a contributing editor to optics.org and director of Original Content Ltd. A version of this article appeared in the 2019 Photonics West Show Daily.
Enjoy this article?
Get similar news in your inbox
Recent News