A scientist's guide to social media: Twitter
The second article in this series gives scientists useful tips about how to use Twitter to advance science, grow professional networks, and get noticed.
01 September 2021
By Emily Power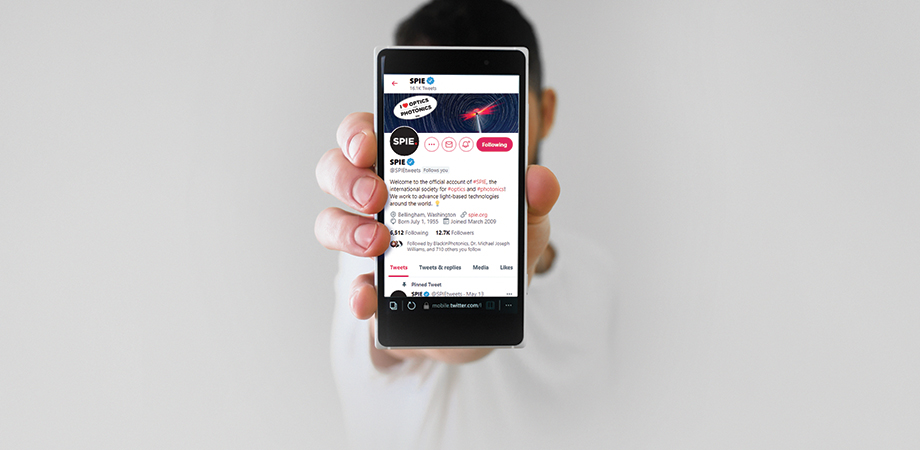 Can you summarize your research findings in less than 200 words? Describe your PhD using nothing but emojis? Dance the "Renegade" while reciting your thesis? While these may not seem like make-or-break skills for an optical engineer or laser scientist, you might be surprised at just how much impact social media can have on your work or research. Most frequent users will tell you social media will extend your reach more than simply publishing a paper and crossing your fingers.
In the second segment of our series on social media for scientists, we explore the fascinating world of Twitter.
For many, the mention of Twitter elicits anxiety, eye rolling, and cautioned excitement. On the surface level, the popular micro blogging platform has been associated with negative press, trolling, and internet wars. But dive a little deeper, and not only will you find a tight-knit science and technology community, but you will see that the potential for meaningful interactions and powerful conversations is far greater than what appears at the surface.
What Twitter lacks in worldwide users (300 million monthly active users, compared to Facebook's 2.8 billion and YouTube's 2 billion), it makes up for in community-building and networking, which are key for engineers and scientists. Mikhail Kats, associate professor at University of Wisconsin-Madison, finds the platform to be "a significant net positive" for his career explaining:
"I think it's an important space to be in... Almost all professional journal editors are on Twitter, and are happy to openly discuss their editing process, how papers get selected, and other relevant topics. Science writers and journalists are on Twitter; funding agencies tweet their calls for proposals; fellow scientists discuss research. Many students are also on Twitter, and you can learn about challenges they face and concerns they have."
From the top
How do you start connecting with the scientific community on Twitter in a meaningful way?
As with LinkedIn, to build a strong presence on Twitter you first need to craft a bio. Cover the basics—a clear headshot, accurate display name, engaging header photo, research field—but don't forget to have fun. Unlike LinkedIn, emojis are commonplace on Twitter. Use them to convey your interests: the telescope emoji for astronomical instrumentation, the microscope emoji for microscopy. Unfortunately, there still isn't a laser emoji.
Finding followers
Focusing on quality over quantity is important, but on Twitter the more followers you have the better chance your content, such as your latest research publication, will be noticed and retweeted among the community.
One way to find relevant people is by keyword searching. For example, if you are seeking other optical engineers to connect with, type "optical engineer" into the search field, filter by "people, and find users who list optical engineering as their job or research focus. If you have similar keywords in your bio, odds are those people will want to follow you back.
Another way to amass followers is by tweeting while you attend a science conference. Use the conference hashtag to live-tweet plenary talks, share photos, and talk about your experience. Claire Park, a PhD candidate in medical biophysics at Western University, says, "By initiating dialogue or continuing conversation from hot topics discussed at conferences and meetings, you can gain the latest insights from those with similar research interests."
Tweet, tweet
While known for its brevity and ephemeral nature, there are several, impactful ways to showcase your research on Twitter. Getting people to "stop the scroll" can be challenging; switching up your format will be an asset in getting your work amplified.
First, you can feature your research in a thread of tweets as Kats suggests: "Screenshot some of the figures, highlight your collaborators and funding agencies (they love to be acknowledged), and explain in simple terms what you did and why."
Or choose a simpler route: a single tweet with a link to your work, combined with a strategic array of hashtags and tags (@) of coauthors, funding agencies, and institutions.
Research astrophysicist at NASA Goddard Space Flight Center Greg Mosby calls attention to the public engagement element. "You must put your work in context on Twitter—distill it down to the central problems you are trying to address so that anyone can understand. As researchers, this process is valuable. We get clarity and accomplish the goal of sharing our knowledge, and the public can reap the benefits of that knowledge."
Just like all social media platforms, to be successful you must diversify your feed—don't just Tweet about yourself. The following post ideas from Kats will help build your reputation as worthy of following.
"Did someone you know publish a good paper, or get a new position or award? Congratulate them! Spread some positivity."
"Can you make cool scientific animations describing important concepts? These are highly valued online, especially if they clarify things that people are confused about."
"Did you teach an interesting concept in a class, or show a demo? Tweet about that. The more schematics, GIFs, and graphics, the more people will want to engage with your post."

Join conversations with popular hashtags, such as #ScienceTwitter, and offer your advice, opinion, or a story. When you are recognized as an active contributor to the community, you will gain followers who want to hear more from you, thus attracting visibility for your research and achievements.
Be resourceful
Even if you choose not to use Twitter to network or promote your research, creating an account still has benefits for your career. Twitter is an excellent tool for discovering educational resources, ideas for outreach activities, volunteer and job opportunities, and more. In a recent r/AskAcademia reddit thread, one user comments, "One big plus [of having a Twitter account] is when you need to recruit students. I have a low follower count but my 'need a PhD student' tweet got over 15,000 views. Got a lot of quality applicants from that."
Melissa Skala, investigator at the Morgridge Institute for Research, also finds value outside of posting. "People share their ideas on research questions, best mentoring practices, and career development, so it's a great way to learn from others. I encourage people to look at #ScienceTwitter—smart people are talking about big ideas, so it really is intellectually enriching."
Next in the series we cover visual platforms: YouTube, TikTok, and Instagram.
Emily Power is the social media manager for SPIE.
Enjoy this article?
Get similar news in your inbox
Recent News