Mária Telkes: All hail the Sun Queen
01 July 2021
By Gwen Weerts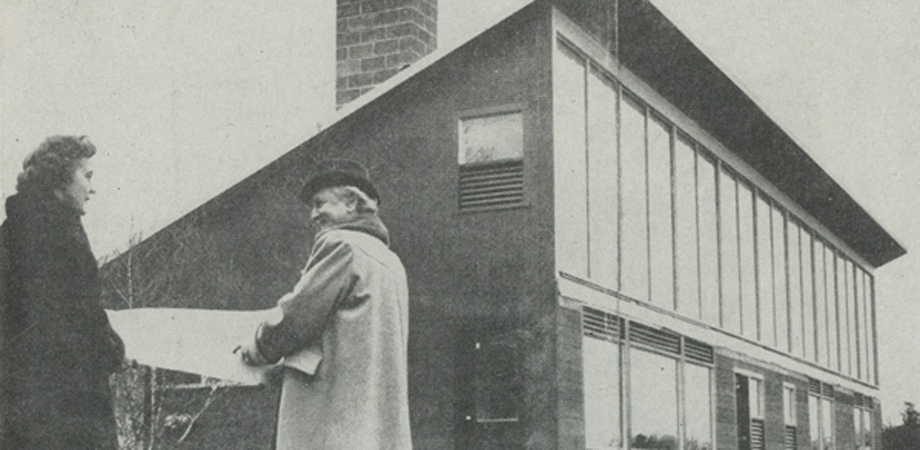 The 1948 Dover Sun House was funded, designed, and engineered entirely by women. Credit: Harvard University Graduate School of Design
Mária Telkes, who would later come to be known as "The Sun Queen," was born in Hungary in 1900 where she attended school and obtained a PhD in physical chemistry. In 1925, she emigrated to the United States to work as a biophysicist. Aside from these facts, little is known about her early life, except that she must have been plucky.

Telkes loved the practical applications of scientific research. Working as a research engineer at Westinghouse Electric in the late 1930s, she studied energy conversion and thus heard about a promising new research project in Boston that revolved around her favorite source of energy, the Sun.

In 1938, Boston industrialist Godfrey Lowell Cabot gave Massachusetts Institute of Technology an endowment to study how humans might harness solar energy. MIT faculty were asked to bring forward proposals to utilize this gift, but 25-year-old assistant professor Hoyt Hottel was the only one who had an idea. He was thusly appointed chairman of the new Solar Energy Committee charged with developing a new field of research.

Hottel's first project was an experimental solar building, completed in 1939, the same year that Telkes was hired for the new MIT solar program. The building, named Solar I, would be used to investigate various methods of trapping solar energy and storing it as heat. Although it looked like a house, Hottel was careful to emphasize that Solar I was a research laboratory.

Soon after Telkes joined MIT, however, the team's efforts were redirected as the US entered World War II. For her part, Telkes invented an inflatable plastic solar distiller that could make seawater potable—a lifesaving invention intended for use in the war's Pacific theatre. But Hottel shopped around the design to so many different manufacturers that the desalinators were not delivered to the Air Force until after the war was over. Nonetheless, many consider Telkes's invention the most significant of her 20 patent claims, which also include a functional solar oven.

Following the war, the Solar Energy Committee resumed interest in solar houses and began work on Solar II, which was meant to move the group closer toward the goal of a model solar-heated home—one that people could live in.

With Solar I, the team dabbled in different methods of heat storage. For Solar II, the idea was to pick one method and go all-in. The team had some success using water tanks to store heat in Solar I, but Telkes noted that the method required big heavy tanks with limited heat-storage potential. She thought phase-changing materials, those that store and release heat when they change from liquid to solid, were the path forward. Hottel read her proposal and thought it was promising, so Telkes's method was selected for Solar II.

Telkes's design used Glauber's salts, or sodium sulfate decahydrate, which melts at 90°F, just like coconut oil. Her calculations showed that, at least in theory, the salts would be more efficient at heat storage than water.

Unfortunately, the Glauber's salts used in Solar II tended to stratify after repeated phase changes, and they corroded their custom metal bins resulting in leaks. Worse, the salts rarely heated up more than 90°F in winter. In the end, Glauber's salts proved to be no more efficient than water at storing heat.
The Solar II house project removed the salt tanks and returned to a water tank system. In so doing, they effectively removed Telkes from the solar fund as well.

Telkes, however, was determined to build a livable, solar-heated house, with or without funding from MIT. And she remained convinced that phase-changing materials were the way to go.



Maria Telkes was known as the "Sun Queen" for her focus on solar energy. Credit: New York World-Telegram and the Sun Newspaper Photograph Collection
Telkes was also media savvy. She knew that research programs would only fully embrace solar research if the public got excited about it. She frequently appeared in popular magazines and newspaper articles, where she voiced her enthusiasm for solar.

The publicity helped her connect with modernist architect Eleanor Raymond, who agreed to work with Telkes to build the house she had envisioned. Together, they secured private financing from Boston philanthropist Amelia Peabody and built what came to be known as the Dover Sun House in 1948.

The Dover Sun House included a large south-facing sun collector, which looked like large black windows. The apparatus trapped heat in an air pocket that was sandwiched between a double layer of plate glass in front, and a black sheet of metal in the back. Fans circulated the warmed air into metal bins that contained the Glauber's salts, and then throughout the house.
MIT, meanwhile, went to work building Solar III, which would use a water heat-sink method and, this time, also human inhabitants. But it was the Dover Sun house that wowed the press—perhaps in part because it was an unusual collaboration between three women—and it was featured on a 1949 cover of Popular Science.
The house's solar-heating system functioned for three years before the Glauber's salts corroded the metal containers and made them leak. Nonetheless, the project succeeded in capturing the imagination of the public, who now had "solar heat" and "solar energy" in their vocabulary.
Meanwhile, at MIT, friction arose between Hottel and Telkes. He was frustrated by her dogged pursuit of Glauber's salts in the face of negative results, and annoyed by her cozy relationship with the media. A review of Cabot's solar fund in 1953 by MIT Dean George Harrison blamed Telkes for the lackluster results of the program, stating that she "is a person of strong opinions which she expresses forcibly, who does not submit willingly to direction, and she has for some time been at outs with the committee, and especially with Professor Hottel." Telkes was fired from MIT.
This dismissal does not seem to have phased Telkes, because she continued her solar-energy research. By 1971, she and a team at University of Pennsylvania built a house that generated both heat and electricity from the sun using CdS/Cu2S solar cells. While Telkes remained a lifelong and vocal advocate for the practical uses of solar energy, Hottel's interest had always been more academic. He saw solar-energy systems as mere engineering problems. Given the cheap abundance of fossil fuels, what was the imperative to move the technology forward? Toward the end of his life, Hottel was interviewed by the Chemical Heritage Foundation, where he said, "We're kidding the public about the sun. It's not worth as much as claimed. The cost of doing something using the sun has always been a little higher than if you do it some other way."
Hottel was wrong about that. In 2021, silicon photovoltaics are now the cheapest way to generate electricity.
Telkes's ideas for harnessing the energy of the sun were visionary, even if the methods were initially flawed. Although active solar-heating technology has largely been abandoned, Telkes's lifetime of advocacy for research into solar energy rightfully earned her moniker "The Sun Queen."

Ave, Mária.
Gwen Weerts is Editor-in-Chief of Photonics Focus.
Enjoy this article?
Get similar news in your inbox
Recent News