Confronting the skilled labor crisis in optics and photonics
On both sides of the Atlantic, industry, academe, and governments are scrambling to find solutions
01 January 2022
By William G. Schulz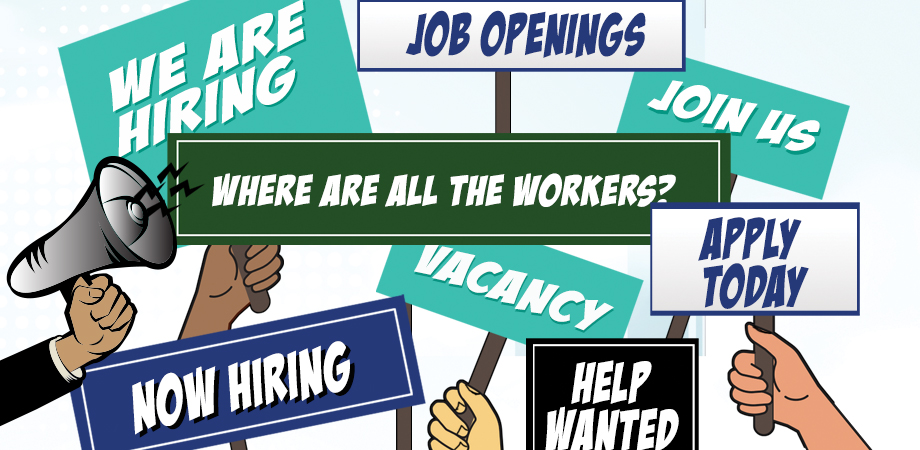 Skilled labor shortages are impacting innovation in the optics and photonics industry.
Even before the COVID-19 pandemic gave rise to historic worker shortages, a demand crisis was underway in the so-called new-collar workforce of technicians and other skilled workers for the global optics and photonics industry.
Back in 2019, before most people had even heard the word "coronavirus," the shortage, at least in the US, was blamed on an unwarranted stigma associated with two-year technical college associates degrees, as well as a lack of awareness about optics and photonics among high schoolers.
But, "the technician shortage has become more dire," says Alexis Vogt, PhD, endowed chair, and professor of optical systems technology at Monroe Community College (MCC) in Rochester, New York.
And though the educational and cultural landscapes are somewhat different, the burgeoning photonics industry in Europe is also grappling with skilled workforce shortages driven, in part, by pandemic-related demand. Still, on both sides of the Atlantic, people in government, academe, and industry are working to address the shortages, channeling the demands of our time to drive changes for the good of all parties.
Whereas prepandemic Vogt may have received requests for tens of students from her program each year, in recent months the requests have skyrocketed, she says. Companies like glassmaker Corning Inc., and semiconductor manufacturer ASML, for example, have asked if she could provide 100 and 300 optics-trained technicians, respectively—by December 2021.
"The shortage is impacting our growth and innovation," Vogt says of the optics and photonics industry. "Without enough technicians, we are stifling productivity and limiting the degree to which the industry can support the research that our optics engineers are being counted on to conduct."
Yet, despite these workforce deficits and the somewhat bleak outlook for MCC and other community college programs in the US, there are some positive indicators. Six years ago, Vogt says, only five students were enrolled in her program. "All we kept hearing about was a decline in enrollment."
In fall of 2020, however, her enrollment numbers jumped to 79 students and by fall of 2021, "we had 101 students in our program." She says the necessity for online education during the pandemic opened another opportunity: "The pandemic has helped us reach students who don't live in Rochester."
Throughout the pandemic, Vogt's MCC students working in industry kept their jobs in part because all optics companies were deemed essential. Local companies like custom-optics manufacturer Sydor reported having their best year ever in 2020.
What's more, Vogt says, companies are realizing that there must be incentives if they are to compete for skilled workers. Sydor has a program that will pay workers' tuition for the MCC program, and Corning has a technician pipeline program.
Each semester, Corning chooses five students from Vogt's program. In exchange for students working eight hours per week during the school year and fulltime during summer break, Corning pays all their tuition and fees and includes another $60,000 bonus paid out over two years.
But the shortage of skilled workers is not limited to the US. Europe's thriving optics and photonics industry, which impacts about 10 percent of the European Union (EU) economy, is scrambling to find solutions to its historic worker demand.
During a recent webinar, Robert Sewell, head of academic affairs at ICFO, the Institute of Photonic Sciences in Barcelona, Spain, spoke about the CARLA project (the European photonics CAReer LAunch path), which is intended to address Europe's shortage of skilled workers in optics and photonics.
The two-year project, funded by the EU, encompasses photonics career camps, which he described as two-day intensive, multiformat events meant to encourage STEM university students, PhD students, and young postdocs to pursue an industry career in photonics at every level—from the manufacturing floor to research and development. The project, which began in 2021, will host 11 pilot camps in 10 different EU countries where it aims to reach out to more than 150,000 students and researchers while also engaging 110 companies and 55 universities.
"The project aims to support the growth, leadership, and innovation potential in the photonics area, and address the need that Europe has for more well- prepared professionals to enter the field," said Sewell. "It will create a rigorous and tested instrument to address this need at the source."
What's more, Sewell said, CARLA accounts for the values of Generation Z whose members are entering the workforce where they expect and value diversity amongst coworkers, access to mentors and role models, collaborative work environments, opportunities to tackle big and meaningful challenges, work-life balance, and career mobility including international mobility.
From an industry perspective, these can be tough but welcome challenges, said Martina Mueller of Swiss holograms-for-security manufacturer, 3D AG. For her company and others, even highly educated university graduates must be trained to perform industry-specific processes, which can be time consuming and costly. That fact, combined with IP protection and company-specific trade secrets, are realities that don't always mesh well with government and university training programs or Gen Z workers' desires for mobility and ever-changing experiences. Still, she applauds the Swiss government's awareness and responsiveness to the shortages.
In Scotland, laser manufacturer Chromacity said there is a need for highly skilled workers at every level if industry there is to remain a vital part of the economy.
"Ironically enough," said Chromacity's head of manufacturing, Bill Handyside, "The COVID pandemic has provided an opportunity to act on [the worker shortages] quite quickly because the Scottish government has introduced a scheme called the National Transition Training Fund."
The fund, to fight pandemic-related unemployment, is specifically aimed at promoting in-demand skills for digital and advanced manufacturing, including photonics skills. Handyside said the idea is for industry to be able to recruit more workers than possible through university channels. He said it will provide training in key skills for entry level jobs in areas such as optomechanical engineering.
At Chromacity, as at other optics and photonics manufacturers, the opportunities are exploding to provide advanced technology for microscopy, spectroscopy, quantum optics, and quantum sensors, to name just a few areas. It's imperative, he said, that government, industry, and academe continue to address the problem of "getting more bodies in the workforce."
WILLIAM G. SCHULZ is the Managing Editor of Photonics Focus.
Enjoy this article?
Get similar news in your inbox
Recent News