Out-patient, Non-invasive Prostate Cancer Treatment
Brittany Berry-Pusey, COO of Avenda Health, has high hopes for her company's award-winning cancer treatment system.
25 February 2020
By Karen Thomas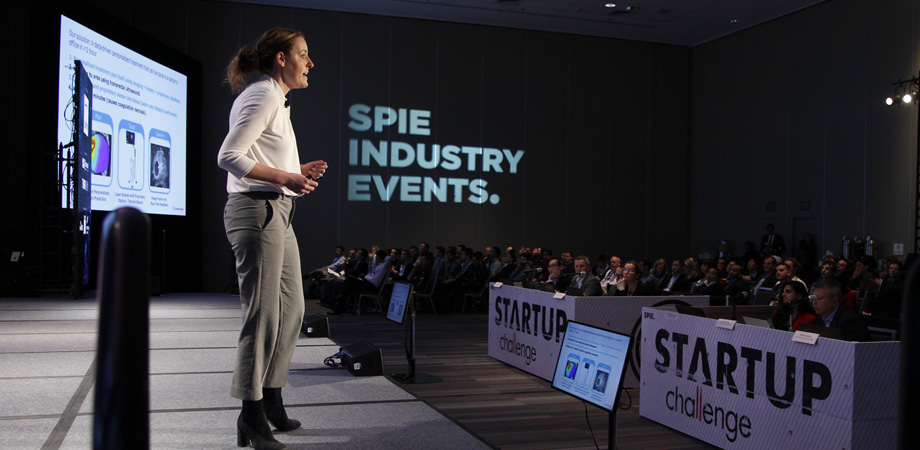 Brittany Berry-Pusey pitches the Avenda Health Laser Ablation System at the 2019 SPIE Startup Challenge.
"We aim to treat men with prostate cancer while preserving quality of life," said Brittany Berry-Pusey, co-founder and COO of Avenda Health, as she addressed a crowd of optics and photonics experts. Her company had just won the 9th annual Startup Challenge at SPIE Photonics West 2019 for Avenda Health's Laser Ablation System.
One year later, Berry-Pusey notes that "the Avenda Health team has continued to work on bringing new therapy options to the clinic for patients who value quality of life."
Traditional prostate cancer treatment involves removing or irradiating the entire prostate gland, which often leads to complications such as urinary incontinence and erectile dysfunction. "Today, 50% of men treated for prostate cancer will experience sexual or urinary dysfunction caused by the standard of care treatment," says Berry-Pusey. "We believe this is unacceptable and that there is a better way." That better way comes in the form of the Avenda Health Laser Ablation System* -- designed to treat prostate cancer patients in an office-based setting while also preserving their quality of life.
By combining focal laser ablation with real-time imaging and analysis, the system uses artificial intelligence (AI) to guide the laser and target just the tumour, sparing healthy tissue and allowing patients to maintain urinary and sexual function. The procedure is performed by a urologist in an office-based setting with minimal anaesthesia, saving patients time, money, and downtime.
So far, test results have been promising. In a recent proof-of-concept Phase I, single-site study with 10 patients, the procedure was found to be safe and effective, with no patients reporting urinary or sexual dysfunction over a one-year follow-up period.
"We are excited about the future of prostate cancer treatment," says Berry-Pusey. "Our system is designed to dramatically reduce complications, shorten procedure and recovery time, and move treatment out of an expensive operating room into an office-based setting. We look forward to getting results from our second clinical trial that is currently enrolling."
The Avenda Health team at the American Urological Association's 2019 meeting in Chicago: Shyam Natarajan (far left); Brittany Berry-Pusey (right center); and Leonard Marks (far right).
Treating cancer where it lies
Berry-Pusey has spent her entire career in healthcare. "I think I was drawn to it because I love a challenge and I have a desire to help people," says Berry-Pusey. "The healthcare field is extremely challenging for a wide range of reasons spanning from the unpredictability of the human body and disease to cost and regulation. These challenges make the field that much more enticing to me. Plus, the healthcare space has such a direct link to improving the lives of others. I am literally going to work every day working on solutions to extend the lives of people. I find that extremely motivating and fulfilling."
At Avenda Health, Berry-Pusey is the industry side of a triad of co-founders. The core technology was invented by Shyam Natarajan, a former adjunct professor of urology and bioengineering at UCLA and Leonard Marks, a clinical professor in the Department of Surgery/Urology at UCLA.
For about a decade Natarajan and Marks had been developing a targeted biopsy technique for diagnosis in their research labs at UCLA, and found they could pinpoint where cancer resides within the prostate. They hypothesized that if they could find the tumor, target it, track it, and characterize it, why not treat it where it lies? This way they could more precisely treat cancer and dramatically reduce complications. After being awarded a commercialization grant for their technology, Berry-Pusey, who also has ties to UCLA, joined the team and Avenda Health was born.
The trio's backgrounds in science, engineering, medicine, industry, and business make them a fierce team fully dedicated to improving prostate cancer care.
"I might be biased," says Berry-Pusey, "but I think we have one of the top teams in medical devices. Our software engineers are incredible and passionate about the mission. Our regulatory, manufacturing, and clinical partners have been outstanding to work with as we continue driving towards improving the lives of our patients. We will continue to add key-hires with our next round of financing."
Maintaining a strong team has paid off for Avenda Health. "We have made remarkable progress over the last year towards achieving our goals," says Berry-Pusey. "We have a manufacturable product that's gone through extensive testing, and the FDA just approved the use of our system in a second clinical trial. So, we will be testing our assumptions and claims over the next few months in patients, but our initial data makes us confident that we will be able to achieve what we have set out to do. Our ability to execute has garnered the interest of strategic partners and we continue to vet potential partnerships that will help us further accelerate bringing our technology to the patients in need."
Meeting the challenge
Since its inception in 2011, the goal of the SPIE Startup Challenge has been to help new entrepreneurs refine their business case, analyze markets, and develop a network of connections to help drive their new venture. The event takes place over several days during SPIE Photonics West, with competitors taking part in qualification rounds while also benefitting from expert advice and training on -- among other things -- how to hone their pitch. Winners and finalists also receive media promotions, and additional training opportunities as well as industry support.
"My experience with the SPIE Startup Challenge was fantastic," says Berry-Pusey. "It is so well organized, the caliber of contestants is high, and the community is extremely welcoming. I feel honored to have participated and to have won and am thankful to the venture capitalist who introduced me to the competition and encouraged me to apply. I still interact with past winners and contestants as we see each other out on the fundraising circuit, and we support one another through the ups and downs that come with being part of a startup. I follow the companies in my cohort and I am rooting for their success. There is still so much potential for new ways in which photonics can be used to improve the status quo that I think we are going to see big things come out of the SPIE Startup Challenge for years to come. I encourage anyone with a great idea to apply."
*The Avenda Health Laser Ablation System is investigational only and limited by Federal (or United States) law to investigational use. It is not currently approved or cleared by the FDA.
Enjoy this article?
Get similar news in your inbox
Recent News