Optics tech drives CES innovations
From smart glasses to autonomous vehicles, photonics technology and the world of consumer electronics seem closer than ever.
22 March 2019
Mike Hatcher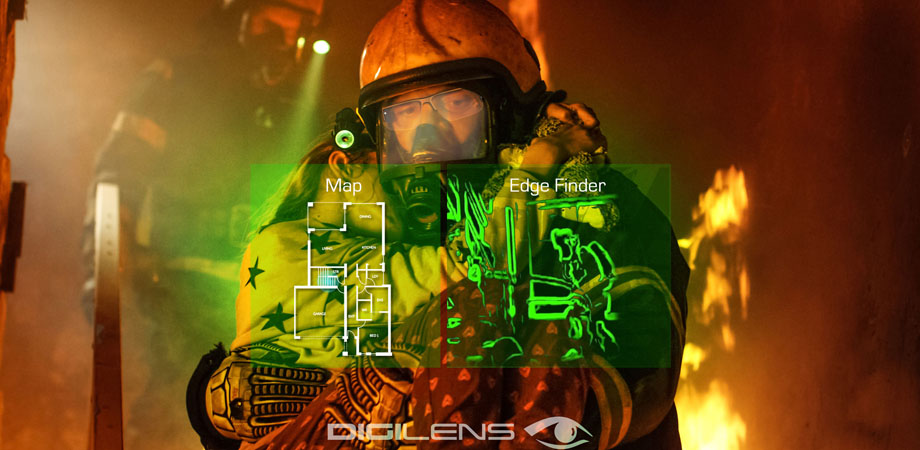 Augmented, virtual, and mixed reality (AR/VR/MR) technologies were again a huge trend at CES 2019, as well as the subject of a dedicated conference and expo at SPIE Photonics West. Image: DigiLens.
Photonics innovation has a long association with consumer electronics, right from the early days of liquid crystal displays, through the emergence of optical data storage in the 1980s, digital cameras, Blu-ray discs and the like. But the link has grown to such an extent in recent years that the topics under discussion at the annual CES event in Las Vegas and Photonics West have become increasingly intertwined.
At CES 2019 in January, that trend was once again in evidence. Photonics-based technology themes included the latest augmented, virtual, and mixed reality (AR/VR/MR) headsets and glasses, new micro-LED array displays, and a whole host of new lidar and camera systems designed for today's driver assistance and tomorrow's fully autonomous cars.
The clearest link between the two events is AR/VR/MR, and with good reason. Perhaps the greatest challenge facing the companies developing these technologies is to improve their size, weight, and performance to make them truly immersive and portable. And that comes right back to the fundamental optics involved, in particular the waveguides inside glasses and headsets.
Among those to present at SPIE Photonics West's dedicated AR/VR/MR conference was DigiLens, which at CES 2019 launched AR smart glasses said to offer a much-improved level of form-factor, optical efficiency (meaning longer battery life), and contrast.
The Sunnyvale, California, firm's new "DigiLens Crystal" platform is based around waveguides made under license by Taiwan-based Young Optics, and leverages digital light processor (DLP) technology from Texas Instruments. Glass companies offering the kind of high-precision wafers needed for mass production of suitable waveguides are also emerging as key players in the AR/VR/MR ecosystem, with Photonics West exhibitors Corning and Schott among those involved. Vuzix was another AR smart glasses vendor to present on the topic of waveguide technology at Photonics West.



Toyota's latest "Guardian" test vehicle for autonomous driving is mobbed by the media at CES 2019 in Las Vegas. The car features high-performance lidar units in its roof section, other lidar sensors around its chassis, radar, and numerous cameras. Photo:CES.
In recent years CES has also become a key date in the calendar for the automotive industry, with car manufacturers using the post-holiday event to launch the latest features in their increasingly tech-oriented vehicles. Among this year's major draws was Toyota, whose US-based subsidiary Toyota Research Institute (TRI) rolled out its new "P4" test vehicle on the Las Vegas stage.
The P4 features high-performance lidar systems from Photonics West exhibitor Luminar Technologies on its roof, alongside a radar system, numerous cameras, and additional lidar sensors positioned around its body. Everything is motivated by improving safety and reducing the incidence of road collisions - nearly 40,000 lives are lost every year on US roads alone, among 1.25 million worldwide. And before unveiling the P4, TRI's CEO Gil Pratt showed footage of an alarming three-car crash collected by and involving one of the company's earlier "Platform 3.0" test vehicles, at the time in manual mode, on the I-80 interstate road close to San Francisco.
"Luckily, despite the severity of the crash, nobody was injured," said Pratt. "We show you this now, not to wow you with technology, but because I want to take you through a question that we posed to ourselves that very day: could a Toyota Guardian [TRI's driver assistance system] have prevented or mitigated this crash?"
The answer, he said, was yes. When TRI recreated the scenario on a test track, sensors on board the car showed that in the real crash it could have accelerated safely away from the encroaching vehicles as they approached, creating more space on the road and a safer driving "envelope."
Among the lidar companies highlighting new advances at CES 2019 was Prism Award winner Blackmore, whose frequency-modulated multi-beam system now boasts a remarkable range of 450 meters, alongside a wide field of view. Already available for pre-order and with initial samples shipping now, Blackmore says that full systems will ship to customers from Q2 this year. That high performance comes at a cost of "less than $20,000" to strategic partners.
Also at CES 2019 was the car parts supplier Valeo, whose "SCALA" scanner is claimed to be the only mass-produced automotive lidar system currently on the market. The France-based company signed a deal with Intel subsidiary Mobileye to develop and promote a new autonomous vehicle safety standard combining a multitude of sensors, including lidar, with Mobileye's mathematical safety model.
Set against the brave new worlds of artificial intelligence, alternative realities, and self-driving vehicles, the humble television might seem rather outdated at CES these days. But that didn't stop Samsung launching new models based on another emerging photonics technology - micro-LEDs. The Korean company's 75-inch screens rely on arrays comprising myriad tiny emitters, claiming advantages in terms of brightness, modularity, lifespan, and a bezel-free design.
"These transformative TV displays are made up of individual modules of self-emissive micro LEDs, featuring millions of inorganic red, green, and blue microscopic LED chips that emit their own light to produce brilliant colors on screen - delivering unmatched picture quality that surpasses any display technology currently available on the market," boasted Samsung.
-Mike Hatcher is editor of optics.org. A version of this article appeared in the 2019 Photonics West Show Daily.
Enjoy this article?
Get similar news in your inbox
Recent News