Optics in the Air
SPIE Fellow Joseph Shaw shows how to observe and photograph optical phenomena from aloft. (An SPIE Professional article).
Most naturally occurring optical displays can be seen from an airplane, and some are best viewed while airborne.

These phenomena range from everyday sky and sunset colors to the elusive noctilucent clouds and aurora, as well as a whole world of too-often-ignored occurrences such as sun glitter patterns on bodies of water, colorful ringed glories and coronas, rainbows that cling to the clouds below a high-flying airplane, and ice halos that spring up as an airplane passes through high-altitude ice clouds.

Observing and photographing optical phenomena in the atmosphere has been SPIE Fellow Joseph Shaw's lifelong passion. Optics in the Air: Observing Optical Phenomena through Airplane Windows is Shaw's illustrated introduction to how to see the rich array of colors and optical effects that occur in nature. Although mainly about observation and photography from aloft, readers who have their "heads in the clouds" and their feet firmly planted on the ground will find many of the photography tips and descriptions of optical phenomena useful and accessible
This book is an introduction to optical phenomena in the natural world, primarily in the atmosphere (or "in the air"). It follows a simple approach that can be understood and enjoyed by readers without scientific training. A variety of optical phenomena are illustrated with photographs and explained with simplified line diagrams and descriptions.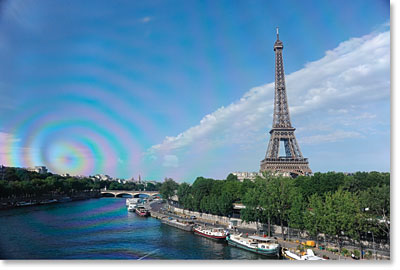 Photographing the famed Eiffel Tower through a birefringent transit-car window with a polarizing filter over the camera lens creates a surreal effect.

The book is divided into chapters on different types of optical phenomena and begins with an introduction to photography and observation techniques aboard an airplane. Shaw explains how to create - or avoid - unusual effects through airplane windows, which are often scratched and do not have high-quality optical surfaces.



In an article in the July 2017 issue of SPIE Professional, SPIE Fellow Joseph Shaw shows how to observe and photograph optical phenomena from aloft.
Read the full article on Optics in the Air in SPIE Professional.
Recent News