"Different Voices = New Ideas"
From a panel of experienced renewable-energy scientists to its Equity, Diversity, and Inclusion keynote, SPIE Optics + Photonics highlighted the voices of women and other underrepresented groups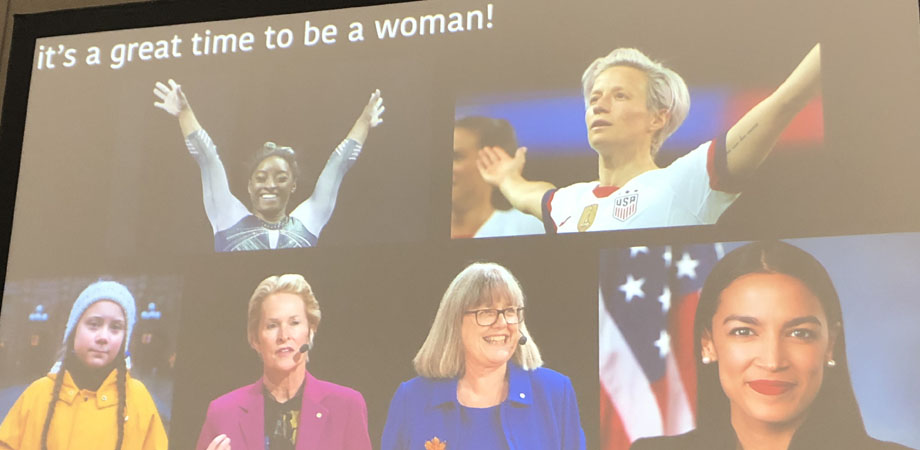 The first-ever Women in Renewable Energy conference (WiRE) at SPIE Optics + Photonics rounded off its inaugural day with a panel of five conference presenters discussing the role of women scientists in renewable energy and other fields.
Moderators — and conference co-chairs — Monica Lira-Cantu, of Institut Català de Nanociència i Nanotecnologia and Zakya Kafafi, of Lehigh University, facilitated the conversation, while panelists shared aspects of their careers and observations, covering such topics as male networking vs. female solo-working; the importance of female leadership and women role models; and why inclusivity is crucial to good science.
Sarah Kurtz, of University of California, Merced; Jenny Nelson, of Imperial College London; Debra Rolison of the US Naval Research Lab; Laura Miranda Perez, of Oxford Photovoltaics Ltd.; and Pooi See Lee, of Nanyang Technological University, brought an international flavor to the conversation, as well as a wealth of opinions on directions toward change, from the importance of speaking up, to principal investigators (PIs) actively involving individuals on their teams at every level, from the most senior researchers to interns.

The Women in Renewable Energy conference panel. From left to right: Debra Rolison, Laura Miranda Perez, Jenny Nelson, Pooi See Lee, and Sarah Kurtz.
A comprehensive view of the current situation — "we've made good progress, there's room to do better," "science is too important to be left just to men" — was nicely underpinned by the reminder of why these issues must be addressed. "How do you do your best work if you're not welcome?" Rolison asked. "Inclusivity," noted Nelson, "means that the person feels that they belong - and that they want to stay." Or, as Kurtz noted, "An environment that is respectful and supportive of women, is a better environment for everyone else."
And at the SPIE Equity, Diversity, and Inclusion event — where 50 copies of Angela Saini's Inferior: How Science Got Women Wrong... were distributed — SPIE Member Jess Wade, an Imperial College London scientist, women-in-STEM activist, and prolific Wikipedia editor, spoke about why diversity in science matters, why we don't have it (yet!), and how we can achieve it.

SPIE Equity, Diversity, and Inclusion keynote speaker, Jess Wade, and her copy of Angela Saini's Inferior: How Science Got Women Wrong...
Wade's talk, from which the headline above is drawn, covered the damaging stereotypes affecting children, the blatant representational disparity across scientific academia, and the pioneering women who are actively making a change.

With shout-outs to astronomer Jocelyn Bell Burnell, computer scientist Joy Buolamwini, and climate-change activist Greta Thunberg — as well as a practical list of ways to address our current situation, from gender-blind job applications to nominating colleagues for awards — Wade hammered home the reality that we won't be doing science fairly until the current inequalities are fully addressed. "We've created a world that's really unfair to women, people of color, and LGBTQ+," said Wade. "That has a direct impact on the science that we do."
Join Jess Wade at SPIE's first Wikipedia Edit-A-Thon on Wednesday, August 14, from 4-6pm.
Recent News