Lidar landscape shifts as big players join forces with new entrants
The emergence of lidar as a key technology for future autonomous vehicles ratcheted up throughout 2017, with major players including Ford, Airbus, and Osram backing a raft of startups with their own particular takes on the photonics hardware.
21 March 2018
Mike Hatcher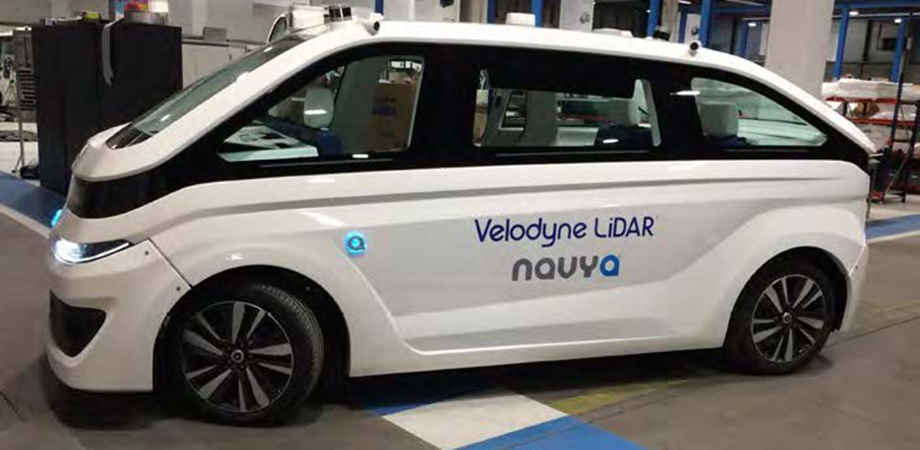 Touted for a commercial release this summer, this self-driving taxi from French startup Navya is fitted with multiple lidar units from Velodyne, alongside radar units and cameras. Photo: Velodyne Lidar
By any measure the past year has been a remarkable one for lidar technology. Excitement about the prospects and potentially massive disruptive effect of autonomous vehicles has pushed this erstwhile photonics technology - lidar dates back to the early days of the laser, used in meteorology and by the Apollo 15 mission to map the lunar surface - right back up the tech agenda, with news of major investments on an almost weekly basis.

The plethora of startups, spin-outs and venture capital deals has, for some, recalled the days of the optical telecommunications boom of the late 1990s. In fact there are some more direct connections to that time, with the use of 1550 nm laser diodes first developed for optical fiber transmission, vertical-cavity surface-emitting lasers (VCSELs) generally found in data centers, photonic integration schemes, and micro-optical electrical mechanical systems (MOEMS) all touted by their proponents for a critical future role.

Elsewhere in the lidar universe, October 2017 saw two of the auto industry's biggest names - Ford and General Motors - respectively acquire lidar component and systems firms Princeton Lightwave and Strobe.
Everybody working in this space has the same ultimate aim: safer driving. Global estimates from the World Health Organization suggest that 94% of the 1.25 million road deaths recorded in 2013 were attributable to human error. Although that makes a compelling argument for replacing the error-prone humans in the driving seat with robots, sensors, and algorithms, there are still big questions over how and when exactly that transition will happen. What does seem clear is that a fusion of sensor data, almost certainly including lidar, is required.

That momentum was in evidence earlier this month at the Consumer Electronics Show (CES) in Las Vegas, with lidar seen on board numerous vehicles and early developer Velodyne saying that it expected 2018 to go down as a "watershed year" for the sector.

With dozens of companies now working on lidar and related image processing, analysis and control technologies aimed at future self-driving applications, it seems inevitable that there will be some kind of shake-out before long. But for now, here's our selection of the startups and more established companies to have made their presence felt over the past 12 months.

Luminar Technologies
Exhibiting at SPIE Photonics West in February, the California startup appeared with a bang in April 2017, buoyed by a $36 million round of seed finance. Co-founded by the young tech entrepreneur Austin Russell and former Ocean Optics executive Jason Eichenholz, Luminar's bold claims of sensor performance are based around its adoption of a 1550 nm laser. It can take advantage of the more relaxed eye safety regulations at this wave-length to field significantly higher power - what Luminar's executives describe as the "photon budget" - and therefore greater sensing range.



At the wheel: Luminar Technologies co-founder Austin Russell in a car equipped with the company's high-resolution lidar kit. Photo: Luminar Technologies.

While that makes the core laser technology significantly more expensive than the shorter wavelengths more conventionally associated with lidar, Eichenholz and Russell expect the market impact of autonomous vehicles to be so disruptive, with self-driving cars carrying passengers on a near-continuous basis, that the higher price of multi-channel indium phosphide (InP) lasers and associated hardware will be acceptable to car makers.
The Luminar team followed up on its debut in the summer, showing off their technology atop a Mercedes van outside the Laser World of Photonics event in Munich, before in September Toyota's research wing announced that it was testing out the technology on its "Guardian" and "Chauffeur" development vehicles.
Since then, Russell has further burnished his credentials with inclusion in both the Forbes "30under30" list of influential young entrepreneurs and the Massachusetts Institute of Technology (MIT) Tech Review's "35under35" equivalent. At CES 2018, Toyota showcased its latest, "third generation" autonomous platform, which combines the 200 meter-range Luminar kit with a number of shorter-range sensors. Luminar is actively hiring for dozens of positions at its twin facilities in Palo Alto and Orlando, Florida, and will be demonstrating its lidar solution outside Hall D of the Moscone Center this week. Eichenholz gave a keynote talk on the subject at SPIE Photonics West 2018.



This Lexus car, fitted with a rooftop lidar system from Luminar and built by Toyota Research Institute, made an appearance at CES 2018 in Las Vegas. Photo: TRI.

AEye
While most of its rivals are deploying lasers emitting at shorter wavelengths, Luminar is not the only lidar company working with 1550nm light. Pleasanton-based AEye is another California startup to adopt InP-based tech nology, with its pitch to provide the hardware, software and algorithms that will come to represent the "eyes and visual cortex" of future self-driving vehicles. In essence, that means combining a lidar-generated 3D point cloud with 2D machine vision, to generate a more recognisably "human" view of a car's surroundings.
In June 2017, AEye - previously known as "US LADAR" - said that the venture wings of both Intel and Airbus were among the investors in its $16 million round of series A financing, alongside the high-profile venture capital group Kleiner Perkins Caulfield and Byers.
Headed up by Luis Dassan, a graduate of the University of Central Florida's famed College of Optics and Photonics (CREOL), and with strong US military expetise in its ranks, AEye went on to demonstrate its 360 degree, MOEMS-based, solid-state system in September, claiming a range of 300 meters in live metropolitan tests. "This is just the starting point for AEye," said Dussan at the time. "Our system's use of intelligent sensing and software-definable lidar (SDL) will catalyze rapid innovation and world class perception capabilities, enabling OEMs, Tier-1 suppliers, and mobility companies to successfully tackle their toughest corner cases."
In December, that was followed by the launch of a partner development program for what AEye calls "iDAR", short for "intelligent detection and ranging". Said to mimic the way that the human visual cortex evaluates potential driving hazards, the approach uses beam-steering hardware and other proprietary tricks to dramatically increase the frequency with which objects in the field of view are "hit" with a laser pulse.
Potential adopters of AEye's approach got a chance to evaluate it at CES, where the company unveiled its "AE100" system. It is described as the world's first agile MOEMS lidar, "pre-fused and bore-sighted with a low-light HD video camera". Customizable with specifications including a range of up to 400 meters and frame rates of 200 Hz, it is slated for initial release by mid-2018, with a wider commercial launch shortly after.

LeddarTech
Also attempting to make an impact in Vegas was Canada's LeddarTech, spun out of the local National Optics Institute (INO) more than a decade ago. In September the Quebec City company revealed that Osram had acquired a 25% stake in it, as part of a $101 million round of series C finance.
Investing alongside Osram are parts giants Delphi (now Activ), Magneti Marelli, and sensor specialist IDT Automotive and Industrial. LeddarTech CEO Charles Boulanger expects the lidar sector to become a multi-billion-dollar business by the end of the decade, with his company playing a lead role.
Though it is also developing solid-state lidar, and claiming long-range capability, where the Canadian firm seems to diverge from rivals AEye and Luminar is its focus on lower-cost hardware. At the CES event in 2017, the company even raised the possibility of future lidar sensors for automotive applications costing just $100.
In a white paper penned by Pierre Olivier, its VP of engineering and manufacturing, LeddarTech says the key is optical time-of-flight signal processing, with claims that the company's algorithms are able to calculate accurate ranging information from only a very weak photonic "echo".
"When combined with a photodetector, a pulsed light source and optics, it forms a complete sensor system that can easily be integrated into a small footprint at low cost," wrote Olivier of the firm's "LeddarCore" product, adding that LEDs, VCSELs, and edge-emitting diodes were all compatible with the design.
With two CES 2018 innovation awards for LeddarCore in the bag, LeddarTech headed to Vegas this year with engineer ing samples and demonstrations of lidar systems showcasing "LCA3", the latest version of LeddarCore. "More key suppliers and Tier-1 manufacturers are turning to us over other lidar vendors because we deliver on our promises," boasted Boulanger ahead of the event.
Joining forces with the firm at a dedicated exhibition pavilion in Vegas were the other members of what LeddarTech describes as its "Leddar Ecosystem". As well as Osram, they included optical component supplier Hamamatsu Photonics and Albuquerque-based VCSEL specialist TriLumina - the latter showing off a solid-state 3D lidar system built around its flip-chipped 940 nm emitters and patented monolithic microlenses.
Innoviz and Oryx
Israel has turned out to be something of a hot-house for lidar startups, thanks in part to past investments in sensor technology development by the country's military. Among the most successful thus far is Innoviz Technologies, which in the past 12 months has landed series B venture backing of $73 million alongside partnerships with car-parts giants Activ and Magna, contract manufacturer Jabil, and an unspecified "top-tier" auto maker.

In September, the Kfar Saba firm said that it had grown to employ some 75 workers, and that its first lidaproduct was in production and would become available in the first quarter of 2018. CEO and co-founder Omar Keilaf is able to draw on the expertise of "chief photonics officer" David Elooz - previously head of physics within the elite technology unit of the Israeli Defense Forces - and welcomed Samsung Catalyst and Softbank Ventures Korea as strategic investors in the latest round of financing.
"With our lidar solutions moving into mass production and getting ready to begin shipping in early 2018, the back- ing from companies such as Samsung, SoftBank Ventures Korea and all the rest will enable us to scale our operations as we focus on not only lidar but the entire autonomous vehicle stack," said the CEO in October.

Innoviz was another to demonstrate its latest advances at CES 2018, and although it is yet to reveal too much technological detail about its MEMS-based lidar sensors in public, the company has indicated that it is targeting the lower-cost end of the emerging market. Initial versions of its "InnovizOne" sensor are expected to sell for a few hundred dollars at first, with a price below $100 even envisaged as the partnership with Jabil's optics division begins to scale up.

Another Israeli startup in the sector is Oryx Vision, which in August 2017 raised $50 million in a series B round of financing. Oryx stands out for its adoption of what are described as "far-infrared nano-antennae", rather than conventional laser emitters, in its coherent flash lidar. It is said to operate well in challenging conditions posed by adverse weather and low, bright sunlight at dawn and dusk.
Also with strong connections to Israel's military technology base, Oryx said it would put the funding towards accelerating its development work and intensifying commercial engagements with car OEMs and top-tier-auto part suppliers. The company expects to ship units for car-mounted testing during the second half of 2018.

Both Innoviz and Oryx can take inspiration from compatriot Mobileye. Though not a lidar company, its camera-based systems for advanced driver assistance features are also expected to find widespread use in autonomous vehicles, prompting Intel to acquire the firm last year for a cool $15 billion.

Velodyne and Quanergy
For early trendsetters Velodyne Lidar and Quanergy Systems, whose solid-state lidars have been widely used in developmental efforts by car OEMs, 2017 priorities included scaling sensor production at new facilities. Following lucrative venture backing for both firms in 2016, last year saw Velodyne open its lidar 'megafactory' in San Jose, while Quanergy began mass production of its 'S3' sensors at its highly automated factory in Sunnyvale, California.
"With the commissioning of this facility, Quanergy is now the only company to mass produce solid-state 3D lidar sensors," boasted the firm in December 2017, adding that the production line features high-precision photonic IC processing tools and a conveyor system connecting machinery that turns a silicon wafer cassette into a finished lidar sensor.

"We fully expect that these sensors will play an integral role in bringing self-driving vehicles to the road," said Quanergy's CEO Louay Eldada, also predicting that the price of the S3 will eventually drop below $100. Meanwhile the company's former head of engineering, Angus Pacala, has started up his own venture in the form of San Francisco-based Ouster. With a $27 million series A round banked in December, Ouster is aiming to ramp production of a 64-channel sensor this year, as headcount grows from 40 to an expected 100 by summer.

Not to be outdone, Velodyne has slashed the price of its "VLP-16" sensor in half, and used its CES 2018 event booth to host what is described as the first fully autonomous taxi to hit the market. Navya's "Autonom Cab" can carry up to six passengers and features no fewer than ten lidar sensors, alongside six cameras and four radar units.
Velodyne president Mike Jellen said in advance of the event: "We expect 2018 to be a watershed year for both Velodyne and the industry, laying the foundation for autonomous vehicle deployments around the world in just a few years."

TetraVue
At last year's Photonics West TetraVue - another Californian startup in the automotive lidar space - revealed that it had raised $10 million in venture backing, and the firm was actively hiring on its dedicated Careers Center booth during the event. Since then, it has emerged that the finan- cial backers include the likes of semiconductor equipment giants KLA-Tencor and Lam Research, alongside the venture wing of industrial sensor firm Robert Bosch and the Samsung Catalyst Fund.
"TetraVue cameras uniquely merge digital video with lidar technology by capturing multi-megapixel images at up to 30 frames per second with accurate depth for each individual pixel," explained the company ahead of the technology making its debut appearance at CES 2018. "As a result, a TetraVue camera has the ability to process 100 times more real-time data describing object location and motion in the surrounding environment."
Mike Hatcher is editor of optics.org. A version of this article appeared in the Photonics West Show Daily in February.

Related SPIE content:
Lidar for autonomous cars makes optics and photonics "hot" again

Louay Eldada: LiDAR for Autonomous Vehicles: The future of 3D Sensing and Perception
Airborne lidar probes undersea waves
Lidar monitors environmental changes


Enjoy this article?
Get similar news in your inbox
Recent News