Jess Wade: A Force of Nature
The British physicist will bring her diversity activism as well as her science to 2019 SPIE Optics+Photonics
13 June 2019
by Daneet Steffens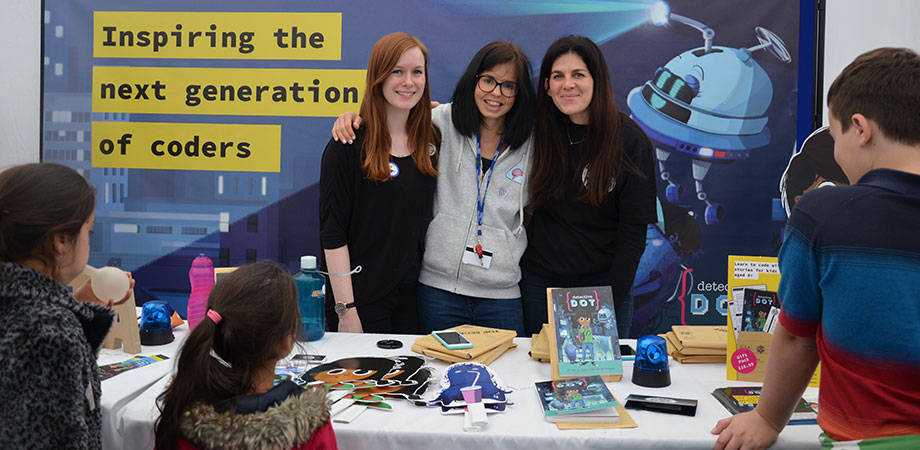 STEM POWER: Wade, with colleagues, at an outreach event.
Jess Wade is excited about snails. Over the past couple of months, the polymer physicist at Imperial College London has been collaborating with a mollusc researcher at London's Natural History Museum. "We've been using Raman spectroscopy to look at what different pigments there are in the molluscs," says Wade. "We're trying to identify whether certain pigments were unique to different types, looking at how, for example, red changes across a mollusc."
Wade, whose work at Imperial focuses on light-emitting diodes (LEDs) and device displays, enjoyed applying her knowledge and characterization of linear and circularly polarized light to a completely different system. "You just shine a laser on the mollusc shell," she explains, "and then you get this beautiful fingerprint of all of the different chemical bonds that are in that pigment within the shell. You can also tell a lot about the structure of the shell: you see the mineral structure and then, on top of that, all of the different stretching modes of the bonds within that molecule that corresponds to the pigment. You can look at how red might be different to orange, how that might be different to purple, and how they're different between various species of molluscs."
When not pursuing innovative discoveries using light — currently, she's studying light-emitting polymer thin film models that she created using Mueller matrix spectroscopic ellipsometry — the post-doctoral research associate in plastic electronics is busy introducing girls to the delights of STEM. Wade is an active advocate for enhanced diversity across science, creating Wikipedia pages for women scientists to showcase their achievements and get their names into the public domain. Those Wade-written Wikipedia pages now number in the hundreds. She takes that show on the road, heading up Wiki Edit-A-Thons to encourage others to contribute to the online encyclopedia, while also making frequent appearances as a speaker on STEM and STEM diversity. She's also campaigned fiercely for Inferior, Angela Saini's 2017 book addressing sexism in science, fundraising tirelessly to get it into every school in the UK, US, and Canada. All this in-the-field activity has not gone unnoticed: In 2018, Wade was named a "diversity champion," and one of Nature's ten people who matter in science, and, on 7 June, she was awarded the British Empire Medal in the 2019 Queen's Birthday Honours for services to gender diversity in science.
Her multi-faceted approach to her career is tellingly reflected in her presence at SPIE Optics +Photonics this year in San Diego: she'll give a presentation, "Nature-inspired chirality in polymer-based electronics," as part of the Light in Nature conference (research physicist); lead a professional development workshop entitled "Effectively Evaluating Your Outreach Activities" (engagement); run a Wikipedia Edit-A-Thon (proactive outreach); and provide the keynote at the Women in Optics Equity, Diversity, and Inclusion reception (advocacy).
LET IT SHINE: Circularly polarized light, says Wade, has powerful potential applications in both biology and security.
O+P's Edit-A-Thon, says Wade, will cover the basics of creating and editing a Wikipedia page ("If you can edit a Word doc, you can edit Wikipedia!") The group will, together, select a few people from a list of notable scientists, create new pages or work on editing or translating an established one. "Everyone can edit and improve one article, and we'll have changed a significant part of the representation of women physicists, women in optics, and women engineers. The process also gives you great insight into how Wikipedia works — so many of us rely on it so often that actually understanding the mechanisms behind the process of which information gets published there is quite fascinating and important to know. You learn about who makes these pages."
It's important, Wade says, to be aware of the power of Wikipedia, of the level of visibility that it creates. "Collectively, everyone has a responsibility to support each other, but also to look to the people who've inspired them and nominate them for awards and fellowships and other recognitions so that they're spoken about and their work is spoken about and cited and represented." Everyone, she says, can have an impact: "You feel very small but actually, through your actions, you can make an impact. Angela Saini's Inferior, not only did it transform my world, but it inspired so many people all over the world to think differently, including senior academic men. You see there the power of something which doesn't just sit there and draw out facts and statistics that we've all heard about before, but tries to identify what the problem is and what we can do to change it."
"It's easy to say things aren't diverse, easy to say that we should be giving more access to women and ethnic minorities in science and engineering," Wade points out, "but I think we also need to look at what we can do to change the situation. I want to look at the origins of why we don't have this diversity: what happens when young women or people of color are at high school, at college, within university — why are they leaving the sciences? Why are they going into other professions, and what can we better do as an academic community to keep people there?"
She's also interested in addressing a detrimental power imbalance and its impact on aspiring scientists. "You have people whose entire career may hinge on one person who may have had little training in how to manage a group, a lab, what is and isn't appropriate conduct, how to support people from different backgrounds, how to not just appoint and select people who look like you. We need to proactively change academic culture." One possibility, she says, is diversifying the power up top, moving from a model where, rather than a single principal investigator, teams should be led by at least two or three PIs. The PIs can cover for each other in case of, say, parental leave, and the team members' careers aren't beholden to one all-powerful person.
Finally, circling back to her passion for plastics and light, Wade points out that not only is circularly polarized light interesting from a physics perspective, but also from application perspective. It has lots of applications in biology, she says, because so many structures in our bodies are chiral. "DNA is chiral, obviously, but lots of biomarkers are also left or right-handed: if you could create light that could excite one of those, or be absorbed by one of those, and then sense that, then that would be really cool." Circularly polarized light may also play a large role in security, she says. "We can't differentiate left and right-handed light, so if you could use circularly polarized light in optical communications, then you could send information in a really robust, high-security way."
In the meantime, those molecular molluscs are calling.
Enjoy this article?
Get similar news in your inbox
Recent News