#FacesofPhotonics: Entrepreneur and Changemaker Aitor Villafranca Velasco
This SPIE Faces of Photonics interview features Aitor Villafranca Velasco, founder of Alcyon Photonics and active LGBTQ+ in STEM advocate.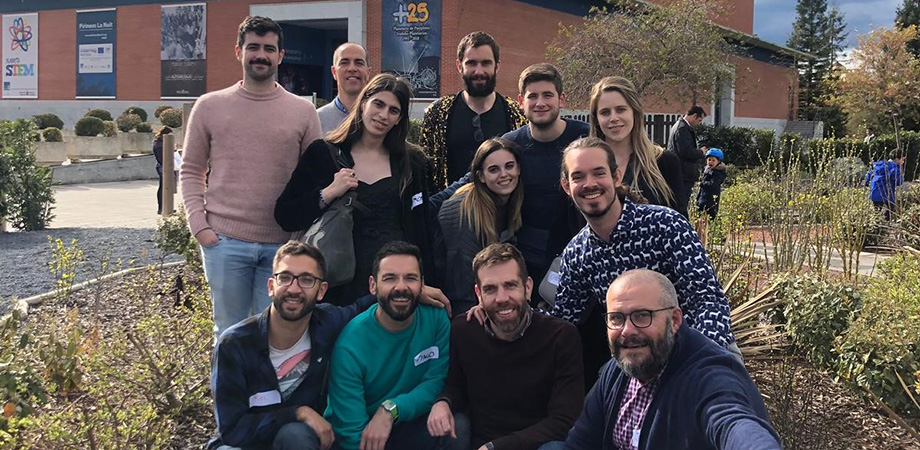 The founding members of PRISMA, an association dedicated to increasing gender diversity in STEM, at the Pamplona Planetarium in Spain. Aitor is pictured top left.
Founder. Collaborator. Advocate. Mentor. Researcher. Friend. These are all ways one could describe Aitor Villafranca Velasco. Velasco is a silicon photonics postdoctoral researcher at the Spanish National Research Council (CSIC) in Madrid and believes strongly in the power of diversity, both in scientific collaborations and in life. "If nature has taught us one thing," he says, "it is that diversity makes us stronger."
That is why he is so vocal about his appreciation for events such as the LGBTQ+ Social at Photonics West which he attended in 2019. "I have always had great professional experiences and enriching discussions at SPIE conferences, but on a personal level I was so happy to see the LGBTQ+ event. It is inspiring to see social change permeating the STEM world, and it was great to meet all the attendees and organizers."
When he's not conducting research at the CSIC, Aitor focuses his efforts on PRISMA, a national association he helped start that is dedicated to increasing gender and LGBTQ+ diversity in STEM. PRISMA believes that through education, training, and collaboration within a strong community, change will happen. You can check out the association in action on Twitter and Instagram.
Enjoy the interview with Aitor!

1. How did you become interested in the optics and photonics field? Was there a person who inspired you?
I started looking into photonics because my older brother was working in the field while I was in university. I remember a certain fascination about the possibility of controlling light at your will. Once I started my PhD at Complutense University of Madrid, I had an incredible duo of mentors — SPIE Fellow Maria Luisa Calvo Padilla and SPIE Member Pavel Cheben — who greatly inspired me to follow this path.

2. Explain your current research/what you do at your job. How does your work impact society?
I research novel integrated devices enhanced through subwavelength metamaterials. Basically, by introducing these structures, we can tailor the optical response of the medium without increasing fabrication complexity, creating high-performance photonic chips for a wide variety of applications such as communications, biochemical analysis, and spectroscopy, among others.
I believe scientific research should not be confined to the lab. We should be giving it back to society in an active and responsible manner. In 2018, I was given the opportunity to put this principle into practice! I created Alcyon Photonics, a spin-off company that develops and commercializes these subwavelength photonic devices, bringing the latest developments to the rapidly-growing photonics market. It has been great to participate in this project while pursuing my fundamental research at the CSIC, and I would encourage other researchers to look into entrepreneurship opportunities.

3. Share the story of your favorite outreach or volunteer experience.
For years I have been volunteering with COGAM-Educación, a local organization in Madrid that fights against LGBTQ+ bullying in high schools, and I've always wanted to bring those ideas to the STEM world. Many LGBTQ+ scientists still face discriminatory or non-supportive work environments, and the challenges get far worse if you are not a white, cis male. Many people are still in the closet at work for fear of being mistreated or having their careers handicapped, not to mention those who face hardships even in starting their scientific careers, something particularly worrisome in the transgender community.
Earlier this year I worked with a group of great people to found PRISMA. The response has been amazing. It has been very enriching to share experiences with people from a variety of fields, backgrounds, orientations, and identities. Part of what PRISMA is trying to do is combat the false, so-called "scientific" facts that are being used as homophobic and transphobic propaganda. We want to help disseminate what science actually says about those topics. If nature has taught us one thing, it is that diversity makes us stronger.

4. Have you ever had to embrace failure? Describe a challenging situation, either personal or professional, and how you overcame it.
Although there are always difficulties to face, I have been quite lucky with my professional career. I have always worked in supportive environments and had interesting research projects. I have experienced some instances where being openly queer has jeopardized professional collaborations, but that is their loss. Luckily there are plenty of great researchers who are also open-minded human beings, and I'm glad to be able to work with them.
5. When you look five years into the future, what do you hope to have accomplished?
I really hope to see both PRISMA and Alcyon Photonics grow in the following years, but as long as I can keep doing interesting research and contributing to a fair and more inclusive society, I'll be more than satisfied.

6. What book has impacted your professional life the most? Your personal life? Why?
As far as genre goes, I've always been very fond of sci-fi, which might explain the scientific vocation. I don't think there was an individual book that made the most impact, but I always recommend Stanisław Lem's Solaris.
Also, Paul Auster's The New York Trilogy made me want to become a writer when I was a kid (I have published a few novels, although unfortunately I don't have much time to write anymore). Another would be Marsha P. Johnson and Sylvia Rivera's Street Transvestite Action Revolutionaries (STAR): Survival, Revolt, and Queer Antagonist Struggle. It is a must-read for any queer person.

7. What is your advice to others in the STEM community?
My advice would be to actively embrace diversity in the workplace. Silence and neutrality do not work, because silence feeds fear, and neutrality does not bring change. We must be visible and use our positions to ensure all voices are heard, paying particular attention to under-represented groups. STEM is an amazing field to work in — we should all have the chance to participate with equal opportunity.
Enjoy this article?
Get similar news in your inbox
Recent News