Bishnu P. Pal: The 2021 SPIE Maria J. Yzuel Educator Award
The SPIE Maria J. Yzuel Educator Award recognizes outstanding contributions to optics education by an SPIE instructor or an educator in the field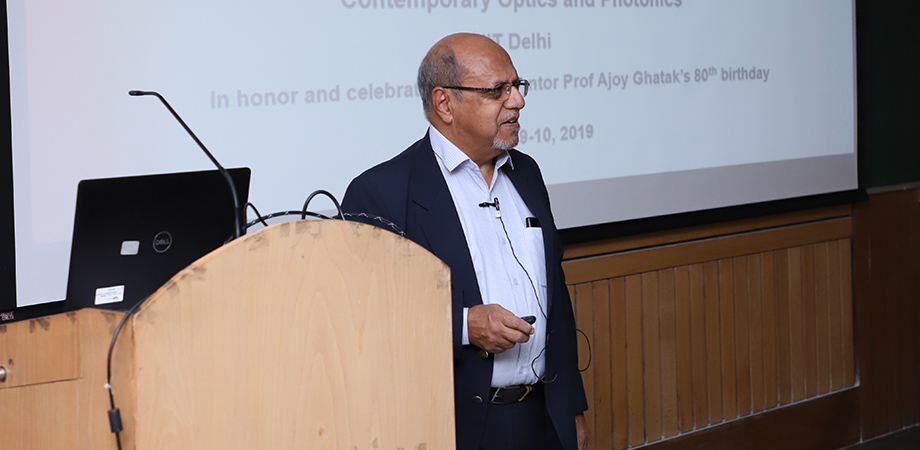 Bishnu Pal at the 80th birthday celebration for Professor Ajoy Ghatak in 2019.
SPIE Fellow Bishnu Pal has made multi-dimensional contributions to the education and dissemination of optics and photonics-related knowledge and development. Deeply involved in guided wave optics and photonics from the start, Pal played a key role in establishing and nurturing the growth of the interdisciplinary Master of Technology program in optoelectronics and optical communication, as well as a fiber optics laboratory at the Indian Institute of Technology (IIT) in Delhi in the early 1980s. Today, its alumni hold leadership positions across academia as well as with industry giants such as Facebook, Cisco, NASA, OFS, Infinera, Velodyne Lidar, and India's Tejas Networks, Tata Consultancy Services' Innovation Laboratories, and Sterlite Technologies.
Today, Pal continues to support the growth and advancement of new areas in photonics such as metamaterials and THz frequencies as a professor of physics and dean of Academics at Mahindra École Centrale School of Engineering in Hyderabad.

As President of the Optical Society of India (OSI) from 2012-2015, Pal was a critical contact for UNESCO's International Year of Light Steering Committee. As OSI president, he also created an OSI Foundation in order to grow awareness of photonics among students and faculty at smaller colleges across India, drawing from the expertise of institutions such as IIT and other research establishments. From 2015-2019, Pal was a member of the SPIE OPTO conference program committees for the Optical Metro Networks and Short-Haul Systems and Metro and Data Center Optical Networks and Short-Reach Links conferences.
"Bishnu Pal's commitment to and enthusiasm for his students has contributed enormously to their individual achievements in photonics as well as to enhancing the global presence of the Indian photonics community," notes University of Strathclyde Professor Emeritus in electronic and electrical engineering Brian Culshaw. "He is consistently determined to ensure that his students - and, indeed, his fellow staff members - benefit fully from the supportive environment which he has created. He ensures that they are exposed not only to stimulating lectures and insightful experimental experiences, but also to a variety of national and international expertise from across research, government, and industry. His endeavors have produced several generations of quite exceptional graduates who have made their mark across a wide spectrum of technical challenges, from research and teaching to entrepreneurship and industry development and production, not only in India but also as a very strong presence internationally."
Meet the other 2021 SPIE Society Award winners.
Read more about Bishnu Pal and the SPIE Maria J. Yzuel Educator Award.
Recent News