BiOS Hot Topics: what's old is new again and what's new is … amazing
R&D highlights from the 2018 session: Presentations from leading researchers in biophotonics.
05 February 2018
Kathy Kincade
The old mingled comfortably with the new at the BiOS Hot Topics session at SPIE Photonics West 2018.

From photodynamic therapy (PDT) and its next-generation cousin photodynamic priming (PDP) to high-resolution imaging tools that are moving us closer to understanding the idiosyncrasies of the brain, the quick-fire presentations provided a high-level, deep dive into the growing optical armamentarium aiding researchers and practitioners at the benchtop and, increasingly, the bedside.
The evening kicked off with the presentation of several awards, including the 2018 SPIE Britton Chance Biomedical Optics Award, which paid homage to Tayyaba Hasan, a professor of dermatology at the Wellman Center for Photomedicine at Massachusetts General Hospital, for her decades of pioneering research in PDT. Hasan then gave an illuminating talk about the current state of PDT research and some of the new directions in which this technology is moving.

"PDT is all about achieving light-activated chemistry to cause the desired alterations in cells and tissues of interest," she said. "There are many approvals for cancer and non-cancer pathologies and new applications emerging; in addition to classical PDT there is PDP.

"I hope there will be a change in perspective, that this technology will serve many purposes," she said, adding that as well as cancer treatment it can also be- come an enabler and enhancer of existing drugs and modalities at lower concentrations and lower toxicities.
Brian Wilson, a professor at the University of Toronto and head of the Applied Biophotonics group at Princess Margaret Cancer Centre, also discussed new directions in PDT. His talk focused on the intersection of photomedicine and radiation medicine, "an emerging field of great interest that combines the biological advantages of PDT with the physical advantages of ionizing radiation."
His group's research emphasis includes two-photon PDT for melanoma, which has achieved significant efficacy in pigmented melanoma; and the use of PDT in lung transplantation to disinfect the lung tissue prior to surgery and reduce the pathogen load.
"Getting the correct light distribution to the whole lung is challenging, but we could use whole x-rays to achieve distribution to the whole lung," Wilson said. "So, we are looking at the intersection of light-based medicine with x-ray-based medicine."
One of the most anticipated talks of the evening was given by Qingming Luo, a vice president at the Huazhong University of Science and Technology (HUST) in Wuhan, China, and an executive at the Wuhan National Laboratory for Optoelectronics (WNLO). Luo leads a new facility called the HUST-Suzhou Institute for Brainsmatics, which has a 5-year budget of 450 million yuan (US$67 million) and employs some 120 scientists and technicians. Luo, who calls himself a "brainsmatician," also built the institute's high-speed brain-imaging systems, which visualize brain-wide networks using an integrated, systematic approach to measuring, analyzing, managing, and displaying whole brain data.
"My group developed the MOST system, which combines fluorescent labeling, whole brain embedding, big data processing (pre-processing and 3D reconstruction) for neuron morphology, connectome/projectome, vascular networks and cytoarchitecture, and brain mapping," he said.
Luo showed several examples of the high-resolution detail of neural circuits and single neurons that can be obtained using MOST. This system can also be used to image the brain's vascular network, and his group just reported on a whole brain atlas of certain regions of the brain.
"With our approach, we can achieve brain-wide registration of multiple parameters with high spatial resolution," he said. "We have bridged the gap between electron microscopy and MRI for brain imaging and reconstruction."
Luo's talk was not the only one that focused on brain imaging. Hillel Adesnik of the University of California, Berkeley, gave an overview of his group's work with a new multiphoton microscopy method for controlling neural activity in 3D called 3D-SHOT (scanless holographic optogenetics).
Among other things, Adesnik's approach has been used to study the whisker maps that rodents create in order to navigate their surroundings. "We want to answer the question of how different patterns of neural activity drive different perceptions," Adesnik said.


Other highlights from the BiOS Hot Topics session, facilitated by Tufts University's Sergio Fantini, included:



Katarina and Sune Svanberg of Lund University and South China Normal University discussed biophotonic applications of GASMAS (gas in scattering media absorption spectroscopy), an optical technique for sensing and analysis of gas located within porous and highly scattering solids that was introduced by Sune Svanberg in 2001. Among the applications they discussed were food monitoring for safety and freshness based on non-intrusive measurement of oxygen levels; and medical diagnostics, such as monitoring tissue degradation following hip replacements, oxygen levels in neonatal and premature infants, and diagnosing ear infections via the gas signals that occur behind the ear drum.


Keisuke Goda of University of California, Los Angeles, discussed his group's large-scale, single-cell analysis involving high-speed imaging technologies. One focus of this work is to study cellular heterogeneity - the study of different traits of individual cells in populations such as euglena, a genus of single-celled flagellate eukaryotes. The group has been working with three methods: optical time stretch microscopy, frequency division multiplexed microscopy, and stimulated Raman scattering microscopy. "The process of studying cellular heterogeneity takes a long time, so high-speed imaging is a good solution for this," Goda said.
Irene Georgakoudi of Tufts University described her group's work with two-photon microscopy for assessing cellular metabolism. Because metabolic changes are highly dynamic and can occur in seconds, minutes, days, weeks, months, even years, "many techniques are not great for monitoring metabolic changes," she said. "We are interested in understanding the meaning and impact of metabolic change in our ability to treat things like cancer." Their research into optical metabolic biomarkers takes advantage of two fluorophores that naturally fluoresce: NADH and FAD, which are involved in many metabolic pathways. They are looking at applications in drug discovery, drug safety, and treatment
optimization.


Turgut Durduran of the Institut de Ciencies Fotoniques-ICFO in Spain, is working to bring diffuse correlation spectroscopy to the bedside for non-invasive optical blood flow measurements in deep tissue. His team is currently working to build a less expensive consumer-grade speckle contrast optical spectroscopy (SCOS) custom detector array and has developed a handheld SCOS prototype that allows for scalable, parallel detection of cerebral blood flow.



Julia Walther of the Technical University of Dresden gave a detailed presentation on the state-of-the-art of hard- and soft-tissue applications for optical coherence tomography (OCT) in the oral cavity. While OCT has been well-established in dentistry, she said, there are still questions about the most effective for diagnostic purposes in a clinical setting. Her group is working with a commercial endoscope for in vivo imaging of enamel dentin, gingiva, mineralization defects, epithelium and lamina propria.

Other awards presented at the BiOS Hot Topics session were the SPIE 2018 Technology Innovator Award to Elizabeth Hillman; the inaugural SPIE-Franz Hillenkamp Postdoctoral Fellowship in Problem-Driven Biophotonics and Biomedical Optics to Haley Marks; and a second Hillenkamp award to Jan Philip Kolb with support from the Hillenkamp Fellowship Committee, Thorlabs, and Blossom Innovation.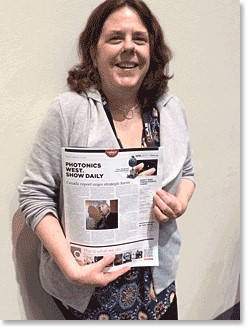 -Kathy Kincade is a freelance science and technology writer based in California (USA). A version of this article appeared in the Photonics West Show Daily in January.
Recent News