Beyond 2020 Vision
SPIE Fellow James Wyant on philanthropy's opportunities, life-long learning, and a canny career in optics
23 April 2019
Daneet Steffens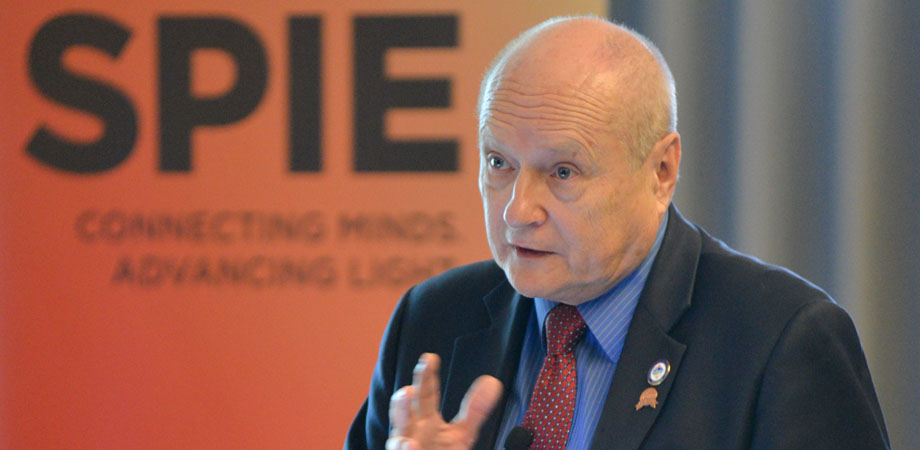 James Wyant speaks on "Fifty Years of Optical Sciences at the University of Arizona" at SPIE Optics + Photonics 2014
When Jim Wyant was in high school, managing the business of his family's farm and exploring his love of science, he'd set his alarm for the break of dawn. Feeding the 28,000 or so chickens was one reason, but Wyant's early rising had a small-screen focus — an NBC television program, Continental Classroom, which featured UC Berkeley physics professor Harvey White. "I used to get up at 6am and try to stay awake for that," Wyant recalls. "He was a wonderful teacher. Sometimes I fell asleep, but he really offered an excellent learning experience, doing demonstrations on that TV. Later, of course, I found out that he was the White of Jenkins and White" — Francis Jenkins and Harvey White, of the seminal 1937 text Fundamentals of Physical Optics, revised in 1950 as Fundamentals of Optics — "but at the time I was watching him on TV, I knew nothing about that."
That, of course, was going to change. Wyant, an SPIE Fellow and former president of the organization, has forged a highly successful life in optics, including his transformative work as the founding dean of the University of Arizona's College of Optical Sciences, and his entrepreneurial leadership in such companies as WYKO and 4D Technology. Under Wyant's future-facing direction and his deeply held belief in the importance of optics, that career-long success story is also having a generous ripple effect. In 2013, his $10 million gift to UA's College of Optical Sciences helped to establish 30 first-year graduate student scholarships; more recently, in late 2018, he and his family pledged $20 million for ten endowed faculty chair positions.
This level of gift-giving — as well as a lifetime of contributions to the optics field through his teaching, mentoring, and technological innovations in metrology — has garnered Wyant this year's SPIE Visionary Award as well as a well-deserved recognition closer to home: On 23 April, UA's College of Optical Sciences became the James C. Wyant College of Optical Sciences.

ALL THE PRESIDENTIAL MEN: Gathering at a special University of Arizona College of Optical Sciences event at 2019 SPIE Photonics West were, from left to right: Dean of College of Optical Sciences and newly named SPIE Fellow Thomas Koch; former SPIE CEO Eugene Arthurs; SPIE Fellow and 2007 SPIE Gold Medal awardee Joseph Goodman; Wyant; SPIE CEO Kent Rochford; SPIE Past President Eustace L. Dereniak; SPIE Fellow and SPIE Past President Robert Shannon; and SPIE President-Elect John Greivenkamp
"I am honored," says Wyant, who is particularly proud of the source of his ability to donate. "This money I'm giving away is money I made in optics — not money I made on the stock market or in real estate — it's money I made in optics. And — look around you — optics is everywhere! It's exciting to think about the future, because optics continues to grow. I want to see the college do well. I want to see optics in Tucson do well, and I want to see optics and photonics throughout the world do well. The small amount that I can donate can probably help the college — we can bring in great new wonderful teachers who will draw students in and graduate them — but it won't necessarily have a large effect on the world. But maybe, just maybe, it will get other people to do similar things."
Wyant's successes drew from a career arc that began with a summer job at an optics company during college. "At that point, I was going to go into solid-state physics. But the optics job was interesting, and then, in my senior year in the physics lab, I saw a hologram for the first time. That was just a remarkable day: I looked through this cloudy piece of glass and saw a stapler. I kept trying to grab it and it wasn't there! I just said, "Forget about this solid-state physics stuff — I'm going to do optics!"
His PhD work at University of Rochester's Institute of Optics was followed by a job with Itek Corporation in Boston that marked, Wyant notes, the beginning of an extremely productive professional relationship. Wyant was hired by Robert Shannon, another past president of SPIE and a fellow professor emeritus at the College of Optical Sciences who also brought Wyant to UA in 1974. "Bob was the one who really got me into metrology," notes Wyant. "I'd done my PhD work in holograms and interferometry, and he wanted me to work on testing aspheric surfaces, so he said there must be some way of using holograms to test aspheric surfaces. I remembered a paper I'd read on computer-generated holograms and thought that might be kind of fun. So I started playing with that and testing aspheric surfaces. That," he says with a laugh, "worked out very well."

Wyant with a student, Poohsan Tamura. Wyant had 34 students complete their PhDs; Tamura, who received his PhD in 1979, was the third to do so
And that's putting it mildly. In 1982, in Tucson, Arizona, while teaching at UA, Wyant commercialized an aspect of that technology — the invention of an interferometer that provides precise measurement of surfaces of recording heads on hard disk drives — through his first company, WYKO. That product became widely used in personal computers, and a prolific little earner. Subsequently, in 2002, he co-founded 4D Technology, which focused on vibration-averse technology used to test the optics for the James Webb Space Telescope.
"You have to have something that people want," Wyant says, reflecting on his business successes. "You have to have customers. One mistake people make is that they price things in a way where they don't make any money, and you have to make money if you're going to grow and make more products. But ultimately, you have to love what you're doing. Even if I had gone bankrupt, I still would have had so much fun doing what I was doing. I think you have to have that attitude. But to really succeed? You have to have a product that people want."
Being part of a professional society like SPIE, he says, also made a difference, both as he built his companies, and as he built his academic career at UA as a faculty member, heading up its Optical Sciences Center, and then developing it into a college as its founding dean. "SPIE helped us a lot," says Wyant. "It's engineering-oriented, which is where my real interest lies, and the exhibits provided a way for us to sell our products. SPIE conferences also offered us great opportunities to meet others in our field. Once I became the head of optical sciences at Arizona I said, 'We have to have a booth at SPIE shows — they support trade shows and the talks you give.' We always send a lot of our students to Optics + Photonics and Photonics West, and they always learn a lot. If you stay home, you just know your own little thing. You want to see what else is out there, what other people are doing. It gives you ideas. So I think the societies like SPIE are extremely important, a critical part of the community."



Wyant and UA grad student Maria del Carmen Ruiz in the lab. In 2013, Ruiz received a Wyant-funded FoTO graduate scholarship
Another aspect of coming to SPIE conferences these days is that he relishes running into former students and mentees. "I loved working with students," says the man who, indeed, hired a lot of former students into his businesses. "They were so smart, they taught me so many things. I see a lot of former students here at Photonics West, and you find out that most of them are doing very well, so that's really fun. It's like helping to create a product you're really proud of, you know? Send them out into the world and watch them thrive."
Enjoy this article?
Get similar news in your inbox
Recent News