Best Optics Apply at 2019 SPIE Optics + Photonics
With exciting keynotes and plenaries, more than 3,100 technical presentations, an impressive Optics Outreach Games, a buzzing exhibitor floor, an engaging Equity, Diversity, and Inclusion (EDI) program, and a high-profile organizational announcement, the 2019 SPIE Optics + Photonics symposium in San Diego, August 11-15, hit multiple high notes
22 August 2019
by Daneet Steffens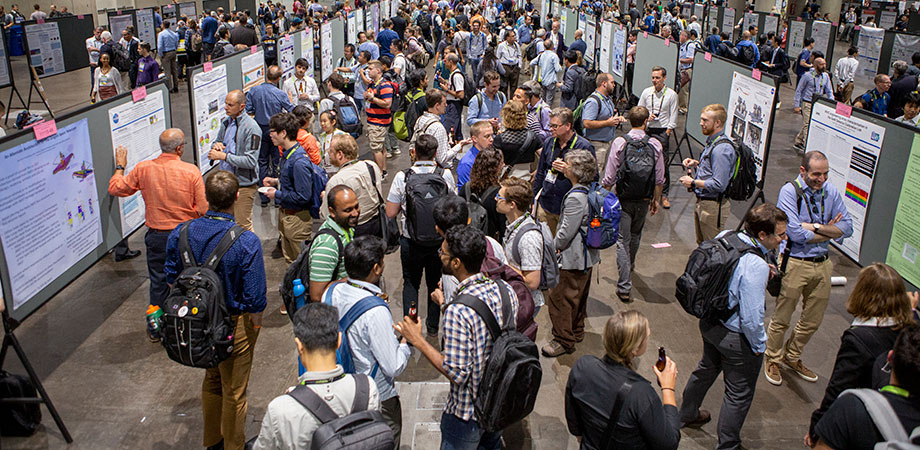 HIVE OF ACTIVITY: A poster session at SPIE 2019 Optics + Photonics
SPIE, the international society for optics and photonics, welcomed more than 4,000 registered attendees and 158 exhibitors through the San Diego Convention Center doors this year. A rich range of plenaries covered the latest improvements to optical tweezers, a next-generation space project, plasmonics-enhanced terahertz spectroscopy, and giant mirrors for telescopes, among other topical subjects, while a special session honored Nobel laureate Arthur Ashkin. Presentation recordings and manuscripts from the 60 conferences will be available in the SPIE Digital Library in the coming weeks.
An energetic group of 22 early career professionals facilitated 133 student leaders during a full day of professional-development activities, from improving their communication and negotiating skills, to creative brainstorming sessions regarding valuable leadership qualities. And, in a year that saw course attendance number rise stratospherically, hot taught-topics included "Practical Optical System Design," "Introduction to Optomechanical Design," and "Optomechanical Systems Engineering."
A well-received Equity, Diversity, and Inclusion (EDI) program included the first-ever SPIE Wikipedia Edit-A-Thon led by diversity-in-STEM activist Jess Wade, who also gave an impassioned keynote at the EDI reception. The 10th annual Optics Outreach Games showcased terrific student chapter projects from around the globe, with this year's winner, the Osaka University Chapter, taking home the top prize for their plastic bottle microscope.
And, in another first, SPIE announced its new $2.5 million endowment-matching program, kicking it off with a $500,000 grant which was matched by a factor of three to create a $2 million endowed faculty chair, the SPIE Chair in Optical Sciences at the University of Arizona's James C. Wyant College of Optical Sciences. In other Society news, the annual elections saw SPIE Fellow Anita Mahadevan-Jansen elected into the presidential chain as well as welcoming four new Society Directors.
Exhibitors were the other winners during a week that saw the exhibit floor humming with activity. "Seventy percent of our business is with astronomy and spacecraft," said Daniel Hofstadter of the Tucson, Arizona-based Hofstadter Analytical Services. "We come to the SPIE Optics + Photonics exhibition primarily to see our customers. We come here, we socialize, and we see what people are doing."
"It's great logistically for us," added Jeremy Gordon of Precision Optical. "It's always a quality show with great leads and plenty of interaction with our customers and other vendors. We just really enjoy being here."
"We've been coming to SPIE Optics + Photonics for many years now," noted Sarah Burke of Syntec Optics. "It's a great show, great to meet with a lot of our customers in the area. We also get a good amount of leads that we can follow up on after the show. And it doesn't hurt to be in sunny southern California!"
Attendees also weighed in on social media, with Dr. Arezoo Emadi of the Univerisity of Windsor's Electrical Micro & Nano Devices and Sensors Research Center tweeting, "Proud of Niwit who is presenting his MASc research work at the SPIE Industrial Optical Devices and Systems in San Diego. Presenting our work at international conferences creates more opportunities for collaboration with industry. #SPIEOpticsPhotonics, @UWindsorEng, @AryalNewith."
But the final word goes to Kurt Ponsor of Mindrum Precision who captured a canny piece of the SPIE mission, as well as a driving element behind the pursuit of optics and photonics for so many academics, industry leaders, and government employees. "We enjoy the show here because it is a meeting of the minds between the technical dreamers and the folks who can make those dreams into reality," said Ponsor. "It's a great gathering of people....it is amazing what we're doing to push the limits of science."
Enjoy this article?
Get similar news in your inbox
Recent News