Agile Autonomy
Autonomous Sensors conference at SPIE Defense + Commercial Sensing to showcase future trends for autonomous operations.
06 March 2019
Daneet Steffens
As part of its Defense + Commercial Sensing Symposium in Baltimore, Maryland, SPIE will feature its Autonomous Systems: Sensors, Processing and Security for Vehicles and Infrastructure conference. On Monday, 15 April, from 8:30-10:10am, the conference's special session, "Future Trends for Autonomous Operations," will showcase three key professionals and their individual areas of focus in this rapidly-emerging area: the US Department of Defense's Richard Linderman ("Towards a Future Autonomous Battlespace"), BAE Systems' Stephen Jameson ("Adaptive Intelligent Processing for Mission-Level Autonomy"), and General Motors' Jeremy Salinger ("Passenger Vehicle Automated Driving"). Together, the three presentations will showcase a comprehensive vision of autonomous infrastructure, an area which increasingly - and excitingly - straddles both the defense and commercial industries.
"Autonomous operations is a critical area of growth for many disciplines within SPIE," notes co-conference chair and IQM Research Institute President, Michael Dudzik. "SPIE Conferences have been a forum for the challenges and accomplishments of the sensing and image processing technical community for 30 years," he says. "The rising autonomous operations trends are a natural evolution for the SPIE community as new industries leverage previous foundational work into new applications."
The auto industry has defined five levels of autonomy, he continues, from no autonomy - "like my 1969 Mustang" - to vehicles having full autonomy in the a post-2025 timeframe. "We already know a lot about the safety elements that autonomous operations deliver: in the commercial shipping industry in Europe, for example, barge traffic movement is adapting near-autonomous operations, and we see similar prototype applications in the future commercial delivery of products by autonomous drone or autonomous vehicles. SPIE was always traditionally involved in the sensing arena, but the defense and commercial autonomous communities are now really bringing this technology to a much higher rate of adaptation and levels of performance. However, with the increased sensing and processing or autonomous operations, comes the need for increased cybersecurity within the autonomous system."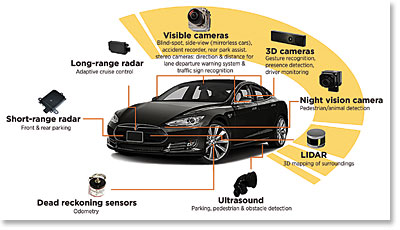 Credit: Yole Développement
In fact, notes Dudzik's conference co-chair and venture investor Jennifer Ricklin, one of the most exciting aspects of autonomous operations is its multidisciplinary character, encompassing as it does, the need for robust software, AI, and cybersecurity, as well as a perpetually growing range of imaging sensors. "With autonomous vehicles, whether drone or ground-based, their sensors all have to communicate with each other,"says Ricklin. "Then you need AI to be able to operate without a human in the loop. That comes down to robust software which is where, of course, cybersecurity issues come in."
We already know, she continues, that AI is important to the Department of Defense (DOD): "Our keynote speaker, Dr. Richard Linderman, is a senior executive at the Pentagon responsible for planning DoD research policy for AI. He'll be discussing the DOD's interest in AI, how the Department plans to incorporate AI going forward, and what opportunities it offers within the scope of autonomous infrastructures."
To complete the overall picture, Jameson and Salinger will be weighing in from the industry side of autonomous operations technology. "Steve Jameson brings a vision to this conference from his unique background in DOD autonomous operations from both the US Government and a large defense prime contractor," says Dudzik. "Jeremy Salinger brings a strategic vision of the coming era of autonomous vehicles from his experience in the applications and issues across the five levels of autonomous driving in the automobile sector."



A view of a city street from the Luminar lidar system.


This conference provides insights into where the defense and commercial sectors both overlap and stand apart at the current moment: the potent combination of the session speakers will address the current technologies and issues, shared and separate. While there's an enormous amount of crossover between the defense and commercial sector in these technology areas, differences abound as well. One difference area, for example, is cost - aerospace system costs and commercial system costs can be enormously different, but unit cost is driven by system performance requirements and manufacturing volumes.
"If you think about the photonics community and its business growth over the next five years - particularly in terms of emerging areas of technology investments - the autonomous operations area is the new horizon of growth" says Dudzik. "There's a plethora of autonomous systems companies forming now, all trying to jump into this market space with a critical need for sensors and processing. The DOD has been investing in this area for over 25 years, but the recent investments being made by the automotive sector significantly overshadow the DOD: this is huge new market space for photonics!"
"Essentially, the DOD has primed the use case for autonomous operations, has stayed with the concept, has invested in the technologies, has created the building blocks for these systems, whether that's in cyber, imaging sensors, or processing with AI," adds Ricklin. "Now the DOD has the opportunity to leverage back from commercial investments and focus on the unique gaps and barriers of defense missions."
Going forward, autonomous operations are expanding into applications not previously imagined - autonomous health, on-orbit satellite servicing, aerial firefighting, self-driving taxies and mobile warehouse robots, to name just a few - and SPIE, in terms of both its conferences and its constituents, is committed to staying ahead of the curve. "The time to plant these seeds is now, and we are confident that this conference will help do so" says Dudzik. "This is the new technology frontier."


Related SPIE content:
Lidar for autonomous cars makes optics and photonics "hot" again
Autonomous Remote Sensing - A Tale of Evolving, Emerging and Converging Technologies (Part 1)

Autonomous Remote Sensing - A Tale of Evolving, Emerging and Converging Technologies (Part 2)
Enjoy this article?
Get similar news in your inbox
Recent News