New officers announced at ICO24 in Tokyo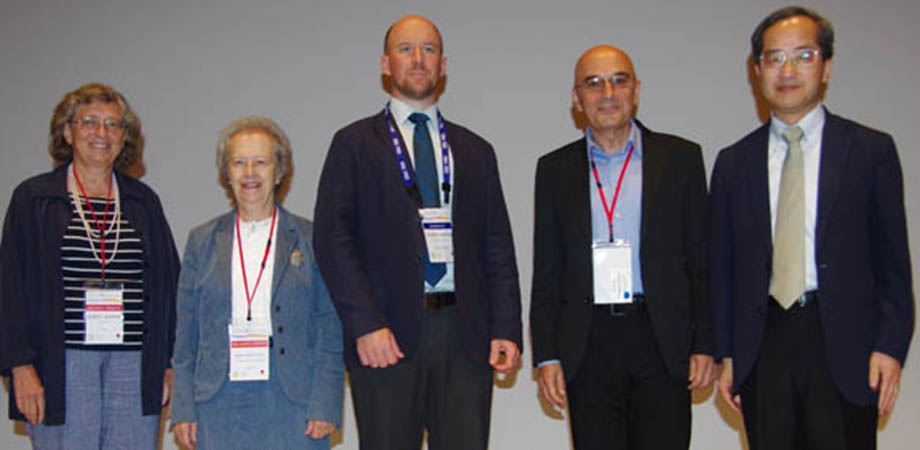 Roberta Ramponi, far left, is the new ICO President; also at the conference in Tokyo were, from left, outgoing SPIE Appointed Vice President Maria Yzuel, 2014 ICO Prize recipient Martin Booth, 2015 ICO Galileo Galilei recipient Aram Papoyan, and Yasuhiko Arakawa, outgoing ICO President and General Chair of ICO24.
Leaders of SPIE were on hand to celebrate the election of new officers of the International Commission for Optics (ICO) in Tokyo this week, in the highly successful ICO24 conference that opened with the Emperor and Empress of Japan present. SPIE is an International Society Member of the ICO.
Roberta Ramponi, IFN-CNR, was elected president, and will begin serving her three-year term in October.
She succeeds Yasuhiko Arakawa of the University of Tokyo, who led the organizing committee of the conference, held 21-25 August with the theme of "Science for Society."
John Harvey of the University of Auckland was elected vice president, and SPIE Member Joseph Niemela of the Abdus Salam International Centre for Theoretical Physics (ICTP) was elected treasurer, succeeding SPIE Past President Jim Harrington of Rutgers University. Humberto Michinel of the University of Vigo will be secretary.
SPIE Fellow Carmiña Londoño of the U.S. National Science Foundation (NSF) was selected as the SPIE appointed vice president. She succeeds SPIE Past President María Yzuel (Universidad Autónoma de Barcelona), an active advocate and supporter of optics and optics education through work with the ICO, SPIE, ICTP, the Royal Society of Spain, and other organizations.
"The presence of the Japanese Emperor and Empress at the opening ceremony was a strong indication of the high regard in Japan for the field of optics and photonics and for its economic and social importance," said SPIE CEO Eugene Arthurs. "The high-quality presentations and the presence of so many of the world's leaders were impressive. Professor Arakawa deserves strong praise for organizing an event that very compellingly demonstrated why this science is so valuable to society."
Recent News