SPIE Prague event highlighted by Krausz plenary, ELI details
SPIE Newsroom
14 April 2015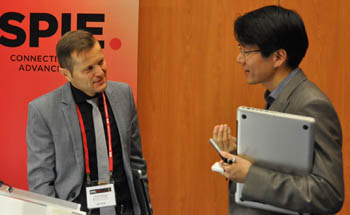 Ferenc Krausz and Sang-Hyun Oh between talks at the plenary session.
SPIE Optics + Optoelectronics began in Prague on 13 April and continues through 16 April at the Clarion Congress Hotel.
The first day was highlighted by a plenary talk from Ferenc Krausz, who led the research group that was the first to generate and measure attosecond light pulses. Krausz, from Max Planck Institute of Quantum Optics and the Ludwig Maximilians University, said that continued evolution of short-pulsewidth laser architectures show the promise of using this technology to deepen our understanding of the fundamental processes in nature and being able to observe complex molecular and atomic processes in real time.
Precise layer-by-layer deposition of dense, conformal metal oxide films through atomic layer deposition methods enables the fabrication of structures providing unique plasmonic and optoelectronic characteristics, said Sang-Hyun Oh of the University of Minnesota in another plenary talk.
A session dedicated to the Extreme Light Infrastructure (ELI), the €850 million technology project to be partially based in the Czech Republic. Several presentations highlighted different aspects of the project.
For more details on events at SPIE Optics + Optoelectronics, visit the event news page.