In Memoriam: Teruo Hiruma
On their website, Hamamatsu Photonics announced the passing of their honorary chairman and past President, Teruo Hiruma, on March 29. He was 91 years old.
In a brief statement, the company noted: "Affectionately known as 'TH,' he led our company from a small local Japanese TV tube producer to a one billion dollar global photonics company. TH had a passion for photonics and was constantly challenging our engineers to build the perfect detector, but he also had a passion for humanity and using light to improve the human condition. He will be deeply missed by the Hamamatsu Photonics family and indeed the photonics community, but we are certain that his vision will continue to inspire Hamamatsu Photonics to use light to make the world a better place."
Teruo Hiruma was named non-executive chairman of the board of Hamamatsu Photonics K.K. effective December 22, 2017. He had previously served as senior managing director and President in the company. He also served as chairman of the Hamamatsu Medical Photonics Foundation, as well as chairman and director of the Graduate School for the Creation of New Photonics Industries (Japan).
After graduating from Hamamatsu Technical College in 1947, Hiruma helped establish Hamamatsu Photonics K. K. He was awarded a commendation by the minister of the Japan Science and Technology Agency for the development of a special image pick-up system for ultrafast (picosecond) phenomena in 1983.

In 2006, Hiruma received the SPIE Visionary Award for his visionary guidance of Hamamatsu Photonics to international recognition as a world-leading supplier of high-quality products to research and industry.
At the time, SPIE CEO Eugene G. Arthurs note that Hiruma was also recognized for his work in expanding the frontiers of photonics technology and his advocacy for photonics research for the betterment of the human condition. Hiruma has for many years promoted photonics' important role in addressing problems facing all of humanity, especially in the fields of energy, environment, healthcare, and communications, he said.
"He has gone way beyond the immediate interests of his company which, consistent with his vision, is strong in these technical areas," Arthurs said.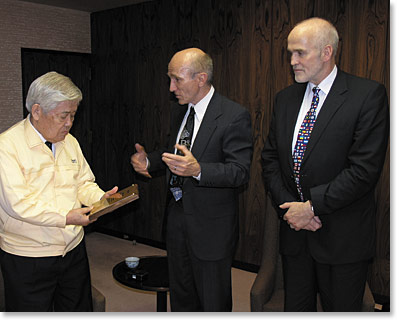 SPIE 2006 President Paul McManamon (center) and SPIE CEO Eugene Arthurs (right) present the SPIE Visionary Award to Teruo Hiruma of Hamamatsu (left).


Recent News