SPIE Fellow Peter Hartmann of SCHOTT (Germany) and Ronan Burgess of the European Commission Joint Research Centre (Belgium) were among European photonics leaders who gave testimony to the Science and Technology Options Assessment (STOA) committee at the European Parliament 6 February.

Hartmann and Burgess, co-chairs of SPIE Photonics Europe, 14-17 April in Brussels, were joined by Michael J. Wale, director of Active Products Research at Oclaro UK, and Carlos Lee, director general of the European Photonics Industry Consortium (EPIC), in giving an overview of the "bright world of European photonics" to the panel.

The four discussed the importance of the photonics industry in Europe, especially with respect to jobs, and highlighted the many photonics applications such as smart lighting, 3D printing, and solar panels that are ubiquitous in modern life.

Burgess focused his presentation on the Photonics Public-Private Partnership (PPP), a joint venture between the European Commission and Photonics21 that will receive approximately €700 million for direct photonics research under the Horizon 2020 research and innovation program.

Wale, representing Photonics21, elaborated on the 4:1 leveraging of the €700 million investment in the Photonics PPP whereby the photonics industry will contribute €2.8 billion in matching funds. That means a total of €3.5 billion for information and communication technologies (ICT), biophotonics, micro-electronics, energy, lighting, sensing, and other applied photonics research topics will be funded through 2020.

Hartmann (pictured below at right with Wale) focused on two European Union regulations, REACH and RoHS, that he said endanger the short- and long-term availability of optical materials that are vital for medicine, life sciences, computer technology, safety and security.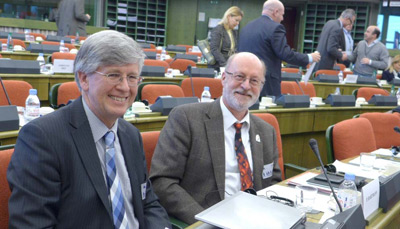 REACH, for Registration, Evaluation, Authorization and Restriction of Chemicals, regulates the production and use of chemical substances such as arsenic oxide and boron oxide which are indispensable in manufacturing of optical lenses.

RoHS, the restriction on the use of certain hazardous substances in electrical and electronic equipment, restricts or prohibits the use of mercury, lead, cadmium, chromium VI, and the flame retardants polybrominated biphenyls (PBB) and polybrominated diphenyl ether (PBDE) in the production of electronic and electrical equipment. Because photonics is a key enabling technology for many electronic devices, prohibition of these materials will lead to the loss of many special properties of glass such as refraction, reflection and filtering, according to Hartmann.

Hartmann said he considered the meeting with EU Parliament members "highly successful," especially since he believed the committee members had understood the messages and seemed sympathetic to working with photonics industry representatives to preserve the key enabling optical materials while maintaining the important objectives of the REACH and RoHS legislation.

Hartmann and Wenko Süptitz of SPECTARIS (Germany) are scheduled to give a talk on these European regulations at SPIE Photonics Europe 16 April.
More information: