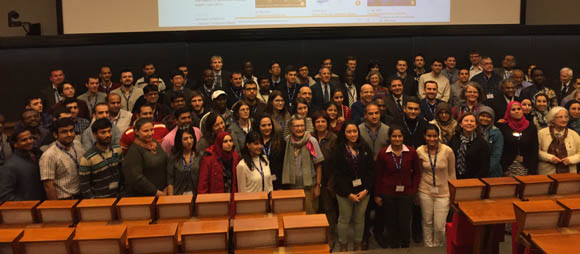 The 2016 Winter College on Optics drew attendees from more than 30 countries,
and offered a technology focus on optical frequency combs.
TRIESTE, Italy, and BELLINGHAM, Washington, USA -- Optical frequency combs technology, with applications ranging from multispecies gas sensing to high-precision interrogation of atomic and molecular targets, was explored at the 2016 Winter College on Optics. Co-sponsored by SPIE, the international society for optics and photonics, the International Commission for Optics (ICO), and several other organizations, the college drew 81 participants from more than 30 countries and ran 15-26 February at the Abdus Salam International Centre for Theoretical Physics (ICTP) in Trieste.
Directors were Kristan Corwin (Kansas State University), Marco Marangoni (Politecnico di Milano), and Piotr Maslowski (Nicolaus Copernicus University). Local organizers were Joe Niemela (ICTP) and Miltcho Danailov (Elettra).
Main topics covered by faculty included:
Optical frequency combs: the history of a Nobel prize
Introduction to stable phase sources, optical clocks, and coherent frequency transfer
Optical frequency combs across the spectrum
Molecular spectroscopy and trace gas sensing: an overview
Linking old and new: high-precision comb-assisted spectroscopy
Interaction of the femtosecond pulse train with an atomic or molecular sample-direct frequency comb spectroscopy
Frequency combs for broadband spectroscopy and trace gas detection
Testing the limits (tests of fundamental physics, attosecond timing, etc.).
The Winter College LAMP (Laser, Atomic and Molecular Physics) program provided an opportunity for students to present their work in poster form or as a short oral presentation, with awards and prizes sponsored by SPIE.
SPIE Past President Katarina Svanberg (Lund University Hospital) presented the LAMP awards on behalf of SPIE to:
SPIE Member Vera Andreeva (Lomonosov Moscow State University), first place
Alina Khodko (Institute of Physics of National Academy of Science of Ukraine), first place
Aadhi Abdhad Rabim (Physical Research Laboratory), second place
Grzegorz Sobon (Wrocław University of Technology), second place
Amine Ben Salem (University of Carthage), third place
Neven Santic (University of Zagreb), third place
(See photos of the LAMP award winners below.)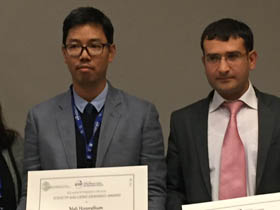 Gallieno Denardo Prize winners for 2016 are
Mati Horprathum (left) and Jehan Akbar.
The 2016 ICO/ICTP Gallieno Denardo Prize recognizing young researchers from developing countries was awarded to:
Jehan Akbar, Hazara University, for his contributions in design and fabrication of high-performance semiconductor lasers and amplifiers, and for promotion of optics and photonics research in Pakistan
Mati Horprathum, National Electronics and Computer Technology Center, for his contributions in the development of optical thin film technology for innovative surface functionality and his commitment in diffusion of optical thin film research in Thailand.
Svanberg and SPIE Past President María Yzuel (Universidad Autònoma de Barcelona) represented SPIE at a meeting on 23 February of the Trieste System Optical Sciences and Applications (TSOSA) Advisory Group, which advises on the coordination of ICTP activities in optics and photonics.
In addition to supporting the Winter College on Optics with an annual $5,000 contribution, SPIE provides students free digital library access and $30,000 annually to support an optics staff position in the SPIE-ICTP Anchor Research in Optics Program, situated on the ICTP campus. The program affords scientists access to equipment and other resources not available in their home regions.
Current research involves projects in optical tweezers, quantum cascade laser, mid-infrared laser, and microscopy technologies.
Along with SPIE and ICO, the Winter College is sponsored by The Optical Society (OSA), the European Optical Society (EOS), Società Italiana di Ottica e Fotonica (SIOF), and the International Society on Optics Within Life Sciences (OWLS). SPIE is a Society member of the ICO.
In conjunction with ICTP, SPIE provides free SPIE Digital Library access in participating countries through the eJDS (eJournals Delivery Service) program. Articles from scientific literature, primarily in physics and mathematics, are provided to individual scientists.
Roberta Ramponi and Mourad Zghal
were among instructors at the Winter College.
Local organizer Joe Niemela also helped
provide reception entertainment.
SPIE Past President Katarina Svanberg congratulated winners of SPIE-sponsored LAMP best paper prizes:
| | |
| --- | --- |
| | |
| Vera Andreeva | Alina Khodko |
| | |
| Aadhi Abdhad Rabim | Grzegorz Sobon |
| | |
| Amine Ben Salem | Neven Santic |
About SPIE
SPIE is the international society for optics and photonics, an educational not-for-profit organization founded in 1955 to advance light-based science, engineering, and technology. The Society serves nearly 264,000 constituents from approximately 166 countries, offering conferences and their published proceedings, continuing education, books, journals, and the SPIE Digital Library. In 2015, SPIE provided more than $5.2 million in support of education and outreach programs. www.spie.org
Contact:
Amy Nelson
Public Relations Manager
amy@spie.org
+1 360 685 5478
@SPIEtweets
---
All photos © SPIE, the international society for optics and photonics, except where noted.
---