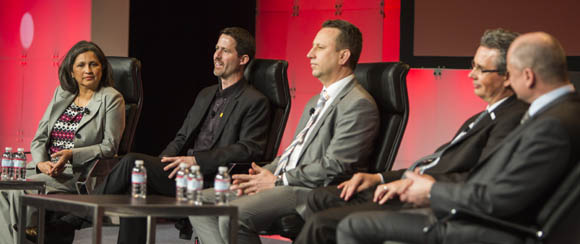 Several high-level panels are part of more than 30 events in industry-focused sessions at
SPIE Photonics West 2017; above, a 2016 panel discusses IP issues in 3D printing.
BELLINGHAM, Washington, USA, and CARDIFF, UK — The latest developments and trends in markets ranging from healthcare to wearables, as well as valuable insights for startup companies and extending to multinational corporations, will be presented in more than 30 industry-focused sessions at SPIE Photonics West in San Francisco this month.
Photonics West attracts more than 20,000 visitors annually for two exhibitions, nearly 100 technical conferences, and numerous networking events. Dates are 28 January through 2 February at Moscone Center. Neurophotonics, optical coherence tomography (OCT), additive manufacturing, fiber lasers, and silicon photonics are among hot topics in the technical conferences.
Industry sessions run alongside the Photonics West Exhibition (31 January through 2 February), the largest international photonics and laser exhibition. More than 1,340 exhibiting companies showing laser systems, optoelectronic components, and devices and technologies for photonics manufacturing and research will participate.
The BiOS Expo (28 and 29 January), the world's largest biomedical optics and biophotonics exhibition, will feature more than 200 companies.
A new executive forum on the biophotonics marketplace is among highlights in the expanded industry program.
SPIE Industry Development Director Stephen Anderson will present an analysis of the global biophotonics market, and Bruce Tromberg of Beckman Laser Institute and Medical Clinic, University of California, Irvine, will lead a panel discussion covering wearable and wireless devices for point-of-care testing. Panelists will include Aydogan Ozcan (UCLA), Gene Dantsker (Qualcomm Life), Brad Rice (Profusa), and Michelle Khine (UC Irvine and Fluxion Biosciences).
A panel, moderated by venture capitalist and analyst John Dexheimer, on "Brexit, U.S policy, the European Union, and China: Models for Managing through Global Trade Shocks" will include Deepak Kamra (Canaan Ventures), Charles Comey (Morrison Foerster), Basil Garabet(NKT), David Santorum (SPECTARIS), and Bob Flanagan, (Raymond James).
Leo Baldwin, principal engineer at Amazon, Functional Photonics, will moderate a panel on optical challenges for virtual and augmented reality. Panelists are David Bohn (Microsoft HoloLens), Vinay Narayan (HTC VIVE), and Scott McEldowney (Oculus).
Arun Chhabra, CEO of 8tree, will moderate a panel of entrepreneurs discussing how their optics and photonics startups overcame competition, drew customers, and managed supply chains in order to succeed in the commercial sector. Panelists are Graeme Malcolm (M Squared Lasers), Bernardo Cordovez (Optofluidics), Supriya Jaiswal (Astrileux), and Manuel Aschwanden (Optotune).
Insights on technologies driving the $80 billion global lighting market will be presented in a panel on the solid-state lighting revolution. Moderator is Robert Steele of Strategies Unlimited, and panelists are Tigran Galstian (LensVector), Mike Krames (Arkesso), Mario Paniccia (Versalume), and Paul Rudy (SoraaLaser).
The latest developments for a new market in miniaturized, low-cost photonic components enabling more robust infrastructure, improved cybersecurity, and smaller, cheaper computers will be shared in a panel on silicon photonics and photonic integrated circuits. Moderater is SPIE Director of Marketing and Industry Relations Peter Hallett. Panelists are Philippe Absil (IMEC), Peter De Dobbelaere (Luxtera), Douglas Gill (IBM T.J. Watson Research Center), Ashok Krishnamoorthy (Oracle), and Yannick Lize (Intel).
New entrepreneurs with light-based technology business ideas will pitch their plans to a jury of corporate development experts and venture capitalists in the annual SPIE Startup Challenge. The final round of competition on 1 February will be open to the public.
A new Fast Pitch Lunch on 31 January will provide seasoned entrepreneurs an opportunity to introduce their business pitches to investors. Executives who wish to present their 90-second business summaries or investors interested in attending may email innovation@spie.org for details.
Outstanding new products will be honored with the 2017 Prism Awards for Photonics Innovation. Awards will be presented at a gala banquet attended by the who's who of the photonics industry.
Recruiters from more than 30 companies are expected at the SPIE Career Center Job Fair (31 January and 1 February).
A set of more than 70 courses in lasers and applications, sensors, imaging, IR systems, optical and optomechanical engineering, and other topics includes IACET-accredited offerings for CEUs along with professional development and industry workshops.
Complete information is on the Photonics West website.
About SPIE
SPIE, the international society for optics and photonics, is an educational not-for-profit organization founded in 1955 to advance light-based science, engineering and technology. The Society serves nearly 264,000 constituents from approximately 166 countries, offering conferences and their published proceedings, continuing education, books, journals, and the SPIE Digital Library. In 2016, SPIE provided $4 million in support of education and outreach programs. www.spie.org
---
Contact:
Amy Nelson
Public Relations Manager
amy@spie.org
+1 360 685 5478
@SPIEtweets
---