Barbara Darnell, Rep. Joe Kennedy
(D-Massachusetts),
Viktor Podolskiy, Judith Birkenfeld


Ryan Gelfand,
Rep. Valdez Demings (D-Florida),
Richard Benson
BELLINGHAM, Washington, USA — Volunteers supported by SPIE, the international society for optics and photonics, joined other scientists, researchers, engineers, and industry professionals in visiting U.S. Congressional offices in Washington, D.C., yesterday to urge support for measures to strengthen America's ability to compete in the world photonics industry.
This year, National Photonics Initiative (NPI) Congressional Visits Day had nearly 50 volunteers who visited more than 80 offices of representatives and senators from nearly two dozen states and the District of Columbia. SPIE is a Founding Sponsor of the NPI.
"Offices in both the Senate and the House of Representatives were very receptive to our message of support for government funding for science and technology despite the most recent budget proposal from the White House," said Jason Mulliner, chair of the SPIE Engineering, Science, and Technology Policy committee. "I also saw enthusiasm towards supporting initiatives that would provide educational opportunities to ensure that our workforce is prepared for the technical jobs of both the present and future."
Mulliner said that Senators and Representatives he met with with "were committed to finding solutions to the challenges of our present day including cancer research, security, and other medical advances."
Congressional Visits Day "is always an invigorating experience," said SPIE Board of Directors member Christina Willis. "I was very impressed with the extensive training that both the NPI and the AAAS (American Association for the Advancement of Science) put together for participants. The reception my team had from the Congressional offices we visited was very welcoming, and it was clear that progress is being made toward creating greater awareness of optics and photonics."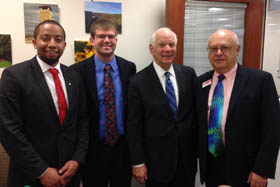 Joshua Burrow, Matthew Murray,
Sen. Ben Cardin (D-Maryland),
Stephen Anderson
Volunteers representing photonics on Congressional Visits Day urged opposition to proposed Fiscal Year 2018 science R&D cuts, and support for strong investments in science R&D programs. In particular, they urged support for:
The Department of Energy Office of Science, the nation's largest funder of research in the physical sciences and a dominant player in underwriting engineering, mathematics and computer research.
The National Institutes of Health, the lead agency for cancer research and the BRAIN Initiative, which is authorized to fund increases over the next decade through the recently enacted 21st Century Cures Act.
The National Institute of Standards and Technology, which was created to ensure America's scientific and economic competitiveness throughout the world and promote innovation and advancement in measurement, standards and technology. NIST is the lead agency for two key manufacturing programs, the Manufacturing Extension Partnership Program (MEP) and National Network for Manufacturing Innovation (NNMI).
The National Science Foundation, a key funder of optics and photonics research such as the Laser Interferometer Gravitational-Wave Observatory (LIGO), which recently measured gravitational waves from a binary black hole merger, as well as work to make solar cells that can be used on almost any surface, including windows, walls, computer bags, and clothing.
The Department of Defense Science and Technology Program, which plays a direct role in protecting and equipping our nation's armed forces to carry out their present and future missions and is the source of many of the innovations that drive our high technology economy.
Volunteers also emphasized the importance of support for:
Reauthorization of the Carl D. Perkins Career and Technical Education Act, to provide hands-on learning needed for a trained photonics workforce
Utilizing photonics communications, sensing, and other technologies in strengthening the nation's infrastructure
Advancing U.S. manufacturing and workforce capabilities through AIM Photonics its research and industry partners.
SPIE CEO Eugene Arthurs praised the efforts of Congressional Visits Day volunteers and urged others to advocate for photonics and science.
"We take our food quality and prices, our health and longevity, our smart devices, the reasonably clean air we breathe, our knowledge of our world and universe, and light, all for granted," Arthurs said. "We need to remember that federal investment in science and technology has made an extraordinary difference in how we live. We will need it more than ever as we face a future of resource limits, less effective pharmaceuticals, and rapid global transmission is of traditional and new diseases."
The message that science and technology save lives, create jobs, protect communities, and are the engine for future economic growth needs to be made clear to elected representatives both in Washington, D.C., and locally, he noted.
Those who want to get involved in their communities may want to attend meetings hosted by legislators, or to invite a legislator to visit their companies or labs, Arthurs said. A tool kit for hosting a visit is available on the NPI website, at http://www.lightourfuture.org.
About SPIE
SPIE is the international society for optics and photonics, an educational not-for-profit organization founded in 1955 to advance light-based science, engineering, and technology. The Society serves nearly 264,000 constituents from approximately 166 countries, offering conferences and their published proceedings, continuing education, books, journals, and the SPIE Digital Library. In 2016, SPIE provided $4 million in support of education and outreach programs. www.spie.org
---
Contact:
Amy Nelson
Public Relations Manager
amy@spie.org
+1 360 685 5478
@SPIEtweets
---