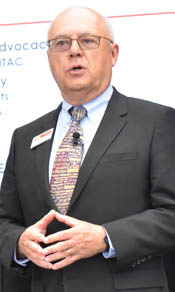 Photonics industry analyst
Stephen Anderson, at
SPIE Optics + Photonics 2016
BELLINGHAM, Washington, USA, and CARDIFF, UK – Revenue generated by core photonics and photonics-enabled businesses continues on an upward trend, according to the most recent analysis from an ongoing market survey of the global market by SPIE, the international society for optics and photonics. Along with revenue, numbers of companies and employees are also on the rise, the report says.
The report notes that in 2014, there were around 3,200 companies in the core components business, underpinning photonics-enabled markets worth $1.45 trillion and employing approximately 3.5 million people.
Of the total $1.45 trillion in revenues projected this year from photonic-enabled markets:
52% are in consumer and entertainment
15% are in defense, security, and law enforcement
15% are in lighting and displays.
SPIE Director of Industry Development Stephen Anderson presented the analysis 12 October at an executive breakfast sponsored by EPIC during the Micro Photonics International Congress Expo in Berlin. The update also has been presented in the past several weeks at SPIE Remote Sensing and Security and Defence in Edinburgh during an industry session with Sir Brian Burridge and other industry experts, an exhibitor breakfast during SPIE Optics + Photonics in San Diego, the China International Optoelectronic Expo in Shenzhen, and InterOpto in Yokohama.
SPIE began compiling data for analysis in 2012, because "not having numbers makes it more difficult to encourage investment by the financial community and by politicians," Anderson said.
"Industry research like this helps us plan for strategic growth in the industries and applications where optics and photonics accelerate innovation," said Samuel Sadoulet, President and COO of Edmund Optics. "We are grateful for SPIE's continued investment in our industry and in our mutual success."
Market estimates vary widely, in part because there is no clear definition of the photonics market. To create a consistent, transparent method, SPIE organizes data about companies into four categories:
Core photonic components and materials: LEDs, lasers, detectors, image sensors, lenses, prisms, optical filters, gratings, optical fiber, etc.
Photonic products: LED lamps, cameras, displays, optical scanners, markers, manufacturing and inspection systems, etc.
Photonic-enabled products: Lighting, internet and datacenters, smart phones, vision systems, TVs, medical imaging systems, etc.
Photonic-enabled services: Internet, streaming video and audio (music), cloud storage services, e‐commerce, etc.
The SPIE analysis includes companies that have exhibited at optics and photonics events, excluding publishers, media outlets, associations, distributors, educational institutions, government labs, and consultants. Computations are based on Dun and Bradstreet data and other publicly available information.
The most recent update provides 2015 revenue estimates for the core components business and indicates that the sales of core photonics materials and components continued to grow at a healthy rate over 2014 when reported by region in the local currencies. Revenues in China, for example, increased by 114%.
Anderson noted, however, that recent foreign exchange rate fluctuations among various currencies including the USD have been significant, and if the regional revenues are converted to USD and totaled for reporting, as is often customary, the industry's performance appears almost flat — a misleading inference.
About SPIE
SPIE is the international society for optics and photonics, an educational not-for-profit organization founded in 1955 to advance light-based science, engineering and technology. The Society serves nearly 264,000 constituents from approximately 166 countries, offering conferences and their published proceedings, continuing education, books, journals, and the SPIE Digital Library. In 2015, SPIE provided more than $5.2 million in support of education and outreach programs. www.spie.org
---
Contact:
Amy Nelson
Public Relations Manager
amy@spie.org
+1 360 685 5478
@SPIEtweets
---