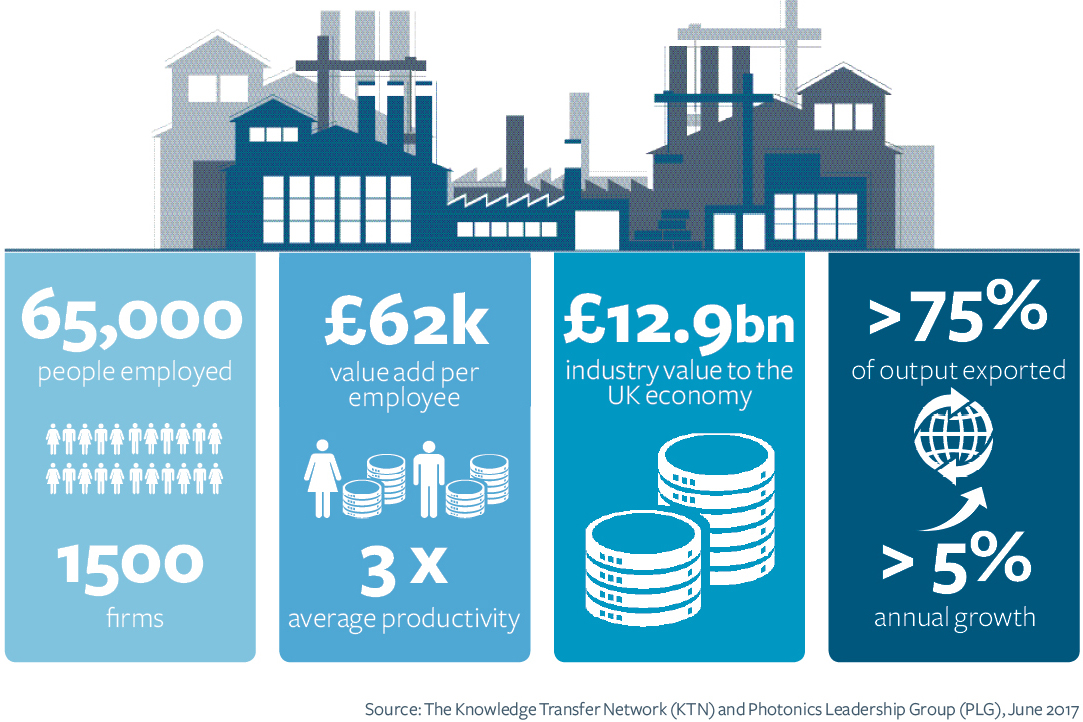 BELLINGHAM, Washington, USA, and CARDIFF, UK — Light-based technologies provide tremendous potential for growth and innovation, as shown by a new photonics industry study released today. Strong core areas, impressive growth rates above the gross domestic product and increased expenditures on research and development indicate a successful outlook. This growth reflects the vital role that light plays in new products and manufacturing.
In an updated analysis of the UK photonics industry, the Knowledge Transfer Network (KTN), Future Photonics Hub, and the Photonics Leadership Group (PLG) found that light-based technologies contribute £12.9 billion to the UK's economy. The report shows an increase of £2.4B since the last report in 2013. With an average growth rate of >5.3%, the UK photonics industry is growing at twice the speed of the rest of the UK economy. The UK photonics workforce now includes over 65,000 people employed in some 1,500 photonics companies.
"The PLG welcomes the latest analysis of the UK photonics industry which continues to grow at twice the rate of the broader economy and shows productivity 3X high than the UK national average," says John Lincoln, CEO of the UK Photonics Leadership Group. "This illustrates the enabling nature of photonics growing both from expansion in established applications and increased adoption in new areas."
In October 2016, The UK Parliament established the All-Party Parliamentary Group (APPG) on Photonics to facilitate regular discussions with members of the UK optics and photonics. MP Carol Monaghan is Chair for the group, collaborating with John Lincoln and Karin Burger of SPIE Europe to build a solid communication channel between the photonics community and the APPG on Photonics.

SPIE Europe acts as Secretariat for the APPG on Photonics and helps establish an optimal environment for the sharing of knowledge and ideas between the group and the photonics industry.

"A key enabling technology, encompassing everything from lasers and cameras to lighting and touch screen displays, photonics is critical to increasing manufacturing productivity, delivering efficient healthcare and keeping us digitally connected and secure," said Monaghan before a Westminster Hall debate on the UK Photonics Industry in January 2017.

"The UK has long been a hot bed of photonics innovation and many companies, including those in my own constituency, are translating world-leading UK science into globally exported products," she said. "I want Parliamentarians to better understand where this hidden UK strength is having impact, and how photonics can help our industrial output and economy to grow."
Related links:
All Party Parliamentary Group on Photonics Launched in UK

Up-trend in photonics sectors continues, shows recent industry survey update by SPIE

Westminster Hall debate regarding Photonics Industry


About SPIE
SPIE is the international society for optics and photonics, an educational not-for-profit organization founded in 1955 to advance light-based science, engineering, and technology. The Society serves nearly 264,000 constituents from approximately 166 countries, offering conferences and their published proceedings, continuing education, books, journals, and the SPIE Digital Library. In 2016, SPIE provided $4 million in support of education and outreach programs. www.spie.org
---
Contact:
Amy Nelson
Public Relations Manager
amy@spie.org
+1 360 685 5478
@SPIEtweets
---