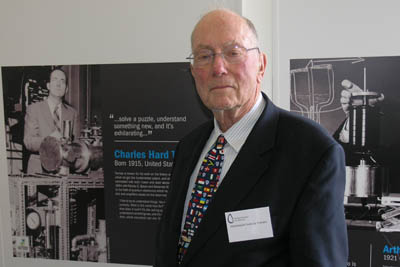 Charles Townes was among laser pioneers honored in an "Advancing the Laser" 50th anniversary tribute display developed by SPIE and shown around the world during 2010; above, Professor Townes with the panel in his honor at an event in Paris. More images are in a photo gallery at www.spie.org/x112417.xml.
BELLINGHAM, Washington, USA -- Research papers published by visionary laser pioneer Charles Townes are being made freely available in the SPIE Digital Library, in a tribute to the Nobel Laureate's work. Professor Townes died Tuesday 27 January at the age of 99.
The papers cover technologies and systems used to unlock secrets of the universe through astronomical measurement and image modeling, and are accessible through 31 March 2015 at http://spiedigitallibrary.org/SS/Charles_Townes.aspx. The library is published by SPIE, the international society for optics and photonics.
Townes, who at the time of his death was Professor Emeritus of physics at the University of California, Berkeley, shared the 1964 Nobel Prize in Physics with Aleksandr Prokhorov and Nicolai Basov, who independently came up with the idea for a maser. The prize recognized their work toward the invention of the laser.
Townes subsequently pioneered the use of lasers in astronomy, using masers for radio astronomy and lasers for infrared astronomy and interferometry. He promoted their use in areas as diverse as precision timekeeping -- the atomic clock -- and extraterrestrial communication. With the help of lasers, he and colleagues detected the first complex molecules in interstellar space and first measured the mass of the black hole in the center of our galaxy.
Until last year, Townes visited the Berkeley campus daily, working either in his office in the physics department or at the Space Sciences Laboratory. He was a strong supporter of the International Year of Light observance, and made a promotional video for the initiative last year in his office.
Professor Townes was a Fellow of SPIE, and recipient of the SPIE Gold Medal of the Society and numerous other honors.
Tributes to Townes' contributions to science and to the optics and photonics community included comments from SPIE CEO Eugene Arthurs, who singled out Townes' enthusiasm for talking with students, and his willingness to try anything that really inspired him.
"He had a great warmth and humility in student encounters, and was always enthusiastic about doing that at any request," Arthurs recalled. "Along with that was his joyous approach to life. When we held our Astronomical Telescopes and Instrumentation meeting in Glasgow in 2004, and had some ceilidh dancing as a social mixer, Charles, then aged 89, was first on the floor, and last off. He certainly provided a wonderful, multifaceted image of a brilliant scientist."
Townes was "a vigorous supporter of graduate research," said SPIE Past President Donald O'Shea, professor emeritus at Georgia Tech. "Long after the Nobel laurels had been bestowed he continued to pursue the answers to current questions and to train younger researchers. He certainly did not rest on his laurels."
"He gave so much to humanity through his intellect, his curiosity, and his generosity, and especially his time," said SPIE Past President M.J. Soileau, professor and vice president of the Office of Research and Commercialization at the University of Central Florida (UCF). "He was an inspiration to so many generations of students and will be for generations to come."
UCF dedicated the Townes Laser Institute in 2007. Director and SPIE Fellow Martin Richardson said, "It is a sad day today for the optics, photonics and laser communities across the world, and especially for the faculty, scientists, and students of the Townes Laser Institute and the College of Optics and Photonics, CREOL, at UCF."
A memorial notice is posted on the SPIE website.
SPIE is the international society for optics and photonics, a not-for-profit organization founded in 1955 to advance light-based technologies. The Society serves nearly 235,000 constituents from approximately 155 countries, offering conferences, continuing education, books, journals, and a digital library in support of interdisciplinary information exchange, professional networking, and patent precedent. SPIE provided $3.4 million in support of education and outreach programs in 2014.
Contact:
Amy Nelson
Public Relations Manager
amy@spie.org
+1 360 685 5478
@SPIEtweets